---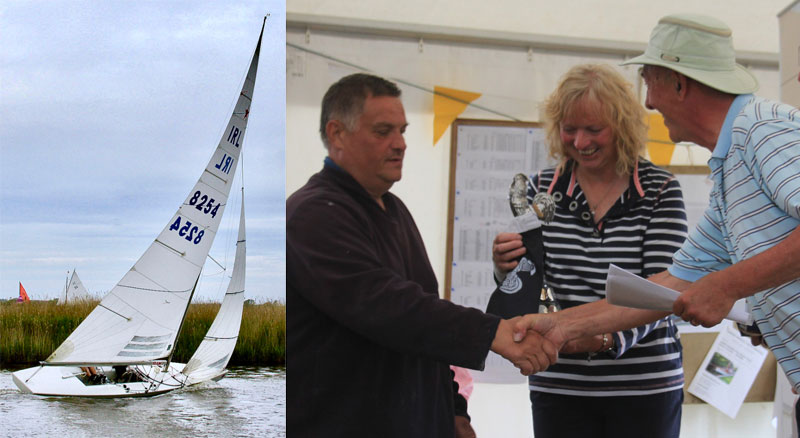 Photo: Sue Hines
Saturday 25th - Monday 27th May
"Cock of the Broads" winner Nick Eastwood, International Star "Jolly Good"
Race Results, Trophy Winners and more Photos
---
AVAILABLE NOW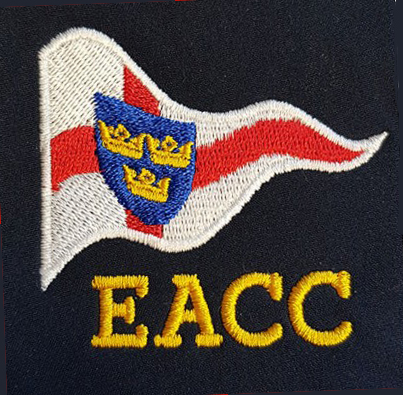 Order your EACC garments directly from our new online facility
Selected Rugby shirts, Polo Shirts, Sweat shirts, Mircofleeces, Softshell Jackets, Hats, Body Warmers, Gilets, Core Channel Jackets, Blousons, Hoodies, all with the EACC Logo and, if required, your boat name. Choose your required size and colour, pay online and have it delivered to your home free of charge or pick up from Calder Designs which is located in the old Nat West Bank building in Stalham High Street.
Take a look now by clicking here!
Flags, Pennants and Burgees remain available directly from our Insignia Officer
Jane Stevens (RC Pippinjack) Click here for details
---
EACC MOORING AVAILABLE
Unusually we have a mooring opportunity on the EACC site subject to size limitations.
The current rate is just £16.38 per foot, including overhangs, for the season.
If any member might be interested please contact the Mooring Officer
---
CLUB NOTICE BOARD
LAST EVENTS

Friday evening 26th - Monday 28th May

---

Last updated 20th May 2019

Check here for latest club news and information

---

Registration Numbers on Transoms

••• UPDATE •••

Owners of all private Broads Yachts who have been concerned about The Broads Authority's actions last year in trying to enforce an ambiguously worded ruling that owners should display their BA registration number on their transoms, will be pleased to note that as a result of lobbying by individuals and clubs, including EACC and NSBA, and coordinated by the River Cruiser Class the wording of BA's Display of Registration Marks document has been amended and is set out in an email to RCC members.

*** YOU CAN READ IT HERE ***

---

CASUAL USE OF CLUB SAFETY BOAT

The club safety boat moored in Thurne Dyke may be used by members for legitimate uses. Click here for conditions

On rare occasions a safety boat may not be available.

The dates will be published here.

CURRENTLY THERE ARE NO KNOWN OCCASIONS THAT

A SAFETY BOAT WILL BE UNAVAILABLE

---

on Members' ADS including

1 River Cruiser

1 Yare and Bure One Design

---

HELP KEEP THE CLUB SITE TIDY

MANY THANKS TO ALL MEMBERS WHO VOLUNTEERED TO CUT THE GRASS IN 2018

---

Mooring at the Moorings

Please note that members are entirely at liberty to use the club moorings frontage for temporary moorings picnics, BBQs etc whenever they wish between 1st March and 31st December.

However boats who are not mooring holders should not be left there unattended without prior consent of committee.

Please contact the moorings officer

---

NEXT EVENTS

Saturday 22nd and Sunday 23rd June

Saturday 13th and Sunday 14th July

---

RALPH LAMB

It is with great sadness that we have to announce the death of much loved and highly regarded life-long member Ralph Lamb who has dropped anchor for the last time at the age of 92.

---

The charity EACC has chosen to

support in 2019 is

NANSA has worked for over 60 years to improve the lives of people in Norfolk with physical, sensory and learning disabilities. They are a local independent

charity and believe that all people with disabilities

are entitled to full inclusion in society.

In 2018 EACC raised £403.88 for the

East Anglian Air Ambulance

Thanks to Lesley Everett for coordinating our effort

On 14th February 2019 a cheque for £403.88

was presented to East Anglian Air Ambulance

The two visits which Tom arranged for members in

April and May raised a further £225.00 for EAAA
SaveSave
SaveSave
SaveSave
SaveSave
SaveSave
SaveSave
SaveSave
SaveSave
SaveSave
SaveSave
SaveSaveSaveSave
SaveSave
SaveSave
SaveSave
SaveSave
SaveSave
SaveSaveSaveSave
SaveSave