FORTNIGHTLY MOWING ROTA 2019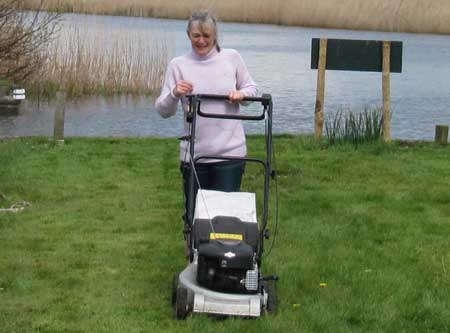 Please help us keep the Club site tidy by volunteering to cut the main area of grass on one or more of the dates listed below or within a couple of days either side. There is no need to strim around the mooring posts next to moorings as individual berth holders are asked to do that around their own boats.
We have a very efficient mower and wheeled strimmer which should make light work of the job. If you have any questions about accessing or using them please contact the MOORINGS OFFICER
To add your name to the rota PLEASE CLICK HERE Your name will then be added to the rota normally within a few hours.
If you offer to cut the grass please make sure you do it if you possibly can, on or around the date chosen, alternatively if you have a problem with doing it around then, please try to swap dates with someone else or, as a last resort please click on the link above to submit an alternative date, but please avoid doing this at the last minute.
Date

Volunteers

30 March

13 April 


Ruth, Paul and committee volunteers

27 April

Tom

11 May

Roger and Lesley

25 May (TMOR w/e)

Jo and Cally

8 June

Ruth and Adrian

22 June

Paul and Jane

6 July

20 July

3 August

Steve and Lisa

17 August

31 August

14 September

28 September

---

12 October

---

Dave and Soozie
It would be helpful if you would contact the moorings officer when done to report the status of grass, mower, fuel etc.
PLEASE DO NOT FOLD THE MOWER HANDLE IN THE MIDDLE TO FIT IT IN THE SHED AS IT DAMAGES THE CONTROL CABLES. THE BOTTOM BOLTS CAN BE REMOVED ALLOWING THE HANDLE TO PIVOT UP SLIGHTLY. THANK YOU.
Access to the moorings is now only via the river. A club safety boat is kept on moorings in Thurne Dyke and can be used by members to cross the river. The keys are kept nearby in Thurne. (email the moorings officer, or find his contact details in the White Book, if you need to know the know the location)