Summer Regatta 2017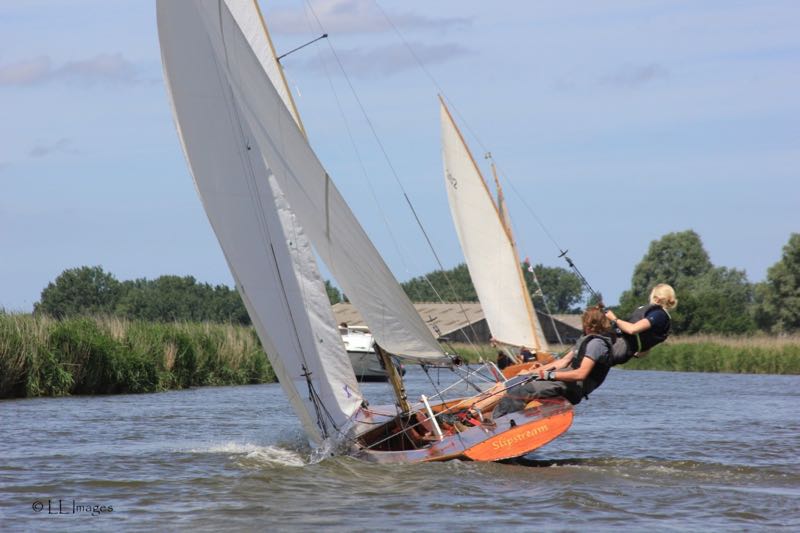 Photo: Sue Hines
East Anglian Cruising Club's Summer Regatta was staged from the club's moorings opposite Thurne Mill at the weekend. Saturday's race was an unusual and interesting event, giving a chance of helming to those who normally crew and also a chance for some to take the helm on different boats. 22 competing River Cruisers and Allcomers were timed over a set course but could take the marks in any order. Yachts chose their own start any time after 11am. Each yacht could compete several times so long as it had a different helm and finished by the 5pm cut-off. 47 finishes were recorded. The winner of the Cooke Cup for River Cruisers was Jo Ford in Mystery 218 in a corrected time of 38 minutes 55 seconds beating her husband Matt's attempt by 21 seconds, a pattern which was repeated in the allcomers Ebbage Trophy with Rose Angell beating her husband Geoff's run in Nennen.
---
There was a great Atmosphere on the moorings on Satuday evening with a record number of boats crammed into every available space, triple moored along the front and doubled up just about everywhere else. It all started well with Chocolate gateau, strawberries and prosecco provided by the Littles to celebrate Colin's 70th. The marquee had been erected on Friday afternoon and for the second night running the club BBQ was crammed to bursting with a couple of others pressed into service for good measure. Copious amounts of liquid refreshment were imbibed on the site and across the water at the Lion. At times like this it is to be questioned whether we really need the long coveted clubhouse. But I guess it doesn't stay mid July for ever!
---
After the excitement of Saturday the wind for Sunday's conventional races had moved through 180° and was now from the south and light. This together with a strong tide made for a challenging morning race with a long slow beat against the tide out towards Acle, a wing mark towards St Benets and a run home. Just getting to the start line tacking up the narrow Thurne took skill and patience. Of the 12 starters 11 were up to the task and finished with Paul Howes on Melinda 217 first home but with Paul Stevens on Pippinjack 318 too close on his heels and winning the Roy Pike Trophy on handicap for the cruisers and Geoff Angel on Nennen the Greyhound Cup for the allcomers.
The wind increased and the tide turned for the afternoon race for the Fillibuster Cup, presenting a different set of challenges bringing other boats to the fore. The smaller boats benefitted most and although, as in the morning, Melinda was first home she was pipped again on handicap this time by Hilary Franzen on Martlett 122 from Pippinjack and Amaryllis, Chris Tuckett third. Nennen again won the allcomers taking the International 14 Trophy.
RESULTS
Race One - Saturday - Thurne Roundabout - RCC Cooke Cup - Allcomers Ebbage Trophy

Sail

No

Boat Name

Helm

H/cp

Start

Time

Finish

Time

Elapsed

Time

Corrected

Time

Pos

Brad-

nock

Pos

218

Mystery

J Ford

-12%

13:16:50

14:01:04

00:44:14

00:38:55

1

1

218

Mystery

M Ford

-12%

12.24.22

13:09:20

00:44:58

00:39:34

2

146

Sally

M Duffield

-14%

12:21:00

13:07:23

00:46:23

00:39:53

3

153

Sun Glory

D Thompson

-14%

12:54:23

13:41:28

00:47:05

00:40:29

4

287

Solace

J Aves

-14%

14:05:35

14:52:50

00:47:15

00:40:38

5

2

375

Amaryllis

C Tuckett

-14%

13:57:50

14:45:10

00:47:20

00:40:42

6

3

416

Alice Rose

J Aves

-7%

12:35:22

13:19:38

00:44:16

00:41:10

7

15

Pirate

J Farrow

-8%

12:59:20

13:44:11

00:44:51

00:41:15

8

307

Mischief

J Ebbage

-7%

14:12:57

14:57:20

00:44:23

00:41:16

9

122

Martlet

M Barnham

-18%

14:16:10

15:06:45

00:50:35

00:41:28

10

Nennen

R Angell

-13%

13:21:48

14:09:55

00:48:07

00:41:52

11

217

Melinda

I Patience

1%

14:11:15

14:53:00

00:41:45

00:42:10

12

307

Mischief

D Seeney

-7%

12:35:38

13:21:21

00:45:43

00:42:30

13

15

Pirate

M Ford

-8%

15:24:15

16:11:09

00:46:54

00:43:08

14

318

Pippinjack

J Stevens

-8%

11:53:38

12:40:46

00:47:08

00:43:21

15

307

Mischief

S Seeney

-7%

11:45:29

12:32:16

00:46:47

00:43:30

16

4

217

Melinda

P Howes

1%

11:46:32

12:30:03

00:43:31

00:43:57

17

5

282

Sandpiper

C Little

-10%

11:23:37

12:12:31

00:48:54

00:44:00

18

6

146

Sally

S Burton

-14%

11:24:07

12:15:18

00:51:11

00:44:01

19

7

Nennen

G Angell

-13%

11:32:40

12:23:18

00:50:38

00:44:03

20

8

218

Mystery

T Moore

-12%

15:09:37

15:59:45

00:50:08

00:44:07

21

217

Melinda

T Heafey

1%

14:54:20

15:38:04

00:43:44

00:44:10

22

86

Moss Rose

C Little

-8%

15:12:20

16:00:25

00:48:05

00:44:14

23

86

Moss Rose

P Markham

-8%

13:04:55

13:53:40

00:48:45

00:44:51

24

9

15

Pirate

T Moore

-8%

11:28:04

12:16:17

00:48:13

00:44:21

24

10

229

Ceres

S Thornicroft

-15%

13:42:11

14:34:28

00:52:17

00:44:26

25

86

Moss Rose

C Markham

-8%

13:04:55

13:53:40

00:48:45

00:44:51

26

11

NeverCanTell

T Moore

-14%

12:59:56

13:52:07

00:52:11

00:44:53

27

318

Pippinjack

P Stevens

-8%

11:04:40

11:53:38

00:48:58

00:45:02

28

12

302

Vixen

D Kilner

-10%

11:20:48

12:10:53

00:50:05

00:45:04

29

13

229

Ceres

J Thornicroft

-15%

11:38:01

12:31:11

00:53:10

00:45:11

30

14

302

Vixen

M Kilner

-10%

12:13:47

13:04:02

00:50:15

00:45:13

32

253

Ranger III

R Everett

-18% p

11:38:52

12:35:00

00:56:08

00:46:01

375

Amaryllis

B Lloyd

-14%

14:54:44

15:48:17

00:53:33

00:46:03

33

122

Martlet

H Franzen

-18%

11:58:16

12:54:30

00:56:14

00:46:06

34

15

302

Vixen

J Farrow

-10%

15:07:30

15:59:54

00:52:24

00:47:09

35

153

Sun Glory

C Smith

-14%

15:55:44

16:50:36

00:54:52

00:47:11

36

416

Alice Rose

T Riches

-7%

11:15:16

12:06:01

00:50:45

00:47:11

37

16

Nennen

C Gibbon

-13%

15:12:15

16:07:20

00:55:05

00:47:55

38

17

Insenity

C Gibbon

-10%

11:38:01

12:31:56

00:53:55

00:48:32

39

18

Slipstream

C Tuckett

17%

11:40:34

12:22:05

00:41:31

00:48:34

40

19

153

Sun Glory

J Edye

-14%

11:50:11

12:49:34

00:59:23

00:51:04

41

20

82

Beth

G Howarth

-5%

14:25:01

15:20:06

00:55:05

00:52:19

42

21

NeverCanTell

J Farrow

-14%

11:16:52

12:18:23

01:01:31

00:52:54

43

Insenity

M Barnes

-10%

13:06:56

14:15:01

01:08:05

00:55:09

44

NeverCanTell

M Duffield

-14%

14:54:05

16:00:25

01:06:20

00:56:23

45

153

Sun Glory

D Read

-14%

14:35:10

15:40:52

01:05:42

00:56:30

46

Highest placed RCC and Winner of the Cooke Cup Jo Ford sailing Mystery

Highest placed Allcomer and winner of the Ebbage Trophy Rose Angell sailing NenNen
In this race only the results of boats sailed by their usual helms will count towards the Brandnock Trophy
Race Two - RCC - 1st Start Sunday 11am - Roy Pike Trophy

Sail

No

Boat Name

Helm

H/cp

Start

No

Finish

Time

Elapsed

Time

Corrected

Time

Pos

318

Pippinjack

P Stevens

-8%

1

11:53:00

00:53:00

00:48:45

1

217

Melinda

P Howes

1%

1

11:50:18

00:50:18

00:50:48

2

218

Mystery

M Ford

-12%

2

12:03:04

00:58:04

00:51:05

3

146

Sally

S Burton

-14%

2

12:04:42

00:59:42

00:51:20

4

375

Amaryllis

C Tuckett

-14%

2

12:15:36

01:10:36

01:00:42

5

122

Martlet

H Franzen

-18%

3

12:28:33

01:18:33

01:04:24

6

151

Pixie

A Lincoln

-15%

3

12:27:21

01:17:21

01:05:44

7

229

Ceres

J Thornicroft

-15%

3

12:52:50

01:42:50

01:27:24

8

243

Picus

R Culling

-13% p

2

13:03:53

01:58:53

01:43:25

P

416

Alice Rose

J Aves

-7%

1

DNS

00:00:00

00:00:00

DNS

282

Sandpiper

C Little

-10%

1

RTD

00:00:00

00:00:00

RTD
Race Two - Sunday am - Allcomers - Greyhound Cup

Sail

No

Boat Name

Helm

H/cp

Start No

Finish Time

ElapsedTime

Corrected

Time

Pos

52

Nennen

G Angell

-13%

1

12:24:55

01:09:55

01:00:50

1

101

Inseinety

C Gibbon

-10%

1

12:49:50

01:34:50

01:25:21

2
Race Three - RCC - Sunday 1st Start 2pm - Fillibuster Cup

Sail

No

Boat Name

Helm

H/cp

Start

No

Finish

Time

Elapsed

Time

Corrected

Time

Pos

122

Martlet

H Franzen

-18%

3

14:55:56

00:45:56

00:37:39

1

318

Pippinjack

P Stevens

-8%

1

14:41:57

00:41:57

00:38:35

2

375

Amaryllis

C Tuckett

-14%

2

14:50:37

00:45:37

00:39:13

3

217

Melinda

P Howes

1%

1

14:40:58

00:40:58

00:41:22

4

146

Sally

S Burton

-14%

2

14:53:56

00:48:56

00:42:04

5

243

Picus

R Culling

-13%p

2

15:00:39

00:55:39

00:48:24

P

282

Sandpiper

C Little

-10%

1

DNS

00:00:00

00:00:00

DNS

218

Mystery

M Ford

-12%

2

DNS

00:00:00

00:00:00

DNS

229

Ceres

J Thornicroft

-15%

3

RTD

00:00:00

00:00:00

RTD

151

Pixie

A Lincoln

-15%

3

RTD

00:00:00

00:00:00

RTD
Race Three - Allcomers - Sunday pm - International 14 Trophy

Sail

No

Boat Name

Helm

H/cp

Start No

Finish Time

ElapsedTime

Corrected

Time

Pos

52

Nennen

G Angell

-13%

1

14:58:42

0:43:42

00:38:01

1

101

Inseinety

C Gibbon

-10%

1

14:59:10

0:44:10

00:39:45

2
Photo: Sue Hines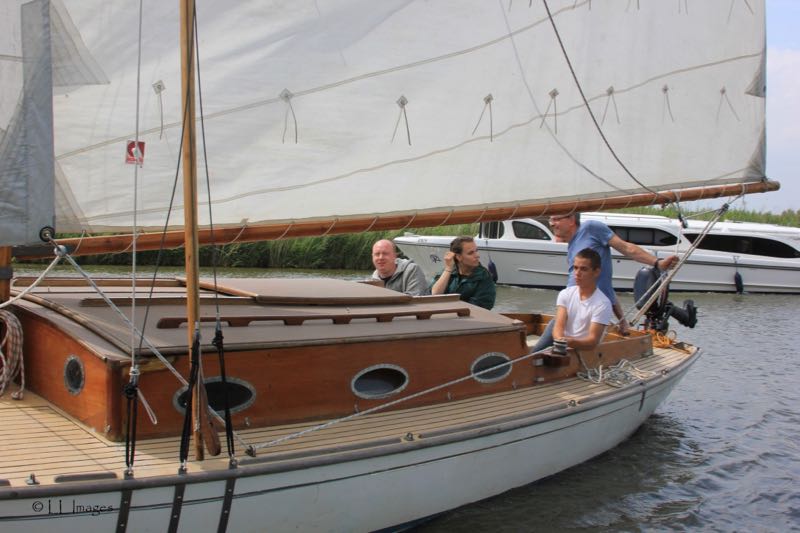 Photo: Sue Hines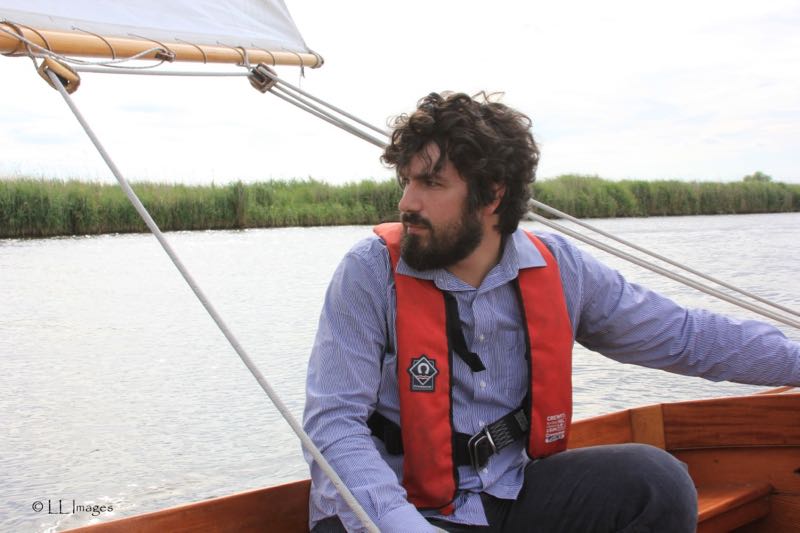 Photo: Sue Hines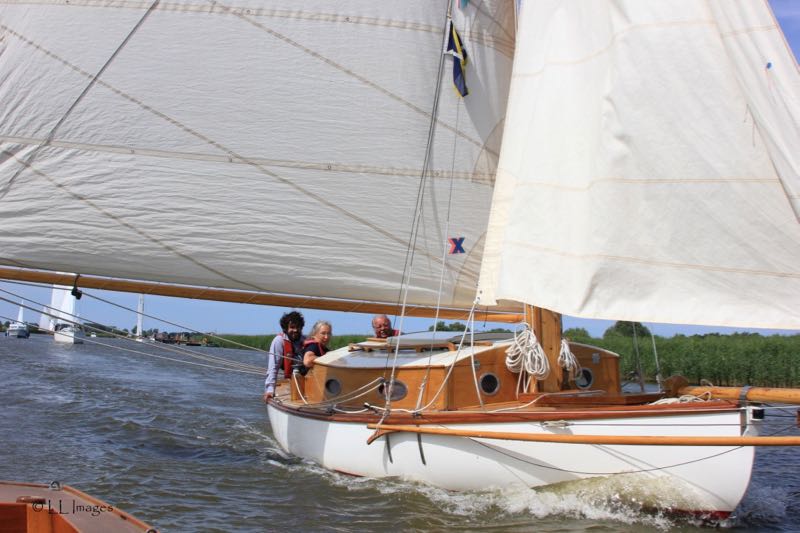 Photo: Sue Hines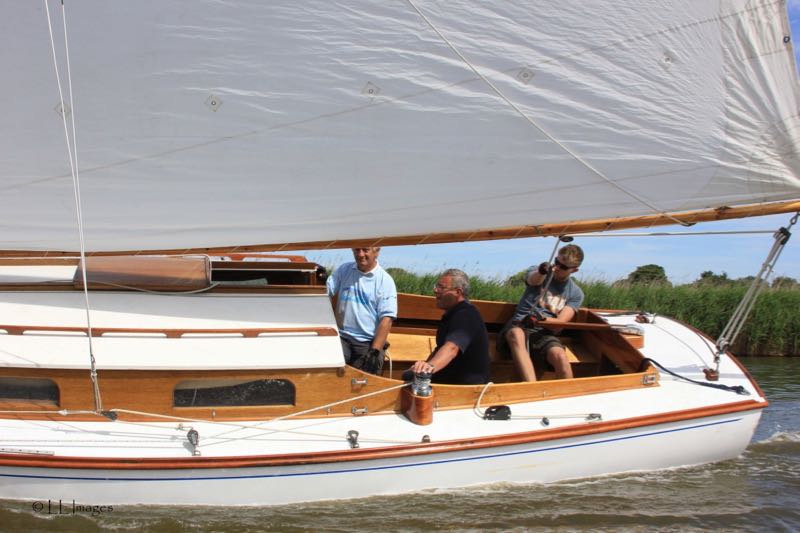 Photo: Sue Hines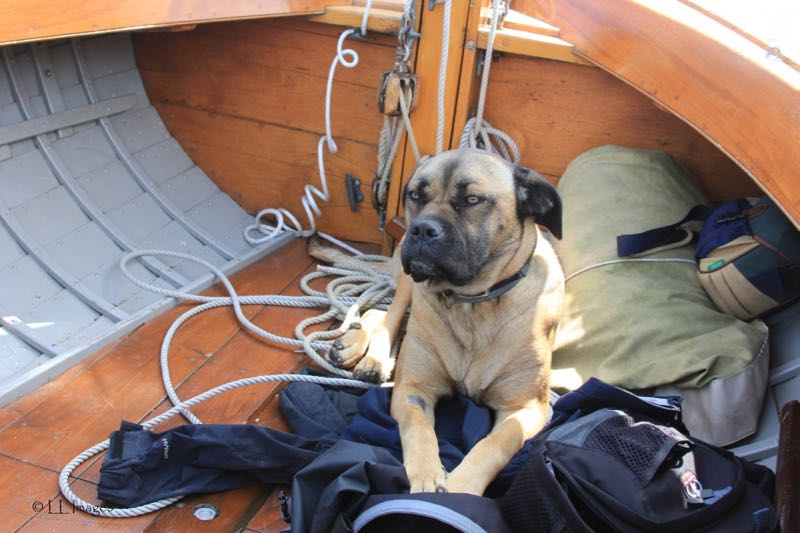 Photo: Sue Hines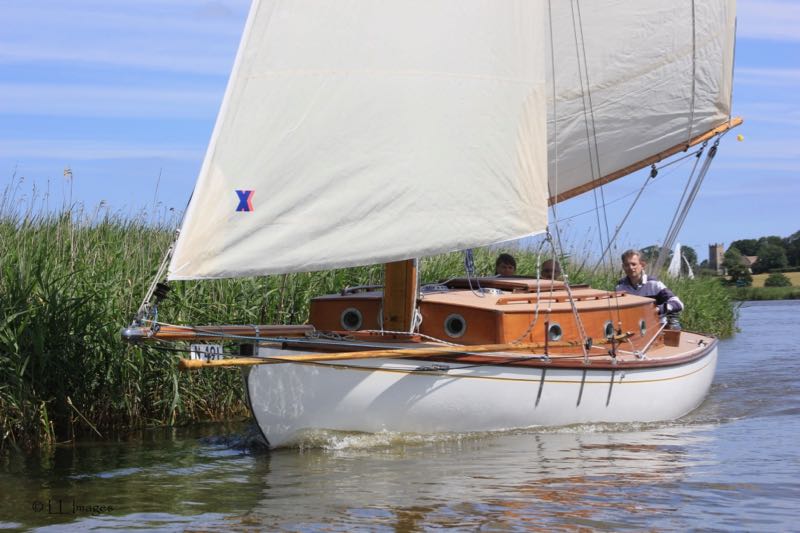 Photo: Sue Hines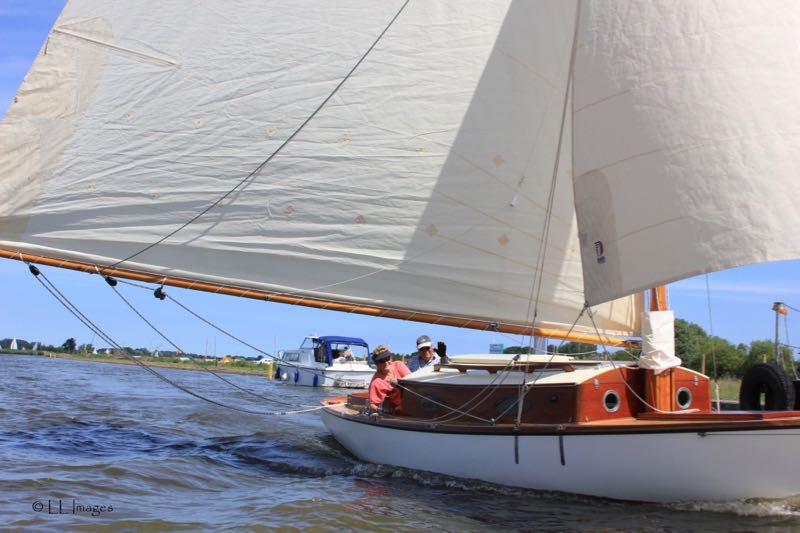 Photo: Sue Hines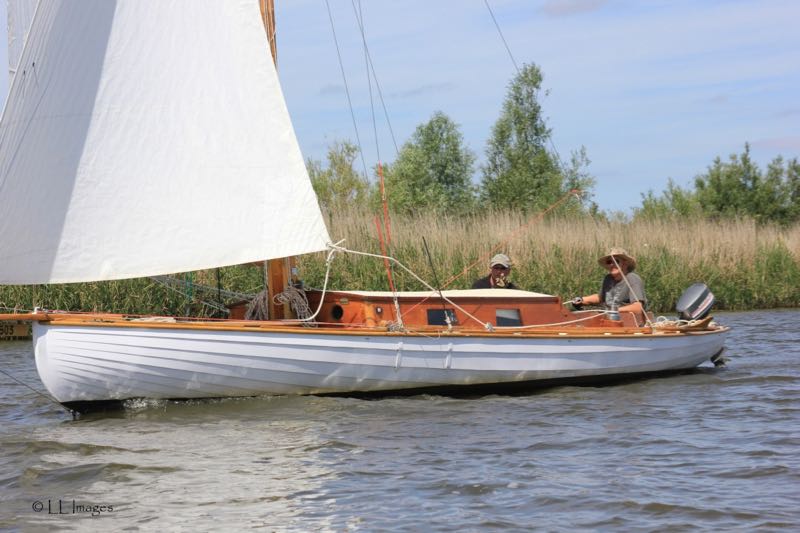 Photo: Sue Hines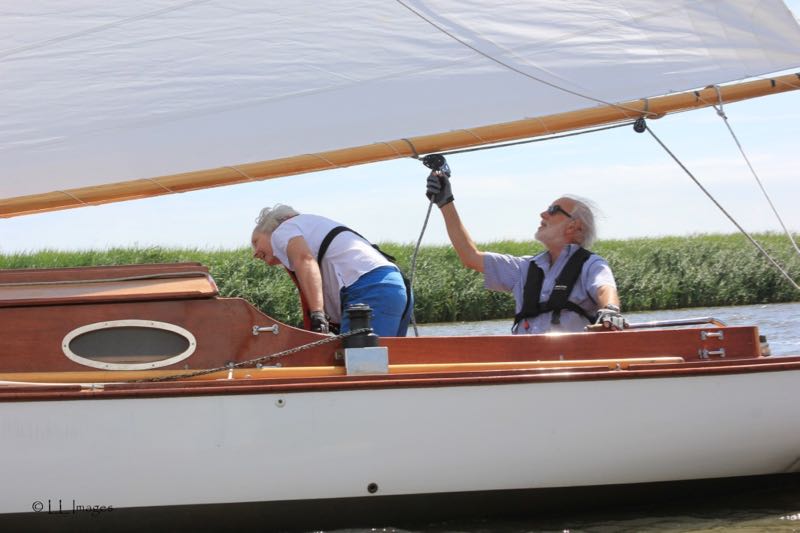 Photo: Sue Hines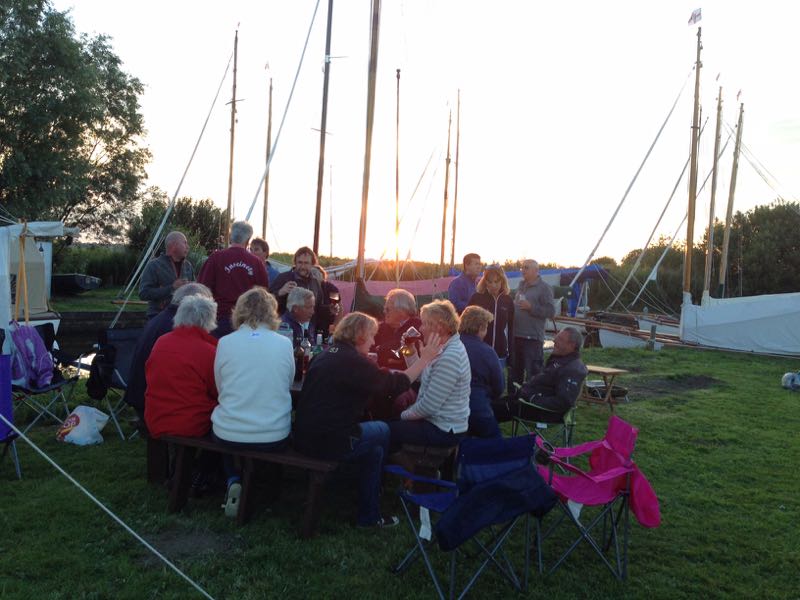 Photo: Susie Spivey
SaveSave
SaveSave