Yare and Bure One Design Open
Saturday 7th and Sunday 8th October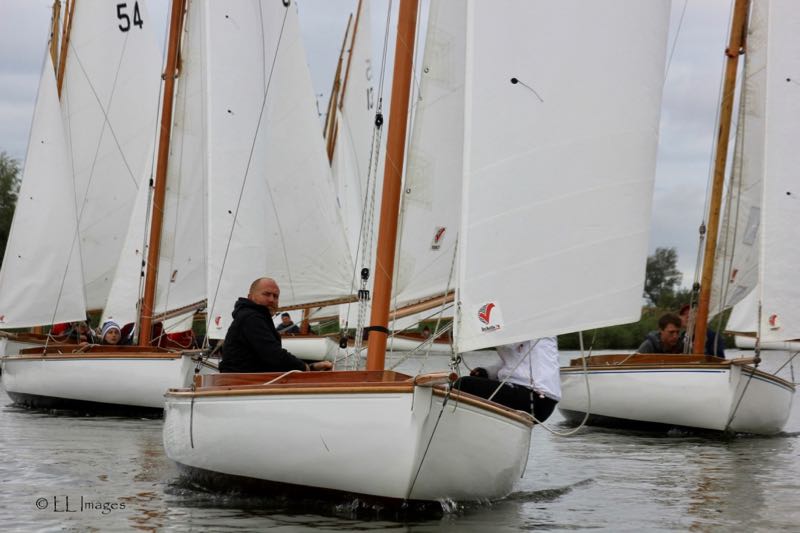 EACC Yare and Bure Event revived
Report by Liz Chettleburgh and photos by Sue Hines unless otherwise indicated
Last Saturday 12 Yare and Bure one designs took to the rivers at Thurne for the annual East Anglian Cruising Club open event. This great turnout included welcome support from Wroxham and the Norfolk Punt Club as well as EACC's own members. A long line enabled one start with some close quarters beating up the river towards the Pump House. Chris Bunn in his new boat Fox soon established a lead and finished ahead of Martin Thompson and James Dugdale. Both 2nd and 3rd finishers had the sons helming with their fathers crewing, plus a third crew to keep the peace! Rumour has it – this was for a private trophy! The second race had a similar outcome but great racing was had by all in quite challenging conditions – gusts up to at least 25 mph.. The 'Blues' were 4th and 5th with Chris Bellamy from Wroxham in Little Blue and Simon Daniels in Silver Blue from Norfolk Punt Club respectively.
The rain started just as the racing was finishing so boats were packed away swiftly with everyone plus a few welcome guests (34 of us) enjoying a very sociable and enjoyable meal in the Thurne Lion. With most competitors staying overnight in their yachts and motor boats it proved to be a great weekend.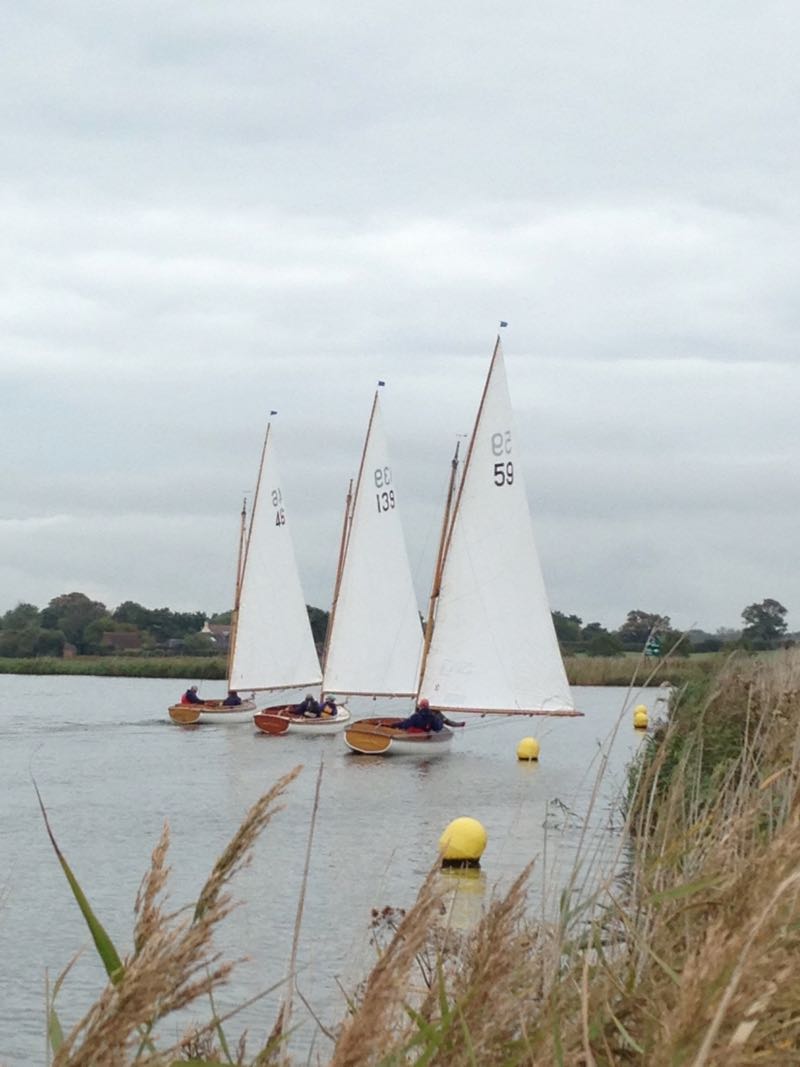 Photo: Liz Chettleburgh
Sundays conditions were quite the opposite with light fluky winds delaying the first start due to the wind changing direction and back again! Chris Bunn once again proved invincible but James Dugdale managed a 2nd, Martin 3rd and Chris Bellamy 4th. In 5th place was John Seeley from Norfolk Punt Club who was racing his white boat on the rivers for the first time. In both races a strong tide pushed a few keen starters over the line who then struggled to get back to start correctly. With the trophy winner decided, the last race was won by Martin Thompson closely followed by James Dugdale. Chris Bellamy in Little Blue came in third and a keen battle for 4th and 5th places ensued. 4th was taken by Mark Luckhurst managing to pull through to leeward of two Horning Down River boats leaving Colin Chettleburgh, also from Norfolk Punt Club, in 5th. With prize giving on the EACC moorings at Thurne, everyone enjoyed some delicious cakes provided by Fil Daniels in true Punt Club Style. Congratulations to Chris Bunn on retaining the EACC Trophy (just as well) and to Niki Tansley on retaining the Crews Tankard.
Thanks to Ian Stewart for being Race Officer and the safety boats being ably manned by Mike and Barbara Barnes, Ian Mason and Robin Hines.
Results:
| | | | | | | | | |
| --- | --- | --- | --- | --- | --- | --- | --- | --- |
| Boat Name | Sail No | Helm | Race 1 | Race 2 | Race 3 | Race 4 | Poi-nts | Pos |
| Fox | 142 | C Bunn | 1 | 1 | 1 | dns | 3 | 1 |
| Peacock | 24 | M Thompson | 2 | 2 | 3 | 1 | 5 | 2 |
| Ghost | 118 | J Dugdale | 3 | 3 | 2 | 2 | 7 | 3 |
| Little Blue | 95 | C Bellamy | 4 | 4 | 4 | 3 | 11 | 4 |
| Silver Blue | 54 | S Daniels | 5 | 5 | 7 | 6 | 16 | 5 |
| Lysandra | 59 | R Lovett | 6 | 7 | 6 | 7 | 19 | 6 |
| Zephyrus | 44 | C Chettleburgh | 7 | 10 | 9 | 5 | 21 | 7 |
| Camberwell Beauty | 46 | M Luckhurst | 10 | 8 | 10 | 4 | 22 | 8 |
| Cupido | 86 | K Mason | 8 | 9 | 8 | 8 | 24 | 9 |
| Frosted Orange | 104 | A Friend | 9 | 6 | 11 | 9 | 24 | 9 |
| Lilac Beauty | 139 | J Seely | 11 | 12 | 5 | 10 | 26 | 11 |
| Honeycomb | 135 | P Watson | 12 | 11 | 12 | 11 | 34 | 12 |
Liz Chettleburgh