River Cruiser Open 2016
Congratulations to Ritchie Dugdale and crew on winning the Moth Salver in Zingara
Thanks aso to Tom Moore who stepped in at the last minute as Principle Race Officer
Scroll down for full results and a report by Sue Hines
To see Sue's photos of the event click here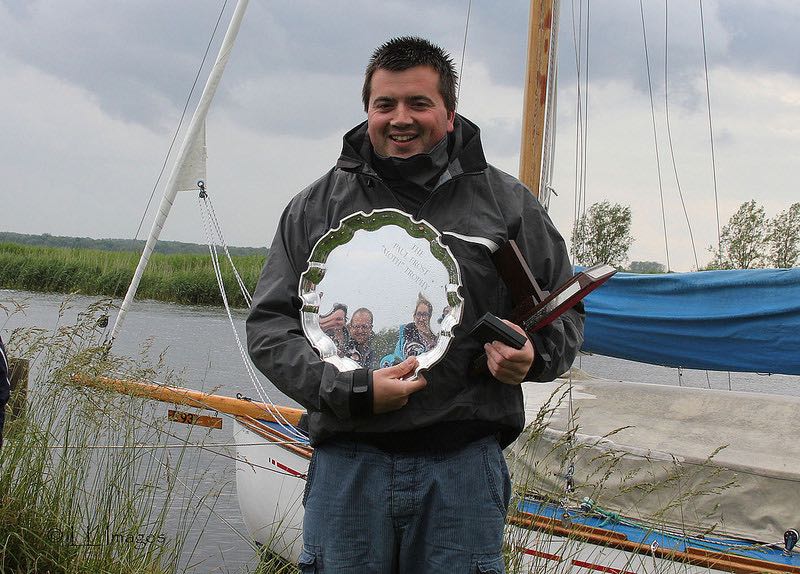 Sitting at home in my comfy chair, cup of coffee in hand, no taxi duties as R2 had been collected by HJ, I looked at the clouds and wondered should I go, will it rain? It was tempting to stay put but what would I miss if I stayed at home? So I turned up with my camera, as usual, at the RCC Open Weekend, just in time to get a lift to the Thurne Mouth moorings in a safety boat as the briefing was starting. I planned to stand on the bank and take as many photos as I could.
Despite lots of talk about light winds and rain for a Pursuit Race there was a good turnout of boats of varied handicaps.
Just as I settled to start taking photos, I was presented with an offer I couldn't refuse from Ian Mason to go out with him on the safety boat, with the camera of course, and as we set off from the moorings, Tom Moore (OOD) shouted a request to me to write a report for the weekend! What! Without thinking it through, I said 'okay' but I can only report from a spectator's point of view, mostly through a camera lens, so there won't be any technical jargon.
The weather was a major talking point all weekend with the continuing threat of heavy showers and thunder so it was incredibly lucky that Saturday afternoon was dry although one side of the river was bright sky and the other side dark clouds! Waterproofs were being peeled off as the race progressed.
Ian took me to where the 'action' was, although much of the action was involving boats trying to extricate themselves from the melee when the majority came together, as it wasn't particularly breezy. The photos tell the story!
From a photographer's point of view the clouds and clear light were a dream and thanks to all the boats who positioned themselves with such great backdrops and the crews who smiled and waved without being prompted (apart from Cardiac 2 who just hurled abuse!)
Although not an exciting race from a sailor's point of view, it was good from my position and winners did emerge with the conditions favouring the faster boats.
We had some confusion over transport, ending up with R2 and Moveable Ballast at Hunter's Yard and me at Thurne with the car which apparently was HJ's fault but it made the decision for us to stay for the BBQ.
The social evening was great fun, with wonderful cakes (thanks Di for the fab Pimm's cake kicking off the evening and to Ruth T and HJ for feeding R2 and me). One rowdy group were actually dancing, even on a table, towards the end of the evening. I hope the youngsters on the Hunter boats weren't kept awake!
Sunday dawned wet yet again but by the time racing started the rain had eased. The first race was a timed race where the buoys could be taken in any order so boats mainly sailed round independently trying to get the fastest time by judging the wind and tide. I walked up and down the moorings, trying to get as many photos as possible but with no-one to talk too I soon gravitated back to the committee boat for drinks and biscuits.
After lunch the final race was started early due to a huge black cloud on the horizon. This was a traditional 'round the buoys' race with four starts. I was again lucky enough to be invited out on the safety boat with Ian and as we came back down the Bure there was a sudden wind shift which caught out one or two boats. They soon recovered but shortly afterward the wind died completely. A period of what seemed like hours ensued during which certain boats appeared to be going backwards. There was a lot of speculation as to whether the race should be abandoned and the appropriate flag was found, ready to raise if necessary. There was also discussion as to whether the last boat, which was quite a way behind the others, should be given the opportunity of retiring or being torpedoed!
However, suddenly the wind came back, from a completely different direction, sails filled, speed picked up and the race was finished. There was a big round of applause for plucky Martlet eventually coming home after being becalmed for so long.
There was a short sharp rain shower followed by the prize giving being quickly conducted before clearing up and heading for moorings and home.
I thoroughly enjoyed the weekend as I always do at EACC events and look forward to the next one. I should thank all the competitors for giving me such great material for photos and hope that I do them justice.
Sue Hines
RESULTS
Saturday Race 1 Pursuit
Sail

Finish Position

No

Yacht Name

Pos

22

Moonraker

1

30

Zingara

2

177

Breeze

3

82

Beth

4

146

Sally

5

217

Melinda

6

218

Mystery

7

122

Martlet

8

244

Catspaw

9

151

Pixie

10

45

Buccaneer

11

86

Moss Rose

12

152

Sabrina 2

13

318

Pippinjack

14

287

Solace

15

307

Mischief

16

71

Sabrina

17
Sunday Race 2 Roundabout
| | | | | | | | | |
| --- | --- | --- | --- | --- | --- | --- | --- | --- |
| Sail No | Boat Name | Helm | H/cap | Start Time | Finish Time | Elapsed Time | Corrected Time | Pos |
| 22 | Moonraker | P Jeckells | -1% | 10:18:47 | 11:21:59 | 01:03:12 | 01:02:34 | 1 |
| 30 | Zingara | R Dugdale | 1% | 10:36:34 | 11:41:56 | 01:05:22 | 01:06:01 | 2 |
| 146 | Sally | S Burton | -14% | 10:26:15 | 11:49:15 | 01:23:00 | 01:11:22 | 3 |
| 218 | Mystery | M Ford | -12% | 10:38:02 | 11:59:34 | 01:21:32 | 01:11:44 | 4 |
| 82 | Beth | G Howarth | -4% | 10:43:25 | 11:58:50 | 01:15:25 | 01:12:24 | 5 |
| 152 | Sabrina 2 | J Holmes | -7% | 10:17:14 | 11:35:53 | 01:18:39 | 01:13:08 | 6 |
| 122 | Martlet | H Franzen | -17% | 10:25:44 | 11:54:11 | 01:28:27 | 01:13:24 | 7 |
| 177 | Breeze | C Chettleburgh | 0% | 10:27:28 | 11:41:43 | 01:14:15 | 01:14:15 | 8 |
| 307 | Mischief | S Seeney | -7% | 10:39:58 | 12:02:20 | 01:22:22 | 01:16:36 | 9 |
| 287 | Solace | J Aves | -14% | 10:35:22 | 12:05:16 | 01:29:54 | 01:17:18 | 10 |
| 86 | Moss Rose | C & P Markham | -7% | 10:23:33 | 11:47:49 | 01:24:16 | 01:18:22 | 11 |
| 217 | Melinda | P Howes | 2% | 10:13:34 | 11:30:30 | 01:16:56 | 01:18:28 | 12 |
| 318 | Pippinjack | P Stevens | -8% | 10:02:57 | 11:28:16 | 01:25:19 | 01:18:29 | 13 |
| 45 | Buccaneer | J Burton | -12% | 10:31:39 | 12:01:33 | 01:29:54 | 01:19:06 | 14 |
| 244 | Catspaw | B Wilkins | -4% | dns | DNS | 00:00:00 | 00:00:00 | |
| 71 | Sabrina | K Warwick | -12% | dns | DNS | 00:00:00 | 00:00:00 | |
| 151 | Pixie | A Lincoln | -15% | dns | DNS | 00:00:00 | 00:00:00 | |
Sunday Race 3
Sail

No

Boat Name

Helm

H/cap

Start

No

Finish

Time

Elapsed

Time

Time

Pos

218

Mystery

M Ford

-12%

4

15:35:35

01:50:35

01:37:18

1

146

Sally

S Burton

-14%

4

15:42:32

01:57:32

01:41:04

2

318

Pippinjack

P Stevens

-8%

3

15:32:25

01:52:25

01:43:25

3

30

Zingara

R Dugdale

1%

1

15:12:27

01:42:27

01:43:28

4

152

Sabrina 2

J Holmes

-7%

3

15:31:51

01:51:51

01:44:01

5

307

Mischief

S Seeney

-7%

3

15:32:06

01:52:06

01:44:15

6

287

Solace

J Aves

-14%

4

15:45:29

02:02:29

01:45:20

7

22

Moonraker

P Jeckells

-1%

2

15:24:11

01:49:11

01:48:05

8

82

Beth

G Howarth

-4%

2

15:27:44

01:54:44

01:50:08

9

217

Melinda

P Howes

2%

1

15:23:58

01:53:58

01:56:14

10

177

Breeze

C Chettleburgh

0%

1

15:26:31

01:56:31

01:56:31

11

122

Martlet

H Franzen

-17%

4

16:10:42

02:25:42

02:00:55

12

151

Pixie

A Lincoln

-15%

4

DNS

00:00:00

00:00:00

71

Sabrina

K Warwick

-12%

4

DNS

00:00:00

00:00:00

45

Buccaneer

J Burton

-12%

4

DNF

00:00:00

00:00:00

86

Moss Rose

C & P Markham

-7%

3

DNS

00:00:00

00:00:00

244

Catspaw

B Wilkins

-4%

2

DNS

00:00:00

00:00:00
Overall
| | | | | | | | | |
| --- | --- | --- | --- | --- | --- | --- | --- | --- |
| No. | Boat Name | Helm | Hdcap | Race 1 | Race 2 | Race 3 | Total | Pos |
| 30 | Zingara | R Dugdale | 1% | 2 | 2 | 4 | 8 | 1 |
| 22 | Moonraker | P Jeckells | -1% | 1 | 1 | 8 | 10 | 2 |
| 146 | Sally | S Burton | -14% | 5 | 3 | 2 | 10 | 3 |
| 218 | Mystery | M Ford | -12% | 7 | 4 | 1 | 12 | 4 |
| 82 | Beth | G Howarth | -4% | 4 | 5 | 9 | 18 | 5 |
| 177 | Breeze | C Chettleburgh | 0% | 3 | 8 | 11 | 22 | 6 |
| 152 | Sabrina 2 | J Holmes | -7% | 13 | 6 | 5 | 24 | 7 |
| 122 | Martlet | H Franzen | -17% | 8 | 7 | 12 | 27 | 8 |
| 217 | Melinda | P Howes | 2% | 6 | 12 | 10 | 28 | 9 |
| 318 | Pippinjack | P Stevens | -8% | 14 | 13 | 3 | 30 | 10 |
| 307 | Mischief | S Seeney | -7% | 16 | 9 | 6 | 31 | 11 |
| 287 | Solace | J Aves | -14% | 15 | 10 | 7 | 32 | 12 |
| 86 | Moss Rose | C & P Markham | -7% | 12 | 11 | 18 | 41 | 13 |
| 45 | Buccaneer | J Burton | -12% | 11 | 14 | 18 | 43 | 14 |
| 244 | Catspaw | B Wilkins | -4% | 9 | 18 | 18 | 45 | 15 |
| 151 | Pixie | A Lincoln | -15% | 10 | 18 | 18 | 46 | 16 |
| 71 | Sabrina | K Warwick | -12% | 17 | 18 | 18 | 53 | 17 |