NORWICH BEER FESTIVAL
Wednesday 26th October

Ruth (Pixie) had not been to Norwich Beer Festival before. She seemed to get the hang of it quite quickly. David (Glider) had not been to Norwich Beer Festival before with girls. Clearly he has been hanging out with the wrong sort of girls. Claire (Glider) had not been to a beer festival before. She was disappointed with the choice of wines. Caspar and Helen (new members, YBOD105 Bright Wave) are really really lovely. Lisa (Sally) gets really excited even when she's not had a drink. Steve (Sally) pulls the best pork, though I've not seen it. There are never enough chairs (all). If you steal chairs from unauthorised areas you will get caught and told off (Cally, Sun Glory). Melvyn Bragg doesn't look as old as he does on the telly (Jo, Sun Glory). Adrian (Pixie) ate everything put in front of him. Then ate everything put in front of everyone else. Then ate a curry. But there's always room for curry after beer, as they go into a different stomach. David told us that and he's medically trained.
---
THE BIG YARMOUTH OUTING
Saturday afternoon 8th October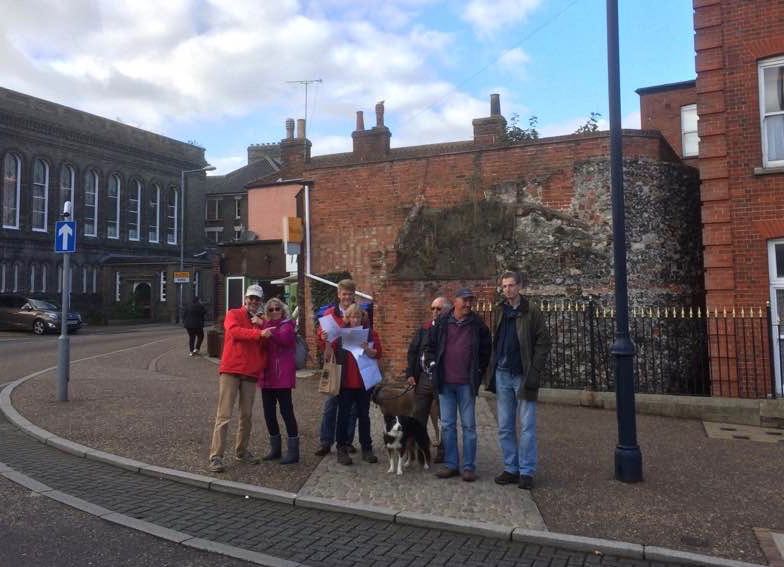 Somewhere in Mid Yarmouth
The original plan had been to end the Southern Rivers Cruise with a night in Great Yarmouth, doing the sights and the Pleasure Beach, but with poor weather and high winds forecast we decided to postpone to a later date.
The rescheduled trip in October saw marginally better weather, but only just as it didn't quite rain on us exactly. The plan was a perambulation of the town walls, following Pevsner's recommended route of buildings and structures of historic interest. Great Yarmouth has the second most complete town walls in the country after Chester and it's a really interesting walk - the Borough Council do guided walks, which are great if the timing right, but it wasn't so we had to make do with Cally's cobbled together version.
We started at the North-west Tower, which we've all passed so many times en route south, then followed the walls through to the magnificent St Nicholas's church (the largest parish church in England) then on to the medieval centre where, having admired the Fisherman's Hospital, we enjoyed one of Yarmouth's true glories - chips from the market. I don't know what it is about Yarmouth's chips, but they really are the best. The girl on Thompson's stall likes them with onion gravy and cheese, together.
The route of the walls becomes somewhat sleazy as it passes behind the Market Gates shopping centre, but it's still there and forms an integral part of the centre - indeed many houses are built on and into it. South of St George's theatre we reached the Georgian and Victorian areas of town with a very different architectural style and character with many roads having naval or maritime references - Admiralty Road, Wellington Road, Camperdown; Nelson is prominent.
The towns walls are at their most impressive off Blackfriars Road - 23' tall, wide, with chequered flint and brickwork, they look like a fortification built with intent, a pre-Brexit warning to keep out. Ending at Palmers Tower, downstream of South Quay, we then made our way down through the grandeur of Georgian Yarmouth, all stucco and flourish, to the Pleasure Beach, all neon and brash.
We hailed a horse drawn hansom en route, which we promptly overloaded in our excitement to get to candyfloss, doughnuts, dodgems and - finally! - The Big Dipper! For the record, drinks were taken, but only in the interest of historic research. A great way to end the Southern River Cruise and we should do it again next year.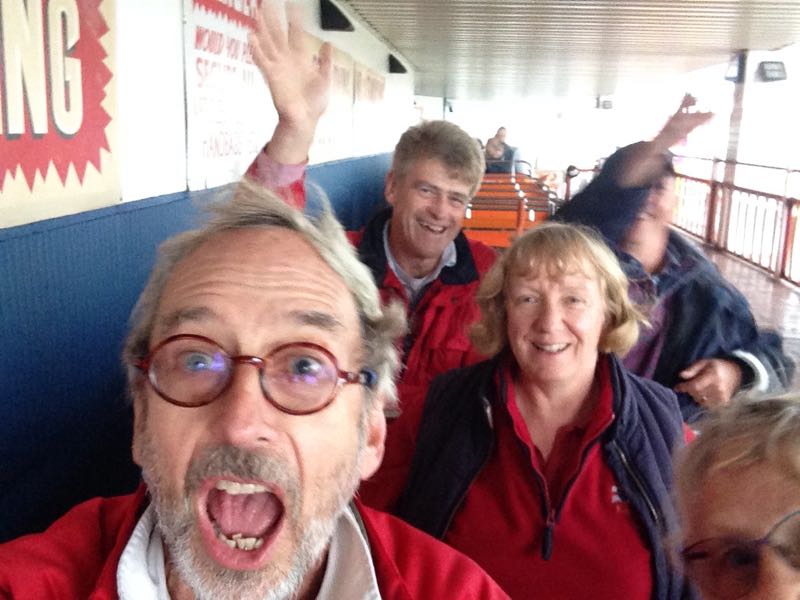 The Big Dipper - aaaaaaaaaaah!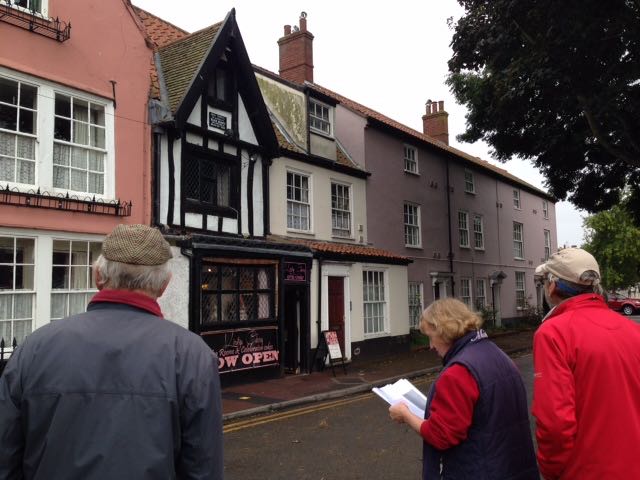 Anna Sewell's house at the beginning of the tour - all the timber, roof and windows were assembled together from architectural salvage in 1932! Don't believe all you see......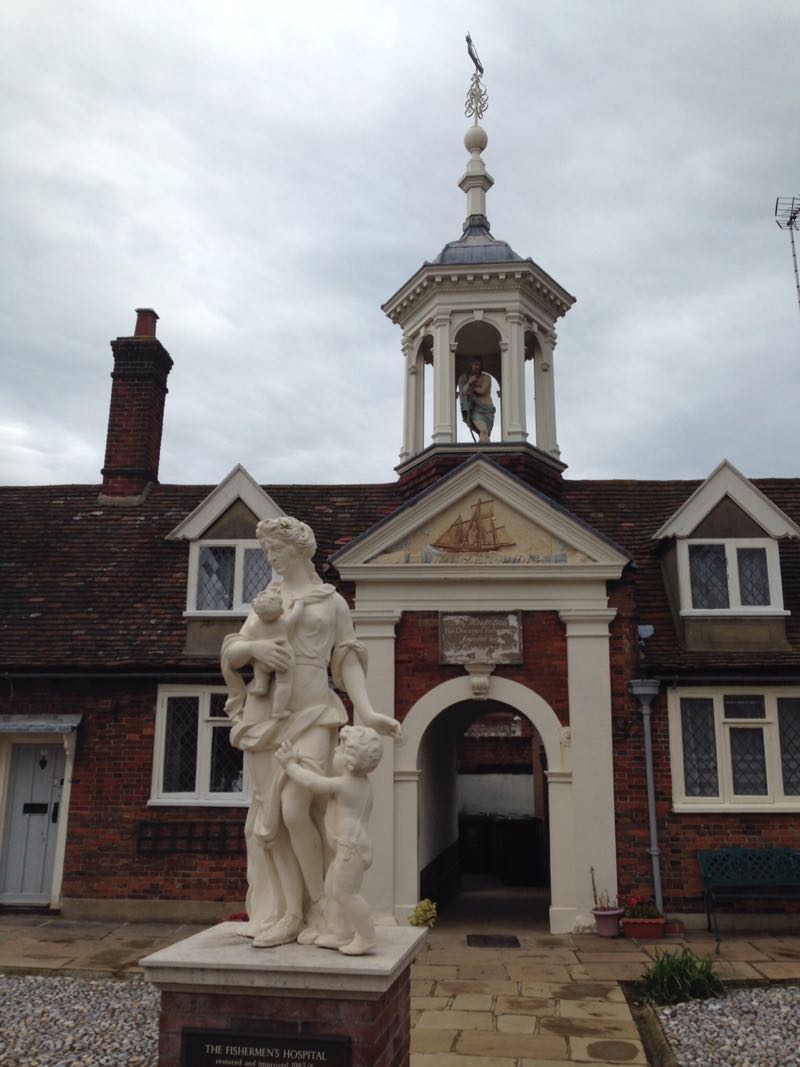 The Fisherman's hospital and the statue of Charity. The ship in the background is sailing backwards - a wry reference to the ailing condition of the occupants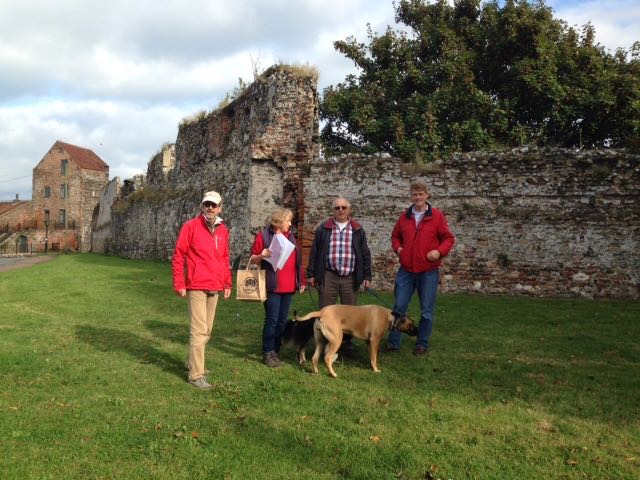 South east tower in the background - rent it as a holiday cottage from the preservation trust. Marauding Vikings optional