Autumn Regatta 2017
Report and photos by Sue Hines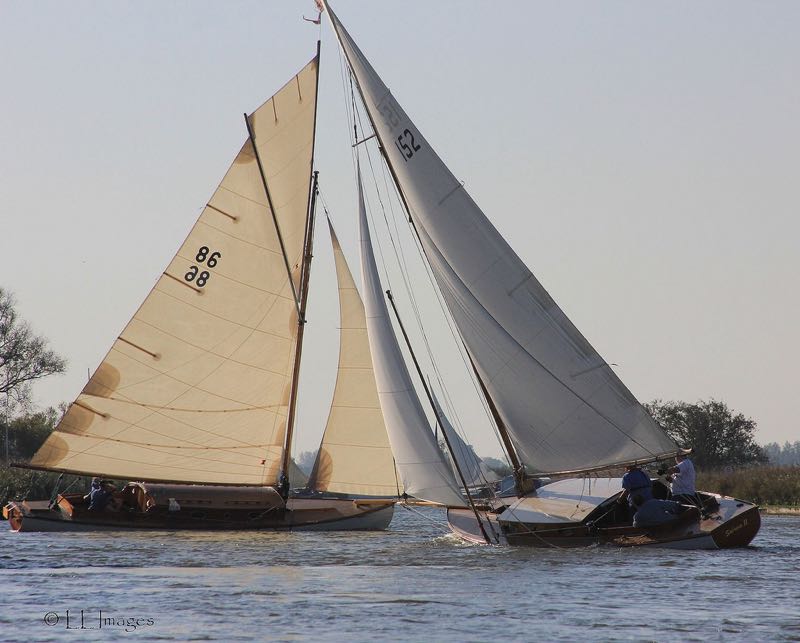 A perfect day with beautiful sunshine and a good breeze for the last East Anglian Cruising Club regatta of the season.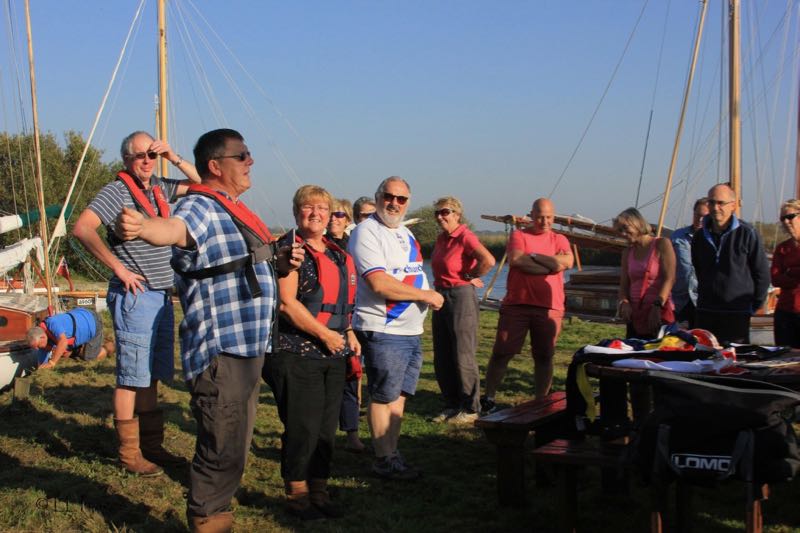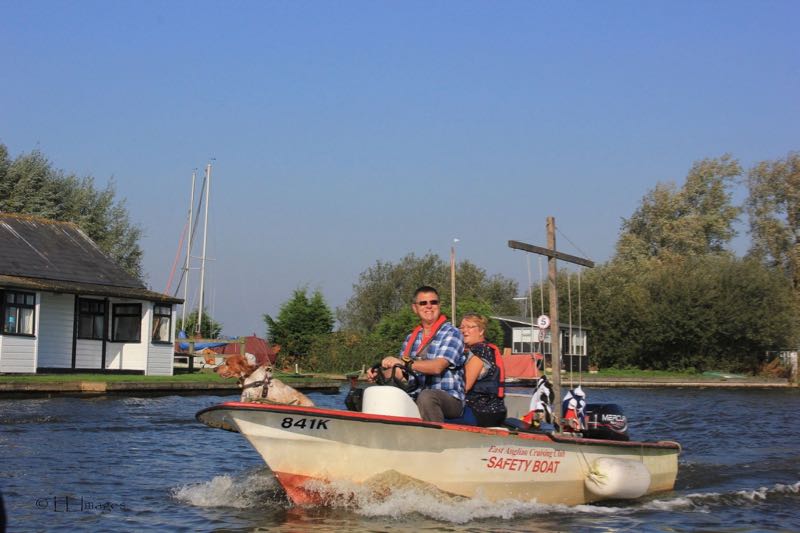 Everyone gathered on the Club moorings where Officers of the Day, Colin and Liz Chettleburgh briefed crews on the course which included a loop down to a buoy set south of Oby Dyke. There was a great turnout of boats with 17 starters over 5 starts with slow boats starting first in the morning race to Ranworth. Having completed the loop, the boats were well spread out until around St Benet's when the fleet compressed, producing some close manoeuvring in the upwind leg to the finish, with four boats abreast at times on the very busy river.
The finish was just short of the trees before Ranworth Dyke and the boats motored down to raft up on the Broad.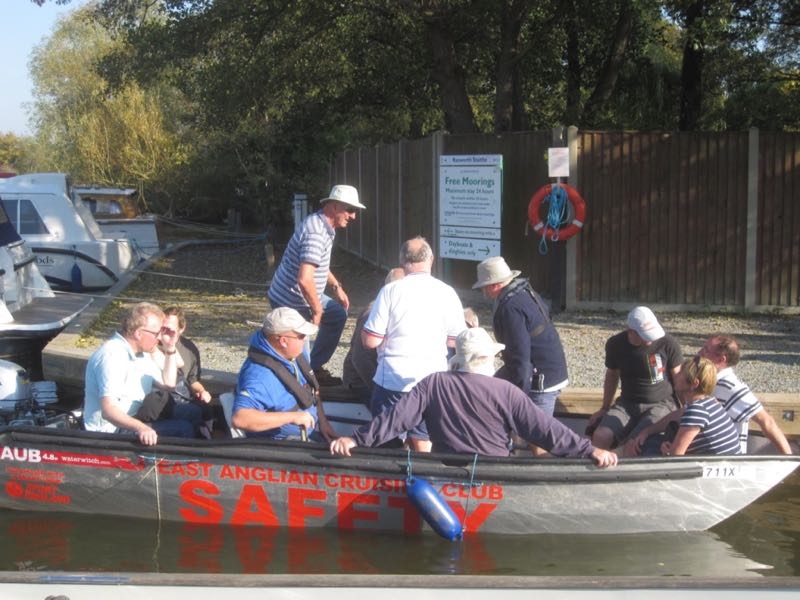 Photo: Jane Stevens
Crews were ferried to The Maltsters for an enjoyable lunch outside in glorious sunshine.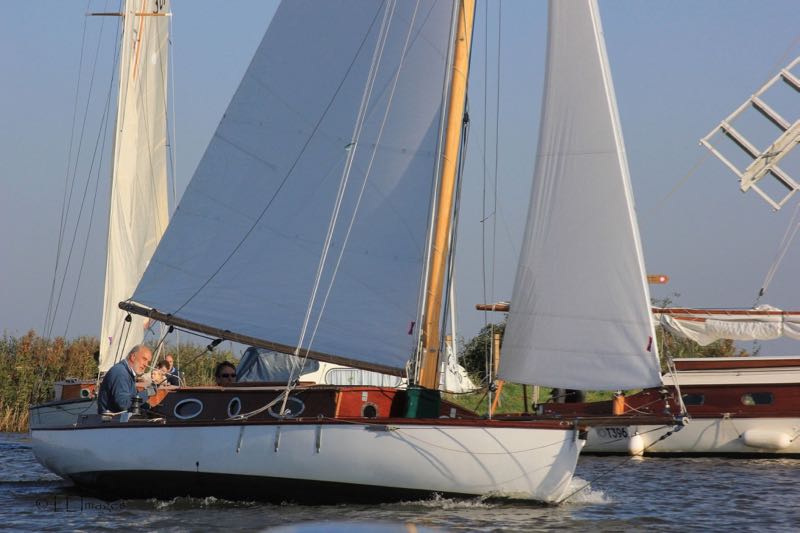 Pippinjack, helmed by Paul Stevens with Steve Burton as crew instead of his normal crew of Jane Stevens, took this race, winning the Jubilee Cup by 4 seconds from second placed Sabrina 2 (John Holmes), with Melinda helmed by Paul Howes coming third, just 6 seconds further behind.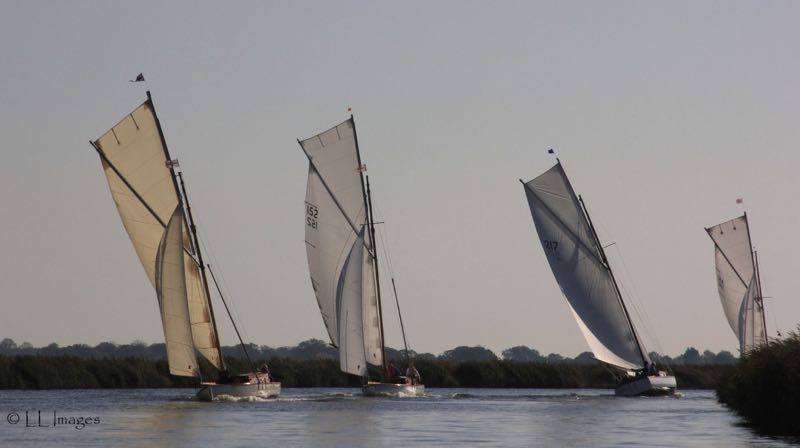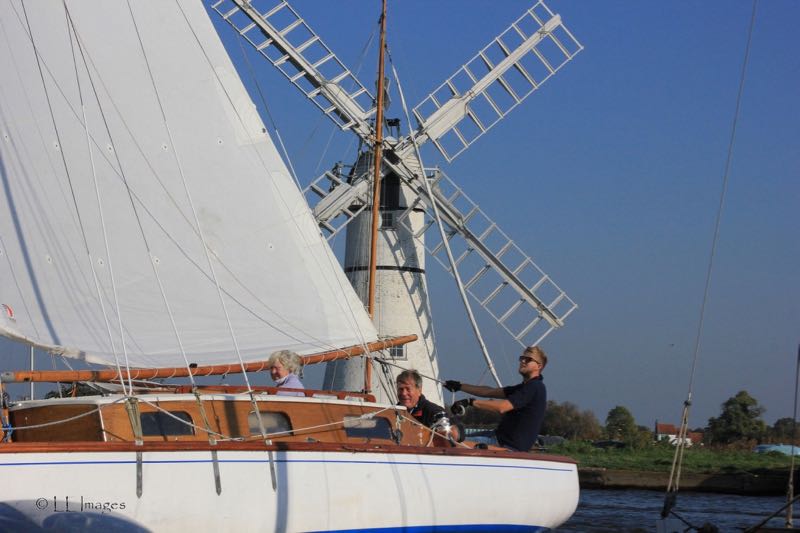 The wind held up for the afternoon race which started on the river at 2.45 with the faster boats setting off first and there were one or two sailing duels on the way back to Thurne.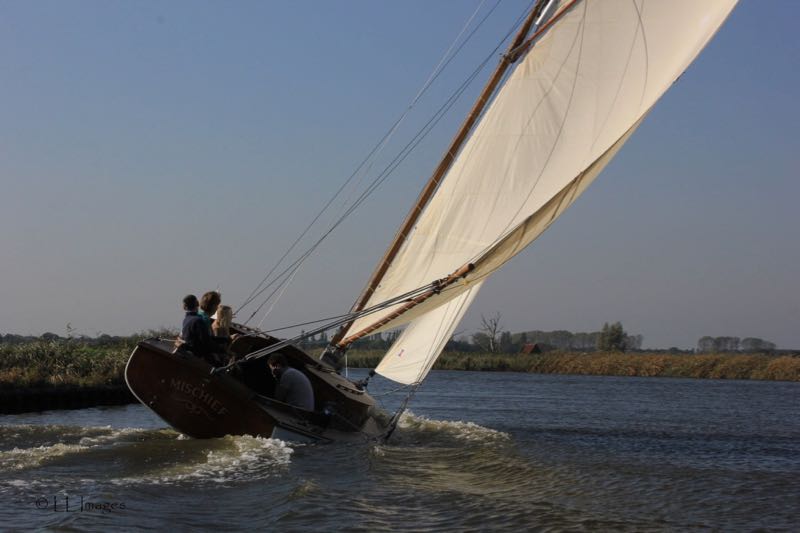 The winner of this race was Mischief (Steve Seeney with a family crew), holding on to the Joe Delf Trophy which they won last year. Pippinjack was second and Solace (John Aves, crewed by Tim Riches) was third.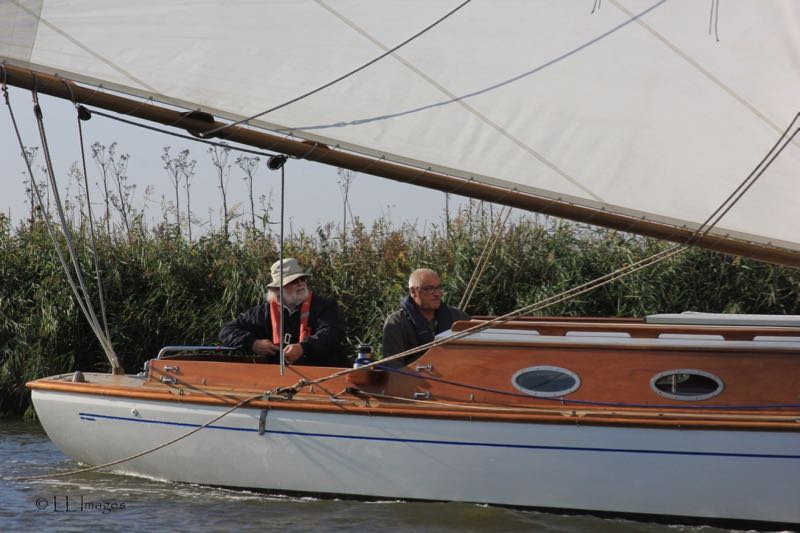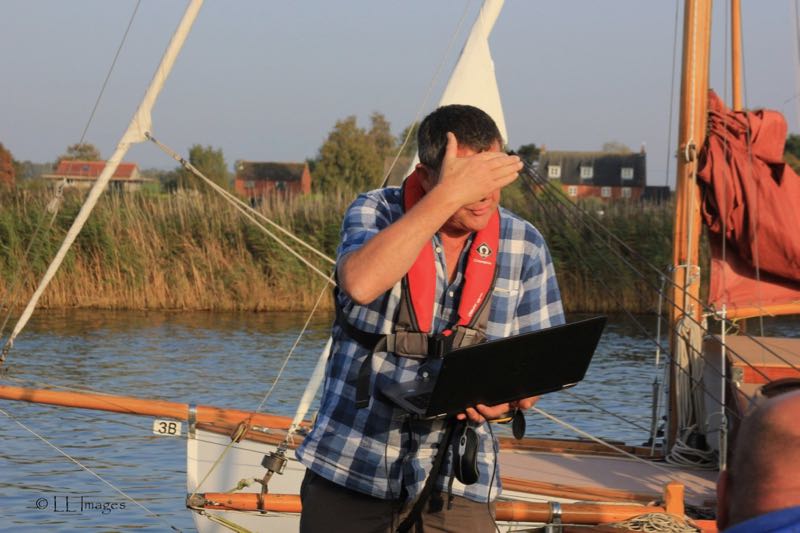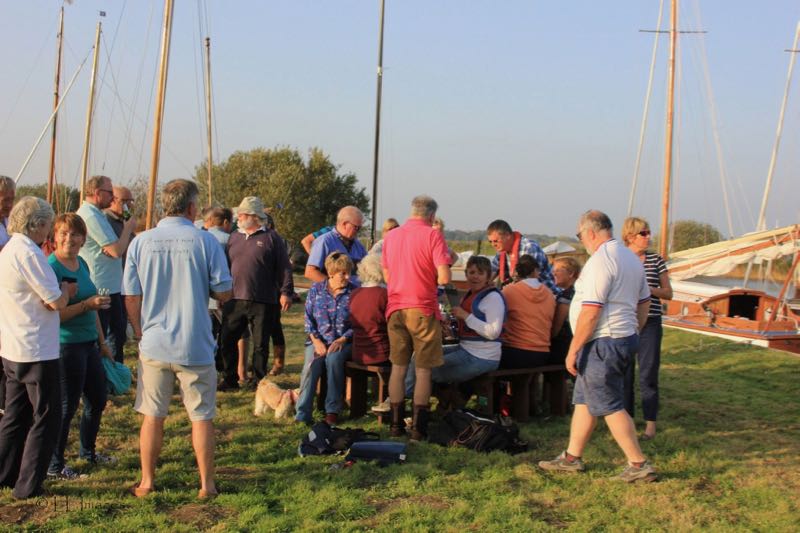 After the results were announced at the Club moorings, the new owners of Dove, Dave and Soozie Hopwood, cracked open the bubbly to celebrate their first race after taking over ownership the day before!
Sue Hines
A big thankyou to Colin and Liz Chettleburgh for running the line ably assissted by Ian Stewart and Mike and Barbara Barnes.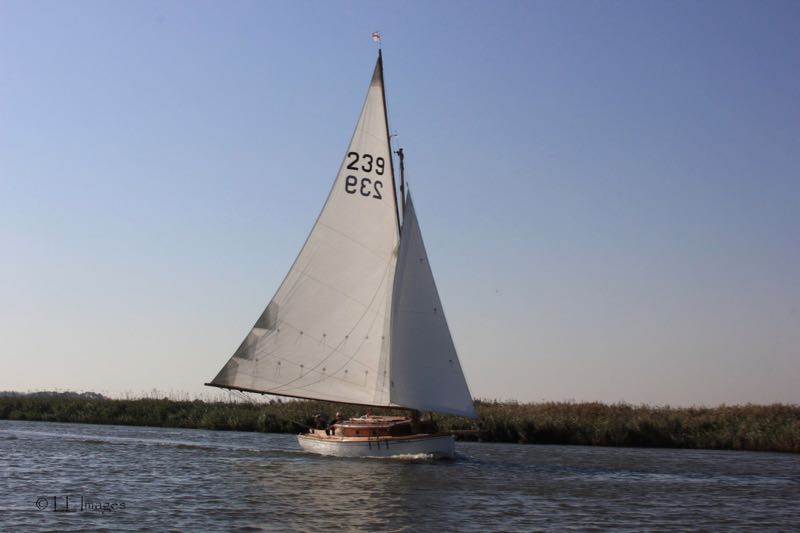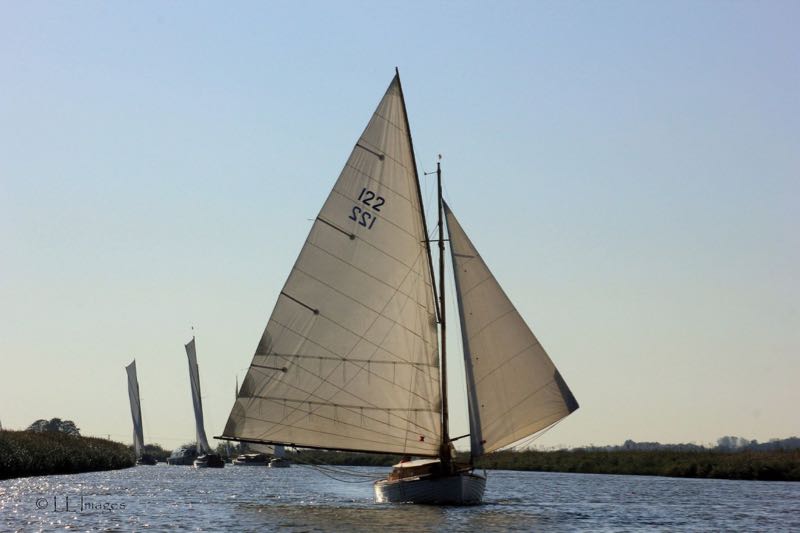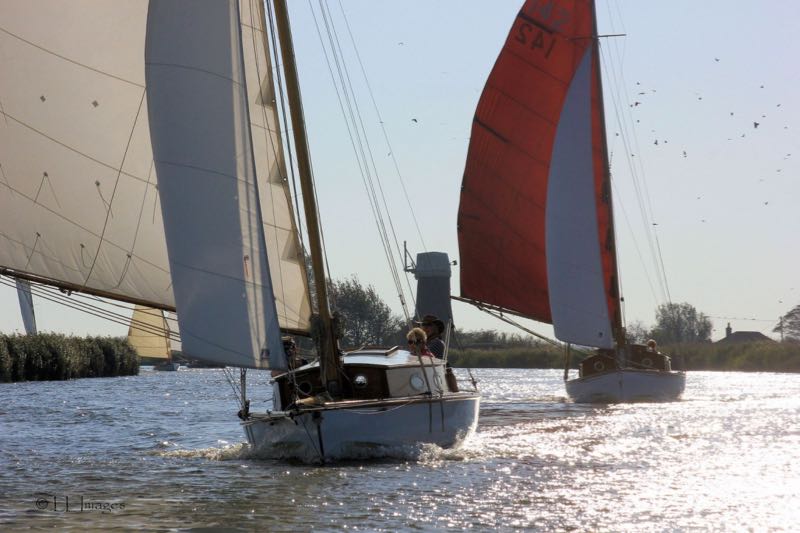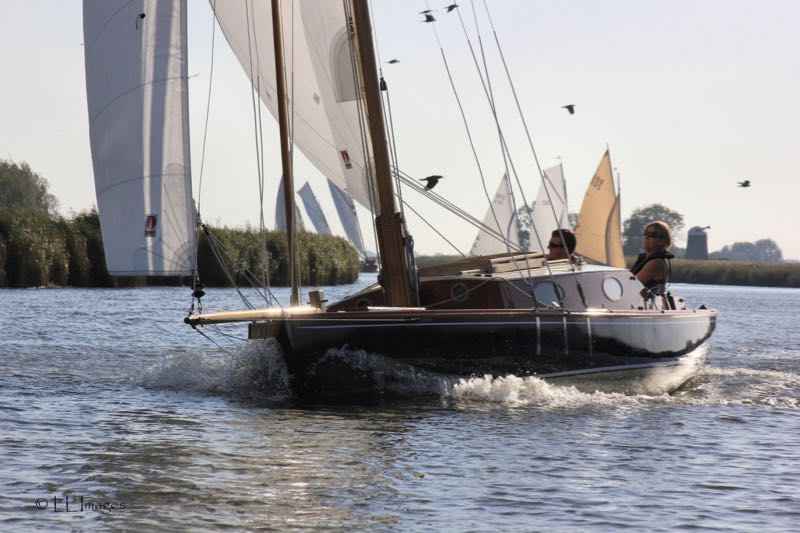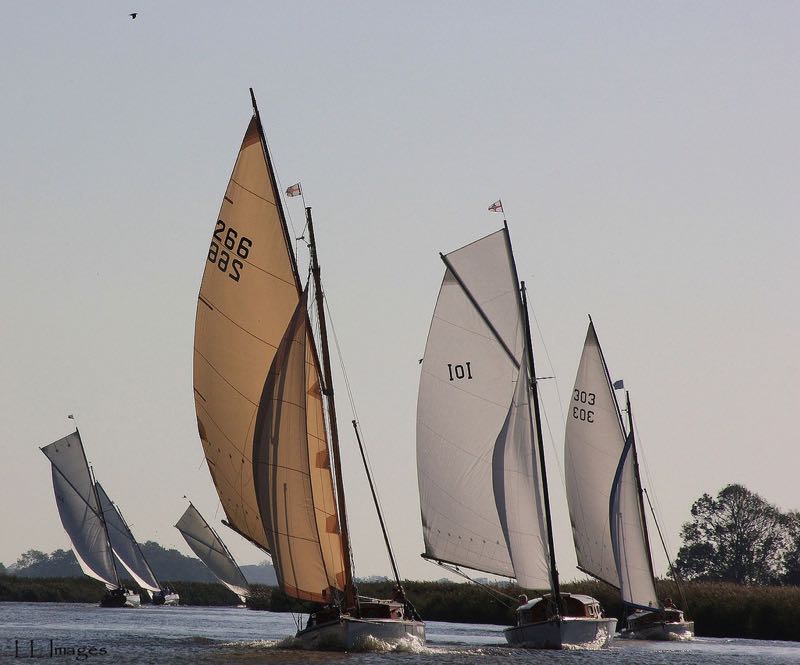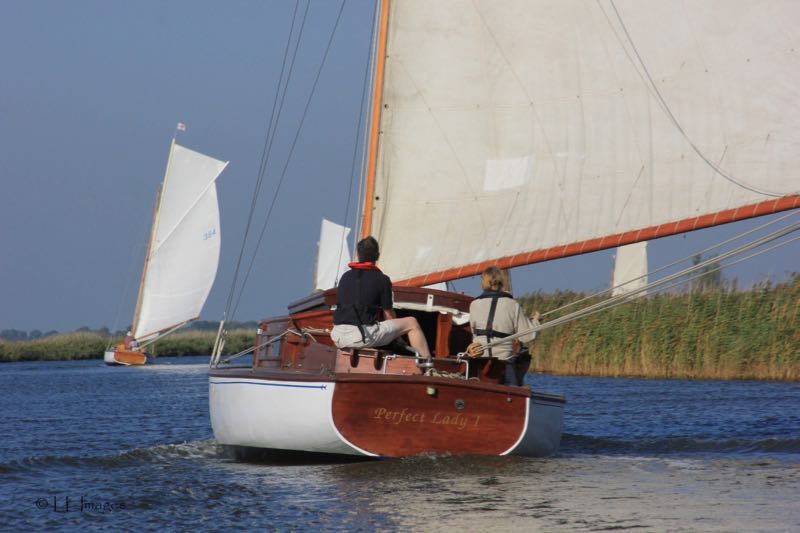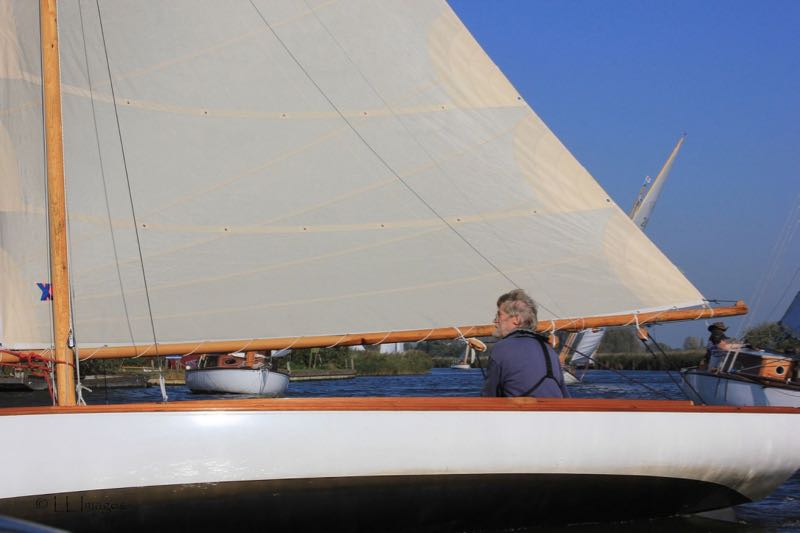 Race One - Passage race to Ranworth - Jubilee Cup

Sail No

Yacht Name

Helmsman

H'cap

Start

Start time

Finish time

Elapsed

Corrected

Pos

318

Pippinjack

P Stevens

-7%

5

10:50:00

11:57:47

1:07:47

1:03:02

1

152

Sabrina 2

J Holmes

-8%

4

10:45:00

11:53:35

1:08:35

1:03:06

2

217

Melinda

P Howes

1%

5

10:50:00

11:52:34

1:02:34

1:03:12

3

307

Mischief

S Seeney

-7%

5

10:50:00

11:58:07

1:08:07

1:03:21

4

287

Solace

J Aves

-14%

2

10:35:00

11:49:56

1:14:56

1:04:27

5

384

Cordon Rouge 1

D Thompson

-8%

4

10:45:00

11:55:17

1:10:17

1:04:40

6

86

Moss Rose

C & P Markham

-8%

4

10:45:00

11:55:50

1:10:50

1:05:10

7

223

Snowbird

N Wiggins

-10%

3

10:40:00

11:52:35

1:12:35

1:05:20

8

122

Martlet

H Franzen

-18%

1

10:30:00

11:51:55

1:21:55

1:07:10

9

239

Glider

D Calder

-25%

1

10:30:00

11:59:37

1:29:37

1:07:13

10

151

Pixie

A Lincoln

-16%

2

10:35:00

11:57:37

1:22:37

1:09:24

11

101

Inseinity

C Gibbon

-10%

3

10:40:00

11:58:42

1:18:42

1:10:50

12

266

Dove

D Hopwood

-10%P

3

10:40:00

11:58:55

1:18:55

1:11:02

P

Splash

P Bown

-13%P

2

10:35:00

11:56:51

1:21:51

1:11:13

P

303

Nutcracker

M Jones

-10%

3

10:40:00

11:59:23

1:19:23

1:11:27

13

142

Bishy Barnybee

J James

-19%

1

10:30:00

12:07:06

1:37:06

1:18:39

14

294

Perfect Lady

C Makepeace

-23%P

1

10:30:00

12:18:43

1:48:43

1:23:43

P

153

Sun Glory

J Edye

-14%

2

10:35:00

0

DNS

RACE TWO - Passage Race from Ranworth to club moorings - Joe Delf Trophy

Sail No

Yacht Name

Helmsman

H'cap

Start

Start time

Finish time

Elapsed

Corrected

Pos

307

Mischief

S Seeney

-7%

1

14:45:00

15:35:03

0:50:03

0:46:33

1

318

Pippinjack

P Stevens

-7%

1

14:45:00

15:35:51

0:50:51

0:47:17

2

287

Solace

J Aves

-14%

4

15:00:00

15:55:17

0:55:17

0:47:33

3

384

Cordon Rouge 1

D Thompson

-8%

2

14:50:00

15:41:54

0:51:54

0.47:45

4

217

Melinda

P Howes

1%

1

14:45:00

15:32:26

0:47:26

0:47:54

5

223

Snowbird

N Wiggins

-10%

3

14:55:00

15:48:30

0:53:30

0:48:09

6

122

Martlet

H Franzen

-18%

5

15:05:00

16:04:12

0:59:12

0:48:33

7

86

Moss Rose

C & P Markham

-8%

2

14:50:00

15:43:08

0:53:08

0:48:53

8

151

Pixie

A Lincoln

-16%

4

15:00:00

15:58:33

0:58:33

0:49:11

9

239

Glider

D Calder

-25%

5

15:05:00

16:10:38

1:05:38

0:49:14

10

303

Nutcracker

M Jones

-10%

3

14:55:00

15:50:31

0:55:31

0:49:57

11

152

Sabrina 2

J Holmes

-8%

2

14:50:00

15:44:42

0:54:42

0:50:19

12

101

Inseinity

C Gibbon

-10%

3

14:55:00

15:51:51

0:56:51

0:51:10

13

153

Sun Glory

J Edye

-14%

4

15:00:00

16:00:17

1:00:17

0:51:51

14

266

Dove

D Hopwood

-10%P

3

14:55:00

15:52:37

0:57:37

0:51:51

P

142

Bishy Barnybee

J James

-19%

5

15:05:00

16:12:04

1:07:04

0:54:19

15

294

Perfect Lady

C Makepeace

-23%P

0:00:00

0

DNS

Splash

P Bown

-13%P

0:00:00

0

DNS
SaveSave