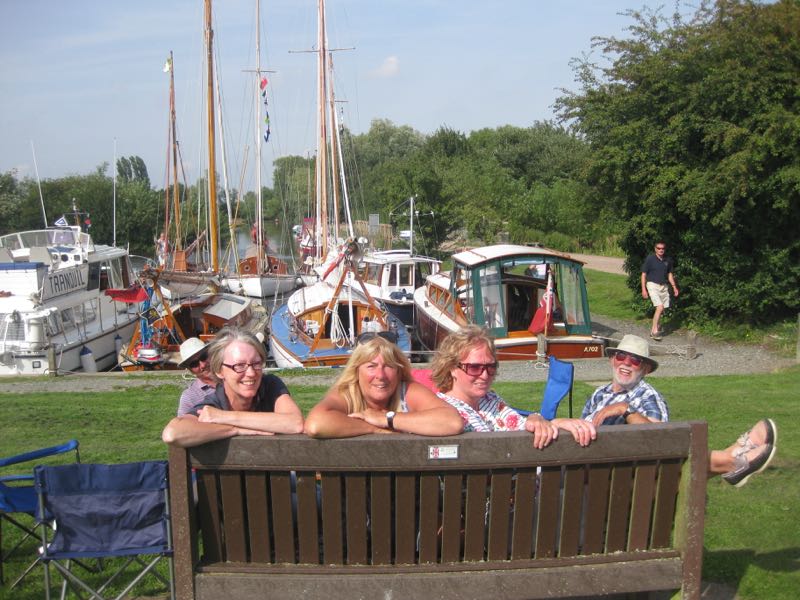 Southern Rivers Cruise 2017
Showers, ploughing, somewhere new and 42 bridges! - Southern Rivers Cruise 2017
Well the somewhere new, and the showers were the bits we planned, but the ploughing part perhaps should have been expected?
All the planning had been done, all the pre-visits and reccis had been done, tides and times checked and double checked – even the weather was just as ordered.
Not anticipating such a favourable wind for the trip from Acle to Yarmouth a generous time had been allowed, but this proved to be over generous for those starting the cruise at the appointed time on the Friday at Acle.
We came down from Thurne and met Cordy, Pilot and Breeze (Moorhen had already gone off ahead), all ready and raring to make for Yarmouth – OK we were a little late, sorry about that, but I had looked at the wind and realised that Bishy would not be needing quite so much time.
Hearing that Breeze and Cordy had reefs in Bishy decided to go for no reefs for the downwind dash to Yarmouth. Bishy was first away with the intention of trying to keep ahead of Breeze and Cordy, something which we managed, although we were looking over our shoulders more and more the closer we got to Yarmouth.
Through the bridges and some of us opted to moor, have supper and wait for the tide.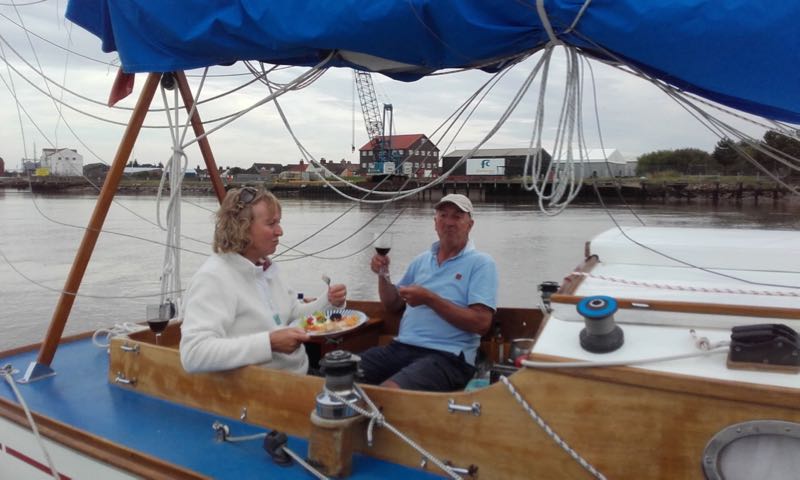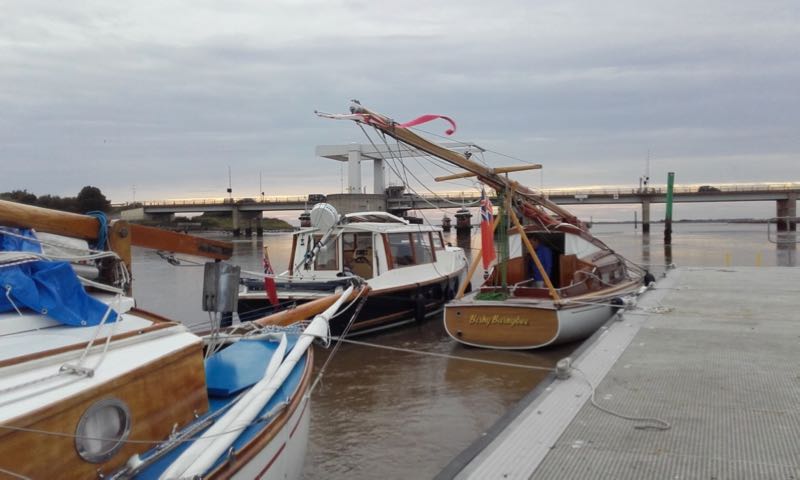 Others made off against the ebb to get to Berney before supper, but we all made it to Berney where we met up with Marilyn Ann, Tranquil, and Moorhen. There was plenty of room for us all on the 24hr moorings.
Breakfast the following morning was interrupted by the epic long distance sailors on Ranger and Starshell (they had set off at 'silly o'clock' in the morning to come down from Ludham to join us that morning).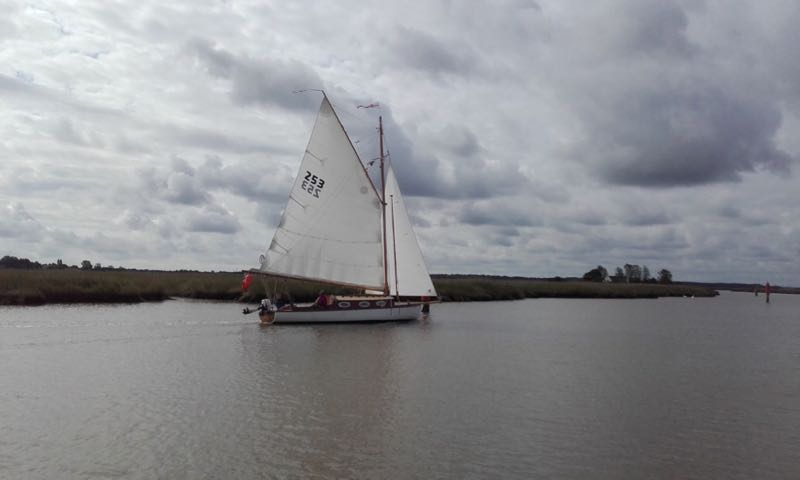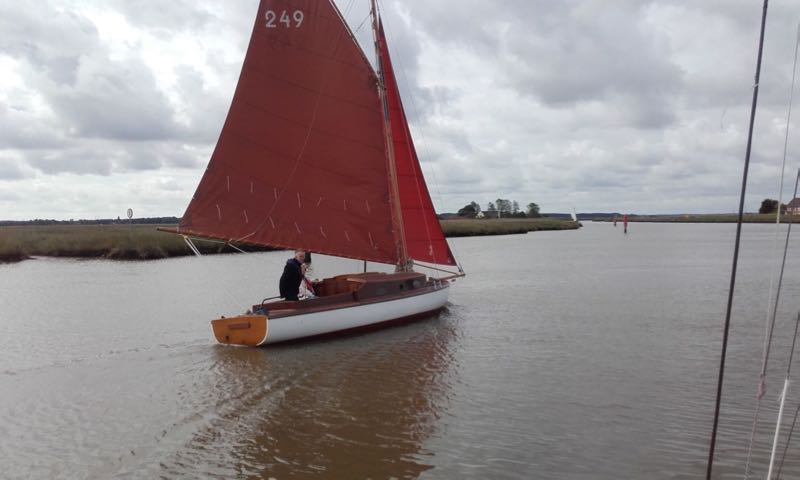 Having got the taste of sailing these two continued on past – and off the remainder of the fleet set to catch-up with them at Langley Dyke. Tales were told of the epic voyage, apparently Paul on Starshell needed help in getting it up having come through Yarmouth, so Mr Ranger whilst underway went aboard Starshell to assist – Semen (sorry) Seamen transferred at sea?
After lunch the course was set for 'Ting- Dene' Marina Brundall. Now perhaps it may have been confusion in translation from imperial to metric, or our Northern Rivers accents may be confusing, but by the time Bishy got to the Marina it was clear that almost all our fleet were too long to fit in the allocated bays. Just a slight problem particularly as we had booked the evening meal that night just by the marina! All is well that ends well though, as a quick call to a friend (and EACC member) who works at NYA arranged emergency moorings for us all, and we all still had access to the very nice loos and showers. Ting- Dene had done their very best to help us out, but were only able finding alternative moorings for Tranquil. Mooring fees were waived, so the flotilla collection of £50 for moorings went to Mrs Ranger for the EACC chosen charity!
Most of the fleet opted for the group meal in 'East Hills', with EACC taking on two large tables, a nice meal and good fun evening.
Short trip to Whittlingham Sunday, and as we lead the way up the River Yare from Trowse Eye Mrs Bishy says to me,
"You haven't actually been up here by boat this year?" I reply.
"No, not this year", Mrs Bishy then continues,
"There could be a tree down across the river for all you know?"
Round the next corner was a tree! We made it round the tree, and so did the rest of the fleet to my amazement.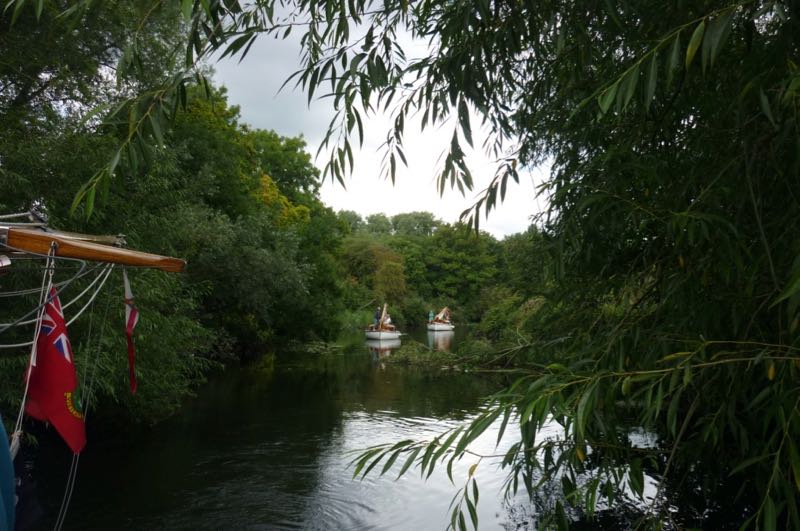 Gin Meadow provided the moorings with the Ski Club generously allowing us use of their loos and showers.
Pilot crew were having engine problems, but various EACC 'engineers' provided assistance and kept them going.
Starshell crew wanted to go to watch the football?? So they were taken by boat and deposited on Carrow Road! Whilst the remainder of the fleet made their way up into Norwich on Cordy, Marilyn Ann and Bishy, with an RV at the Ribs of Beef, where perhaps sensible thinking was altered or removed completely as 'The Ribs of Beef Challenge Cup' was to be raced for! The race officer and official photographer was to be Mr Ranger. Mr and Mrs Breeze saw sense and muttered something about it being too hard to get it up and made off to go shopping!
The course was confined to the area between Fye Bridge and White Friars Bridge with a beat down to White Friars and a run back to Fye Bridge. Bishy with a little common sense kept her engine running for the beat, but upon a protest from Marilyn Ann cut her engine, however Marilyn Ann decided to run hard aground on the leeward mark! The race was completed and victory awarded to Marilyn Ann, the crew of which it is suggested were perhaps slightly under the influence? Their victory celebrations were not all recorded fortunately, as MR MA attempted to take his crew off the deck with the assistance of a tree!
Monday was on to Rockland, on the way Pilot was taken into Brundall for a re-fit of a starter motor. At Rockland EACC again demonstrated how to moor the entire fleet in a full basin!
Some took the opportunity of a walk around Srumpshaw, whilst others found the bar in the pub more attractive. The New Inn again looked after us well, and we were joined by Nutcracker (who came by car) . After dinner the Ribs of Beef Challenge Cup was presented; to Skipper ; Mr Marilyn Ann (Mrs MA claims to have had nothing to do with it), and crew; Mr Cordy (he could remember little of the race?)
Tuesday we said goodbye to Cordy, and Marilyn Ann, and saw the fleet move to Loddon, where EACC again managed to get the entire fleet together, and a BBQ on the river bank. A surprise visit by the EACC Social Secretary with a pop-up gin bar was very welcome. Showers and loos available for those who were prepared to walk to town quay.
Wednesday was a long trip to Beccles, Mr Bishy thought it might be a good idea to sail via Burgh Castle as the wind (he thought) would allow a sail down the Yare and up the Waveney (It didn't!). We missed most of the fleet as they had moved off Herringfleet just before we arrived, but we did meet Matilda and were joined by Breeze for a late lunch.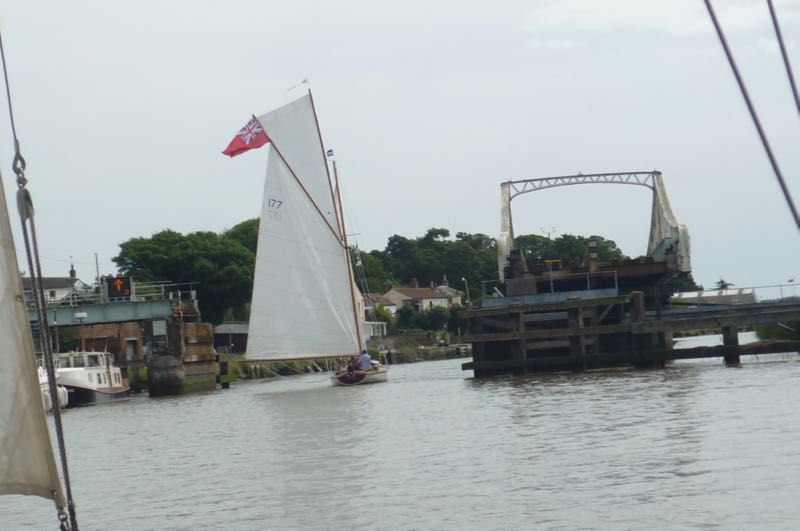 The evening moorings were at Beccles Sailing Club, where the bar was opened for us and the showers fired up for us – Thank you Beccles sailing Club. Mr and Mrs Starshell dashed off to watch football again, and upon return Mrs Starshell had been replaced.
Thursday morning saw the only daytime rain for the cruise, but by the time we walked into town the rain had stopped, but I was able to take my brolly for a walk!
We had to say farewell to Tranquil at Beccles as there was no way that we could get her under the bridge.
Then we made off for Geldeston Village, where we said hello to Pippa. As the fleet arrived it was clear that some are larger than others – this is where the ploughing commenced. Breeze firmly aground in the centre of the dyke attempted to plough a single furrow by failed after less than a boats length, so Bishy ploughed her way to her to make a 'bridge' to allow Mrs Breeze and Jasper Breeze get ashore (Mr Breeze happy with beer to remain on Breeze!) Other larger draught vessels had similar problems, but managed to plough some other single furrows!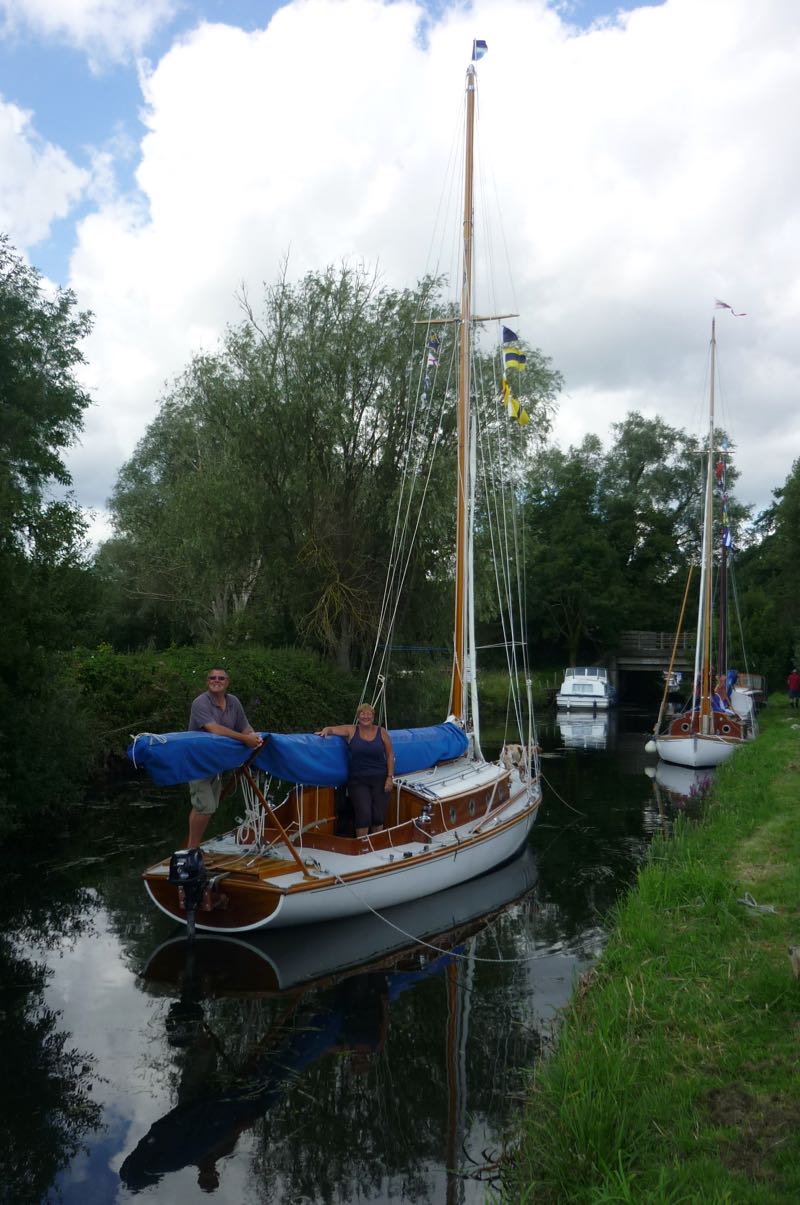 A walk around Geldeston found the EA Air Ambulance parked in a field, Mr Moorhen knowing the crew arranged a look around the big yellow bird.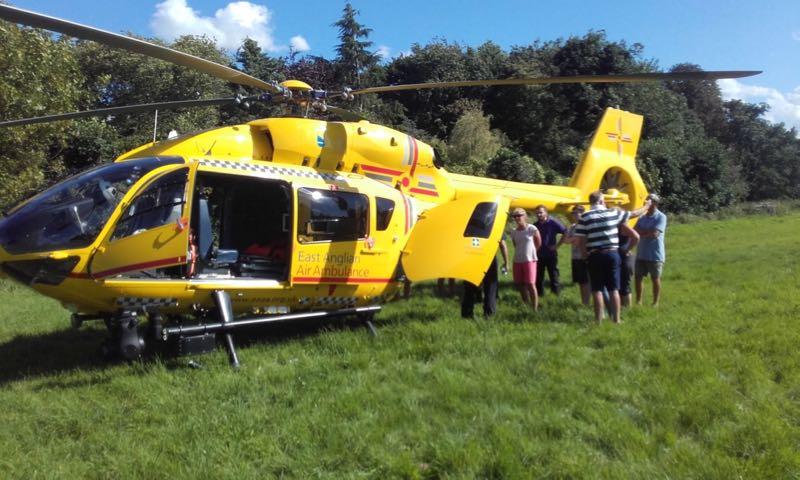 The Wherry Inn, made us most welcome.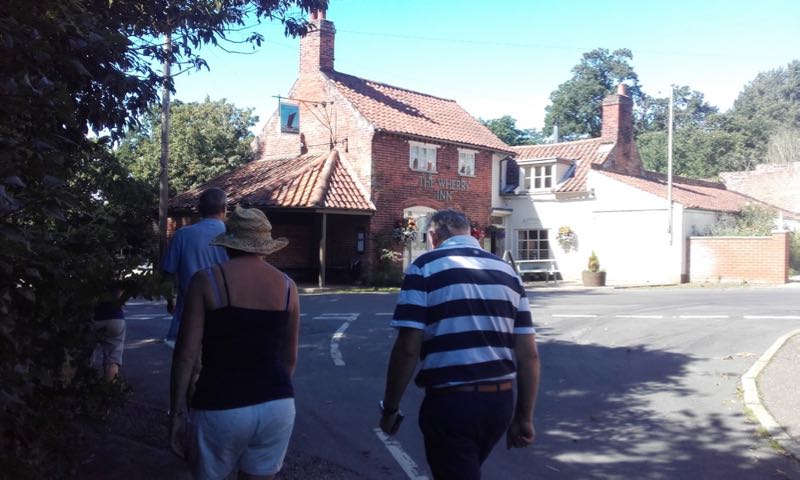 Best dressed boat prize was awarded to; Ranger, although Mrs Ranger looked a little disappointed when her winnings (red wine) were promptly taken back and auctioned off with a game of 'heads and tails' for charity. The successful Mrs Starshell donated her winnings back to Mrs Ranger – the proceeds of the auction also went to Mrs Ranger for the EACC nominated charity. Mrs Bishy had to leave to do the holiday cottage, but was replaced by Mrs Bishy's brother.
Breeze dog Jasper led the singing in the pub to the accompanied by Mr Breeze and his guitar.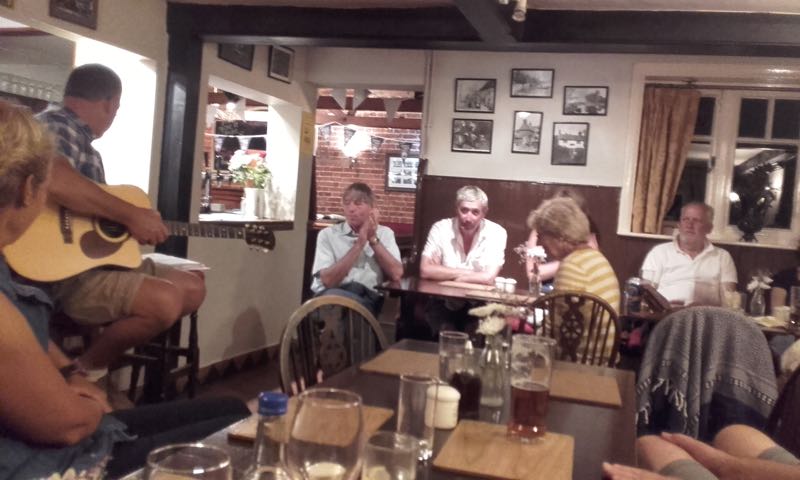 Showers and loos made available to us kindly by Rowan Craft.
From Geldeston it was the trip down to Somerleyton, with a fresh breeze, but protected by trees almost all the way to Waveney River centre. Again EACC managed to find moorings for all along with the Green Wyverns and others mustering for the Round the Island Race the next day. Group meal in Dukes Head.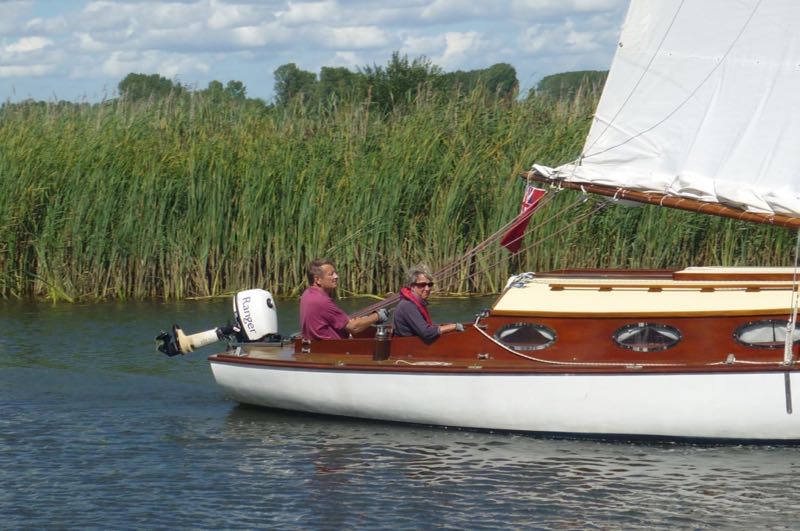 The following day saw Matilda take part in the Round the Island Race (came second I understand, well done – she might have done even better if she had not picked her start time to allow her crew to depart for Yarmouth after the race).
Bishy, Starshell, Ranger and Pilot headed North through Yarmouth on the Sunday, some had more room under the bridges than others!
The long motor back up the Bure, Mrs Bishy's brother collected from Bishy at Acle as he had a fishing match to attend the following day, leaving single crewed Bishy to drop in at Thurne Lion for evening meal and beer.
Thanks for all who took part.
Jimmy (photos also by Jimmy)