Southern Rivers Cruise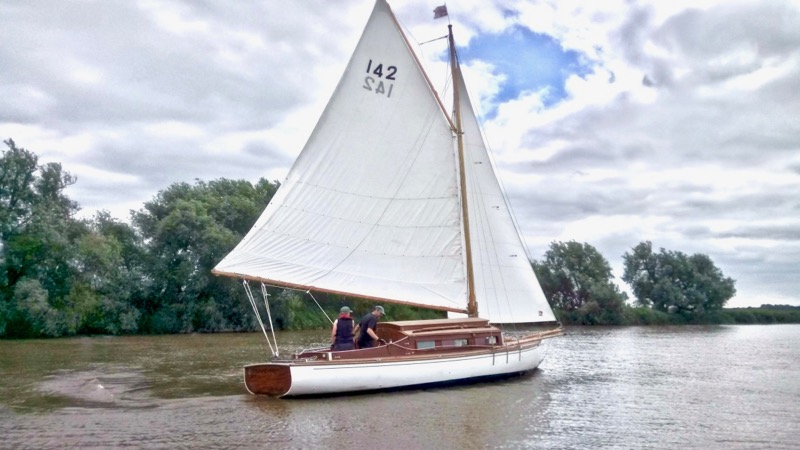 Thanks for all the photographic contributions from Jimmy James, Jane Stevens,
Mike Barnes, Susan Spivey and Roger Everett, Joe Farrow & Sue Hines.
A report on the EACC Southern Rivers Cruise, by one who survived.
Friday 10 August - the plan:
Meet at EACC moorings for passage to Yarmouth and the south.
What actually happened:
Partial success! We met in the pub, dragged Colin Chett out kicking and screaming and motored happily to Acle bridge before it started raining. Luckily, it wasn't long before it got a lot worse. On the bright side there was a spectacular rainbow and there was time to dry out before we hit Berney Arms (where the YSC beer tent was open) and Polkey's mill. A perfect pincer movement.
Saturday 11 August - the plan:
Breydon for the regatta for some, and the EACC safety boat manned by Ian and Jo, while the Polkey's Mill lot and others headed for Loddon on Tom Moore's mini cruise.
What actually happened:
Total success! A great weekend's regatta with perfect conditions on Saturday and a lot of wind on Sunday. Pippinjack did very well, although they had to give one of their four trophies back. Excellent food and drink over in Loddon apparently, but what goes on on tour stays on tour they say, and as I have heard no tales from the mini cruise something must have been going on!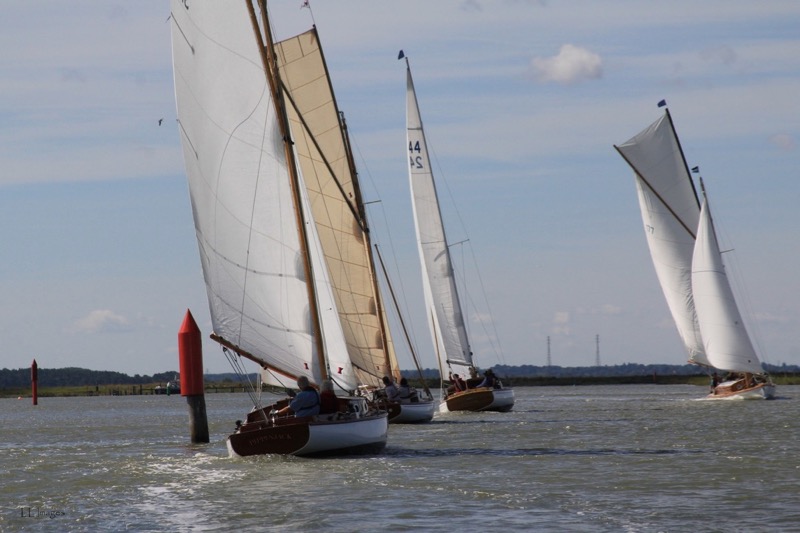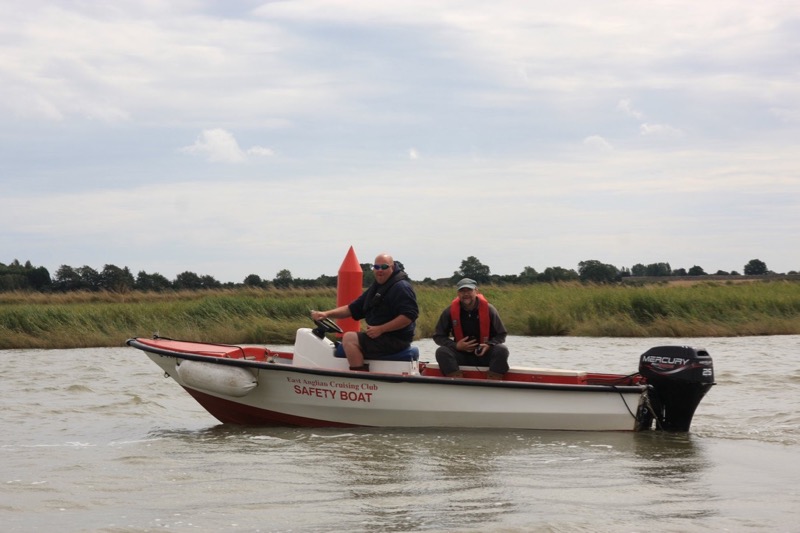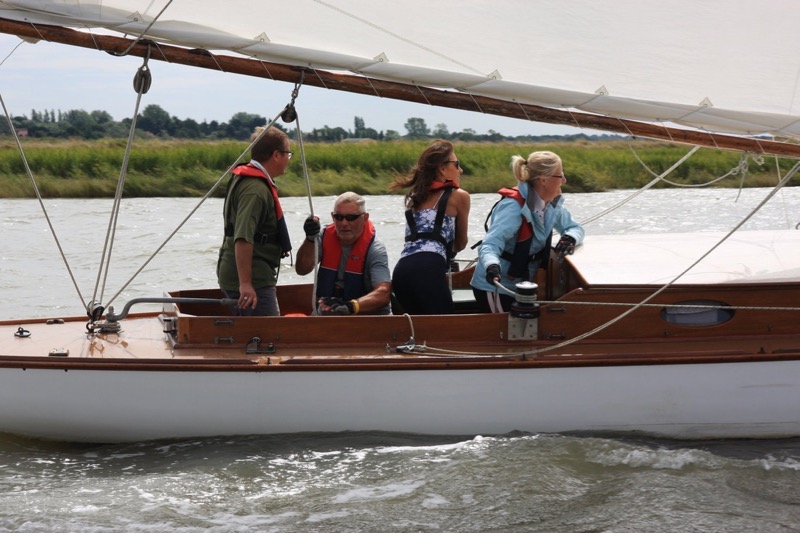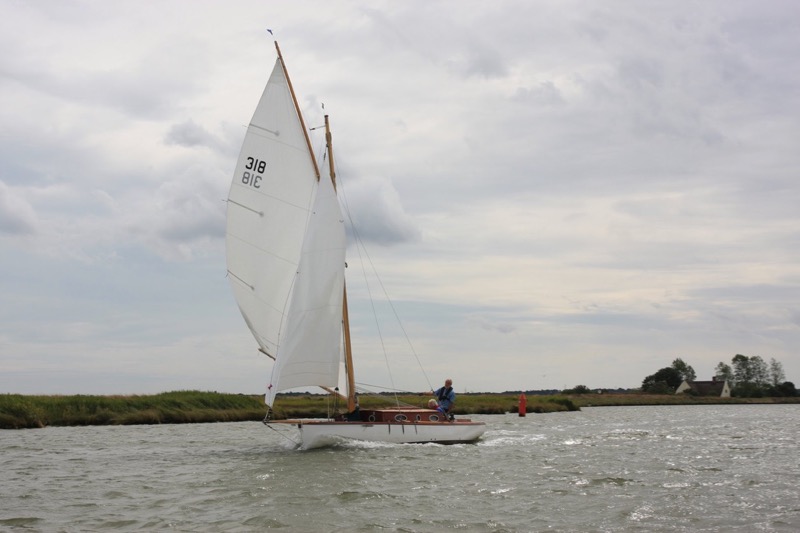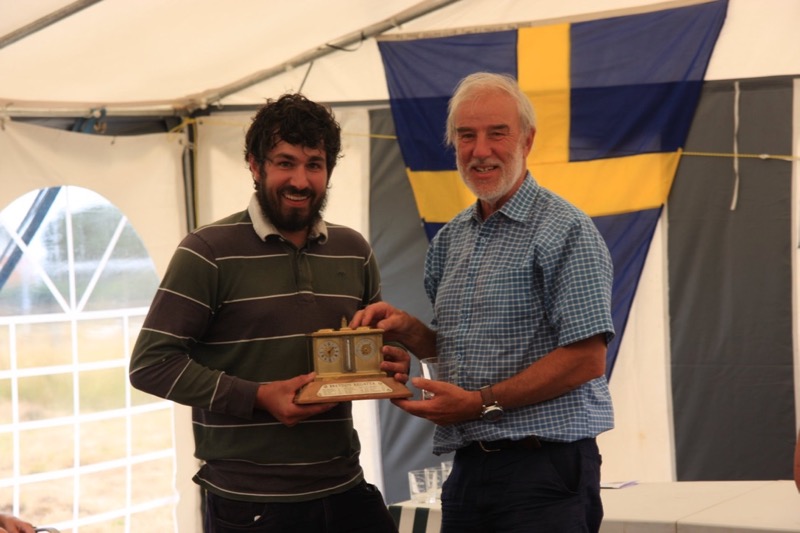 Sunday 12 August - the plan:
A lot like Saturday, except obviously up early for Church. And meet at Reedham at 5pm.
What actually happened:
Holy successful, with music! There are no churches near Berney Arms as it is a godless place, so we raced boats instead. I can't speak for the Loddoners, see above, but I'm sure bread and wine was involved. But we did successfully re-unite the cruise at Reedham, where we enjoyed an excellent meal, followed by a Colin Chett led sing-a-long. Met some nice motorhomers who wanted to know if we had a musical evening every Sunday.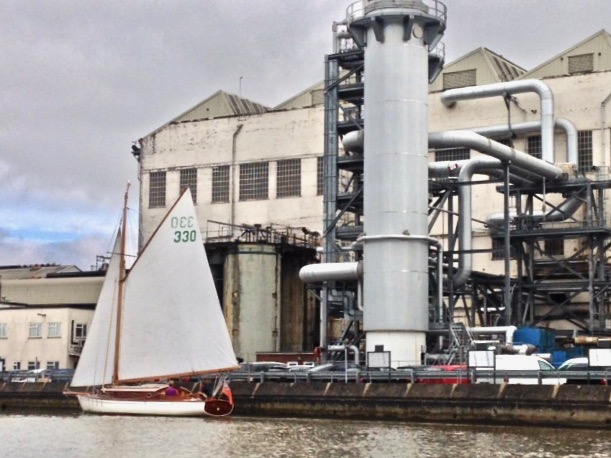 Monday 13 August - the plan:
Sail to Surlingham for a lunchtime raft and then to Frostbites SC on the outskirts of Norwich, where meat will be delivered for a BBQ.
What actually happened:
Eventual success! A decent wind (someone had the curry last night) meant a good sail to Surlingham, where those without dogs on board rafted for lunch. The dog owners went to the pub, a flimsy excuse about walkies was bandied about.
A motor after lunch into the city was made much more interesting by a biblical deluge, (I knew we should have gone to church) and we approached Frostbites's limited mooring space in some haste. With thirteen boats to get in, three of us overshot and ended up on the neighbouring plot, the Broadland Rowing Club. This was not well received, and we had a very entertaining "get orf moi land!" interlude with a young man, who summoned the owner who we managed to calm down. With some imaginative jiggling we all squeezed into an approximation of legitimate mooring and were left in peace. Calming our nerves and drying out in the Rushcutters we were joined by the Gliders who had been shopping for us, and the evening turned into a very pleasant if smoky BBQ. One of the Frostbites officers turned up and allowed us access to the facilities which was very welcome, but unfortunately that curry I mentioned had further effect and by the time we left the following morning the septic tank was full, much to the Frostbite officer's amazement. (Is EACC really full of s**t?) We had a whip round to buy him a gas mask. Seriously though, many thanks to David Yapp and FSC for the use of the moorings.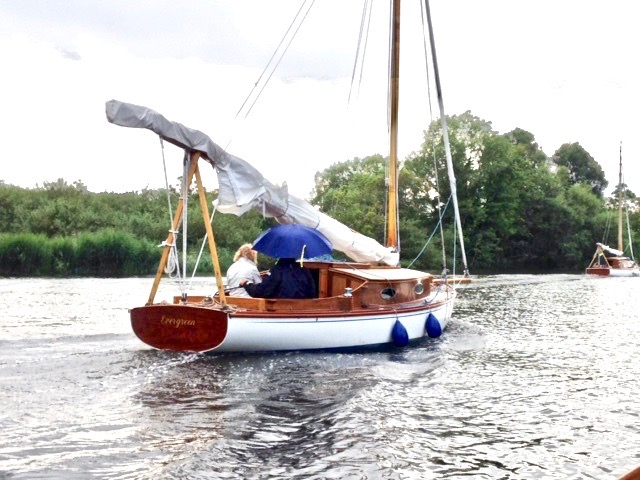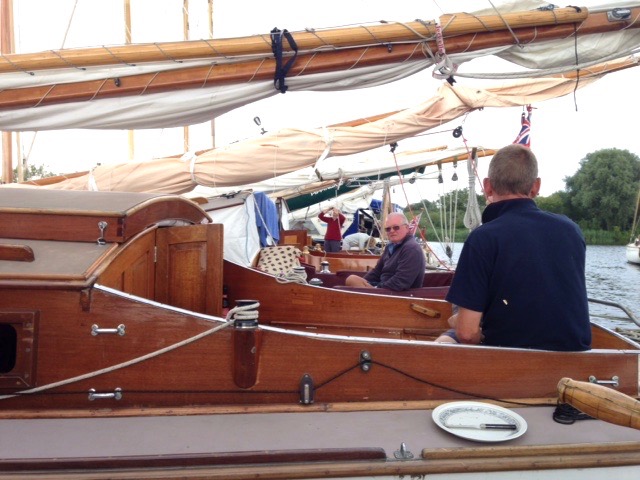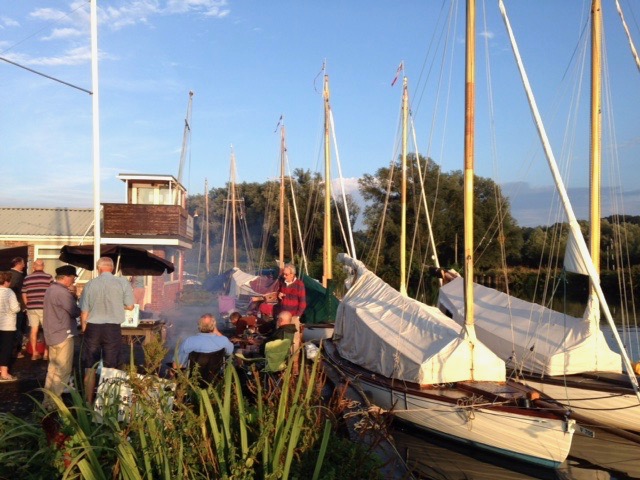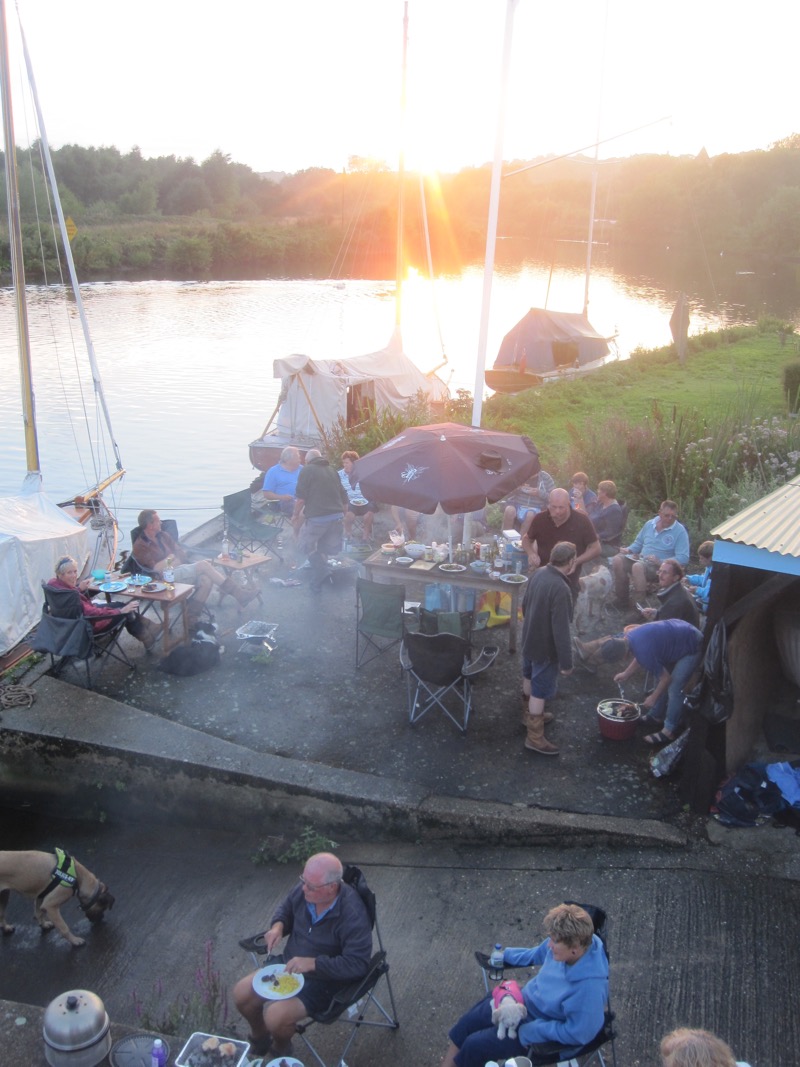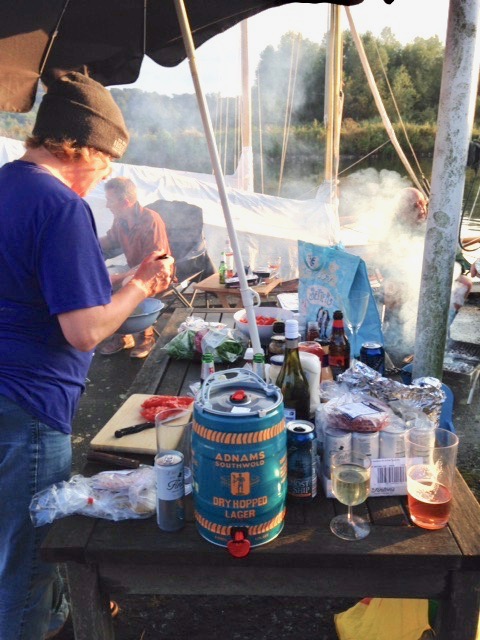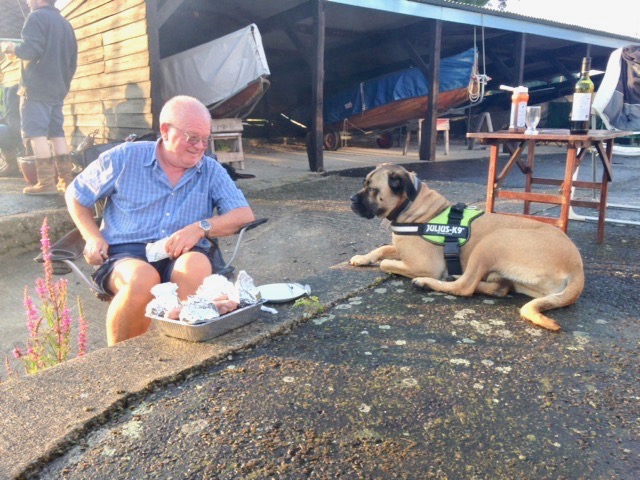 Tuesday 14 August - the plan:Pile everyone on 3 or 4 yachts and head into Norwich, via Morrisons, for The Ribs of Beef Challenge. Return to Coldham Hall for the night.
What actually happened:
Spectacular success! 5 boats headed into the city, and we did indeed all moor at Morrisons for shopping. There was a little plastic production yacht with no mast and in a sorry state already there, and I was saddened to see that it was my very first boat, SeaMist, that some of you may remember Cally and I using when we first joined the club.
Shopping done, we made for the Ribs of Beef and fortified ourselves with ale while the OOD, Colin Chett, laid the course - 2 buoys (one was port and one starboard apparently, but no-one heeded that) between Fye Bridge and Whitefriars Bridge, five laps to be completed by 3.30pm, self timed. Keen as ever, Dr. Tom headed off first on Mystery and was going great guns when Sun Glory II joined in, followed by Breeze and Catspaw. Moondaisy had a sniff but wisely retired to take photos. It all got a bit interesting, and the good burghers of Norwich were suitably impressed, quite a crowd gathering to see the fun. The course was shortened to 'do as few laps as you like', and an average lap time was taken, the eventual winner, and very deserved, was Dr. Tom. The trophy will grace his new house in Thurne beautifully.
We then hotfooted it to Coldham Hall, collecting boats from Frostbites along the way, and enjoyed an excellent meal at the pub. Colin tried to get another singalong going but everyone was shattered after all the excitement and most were tucked up by 10pm.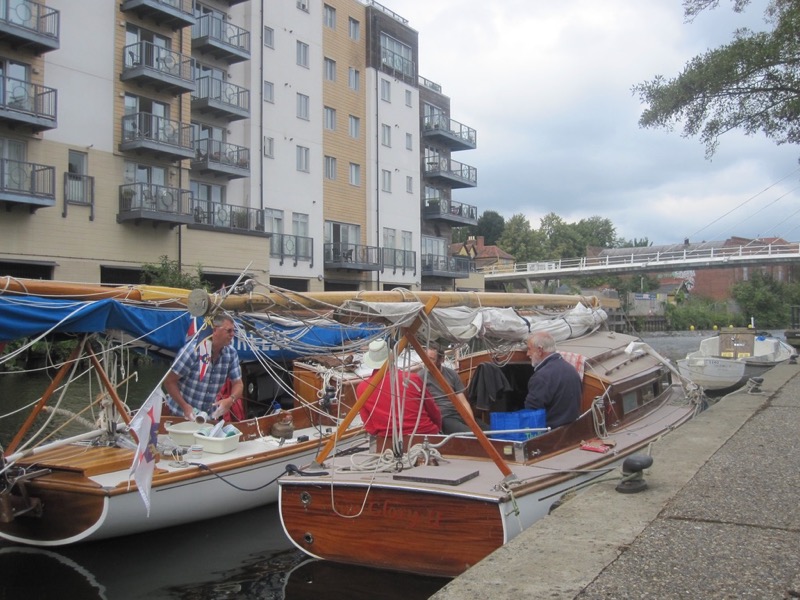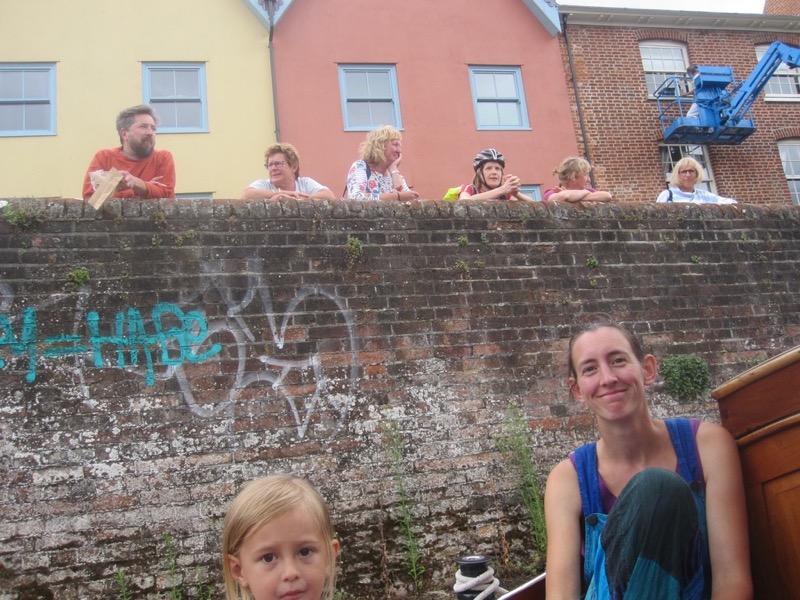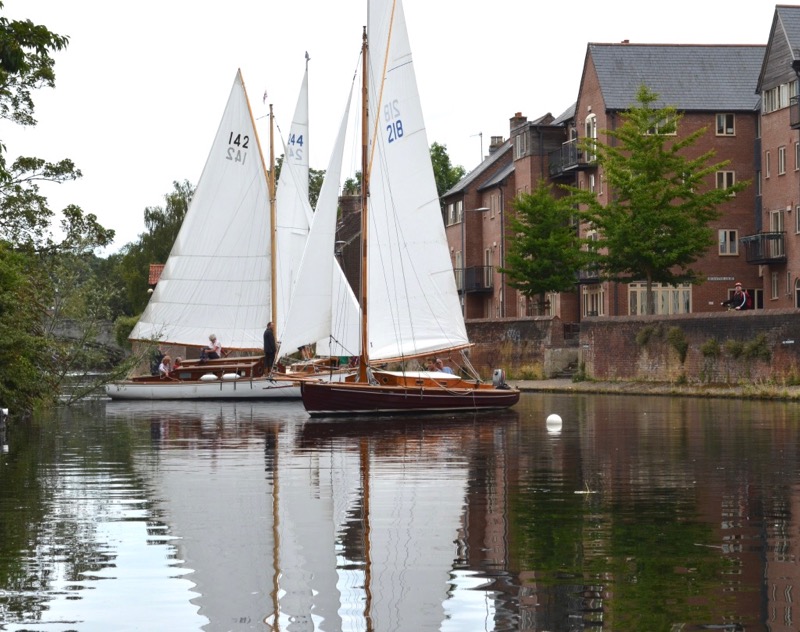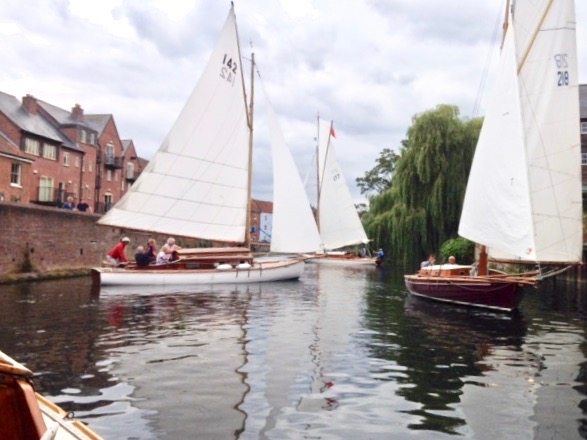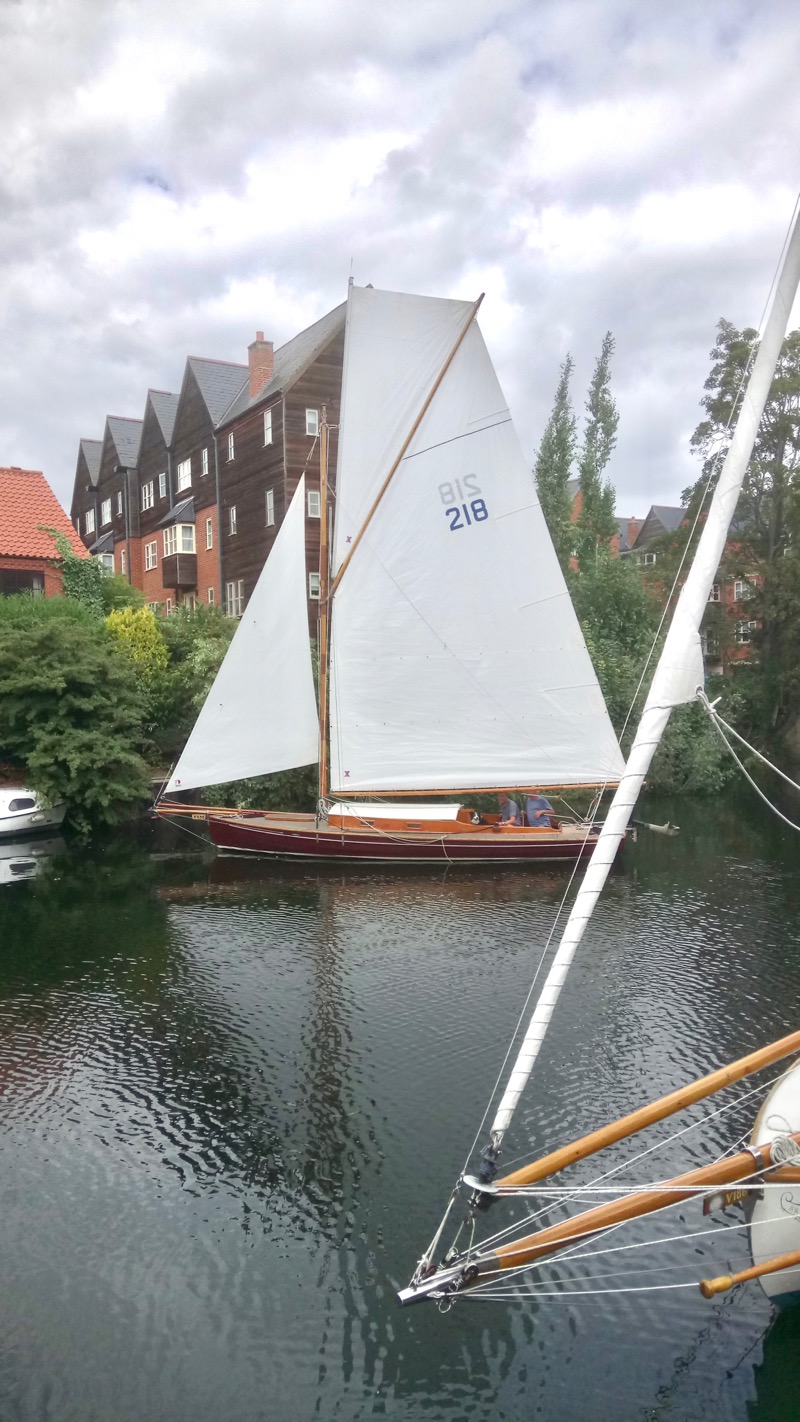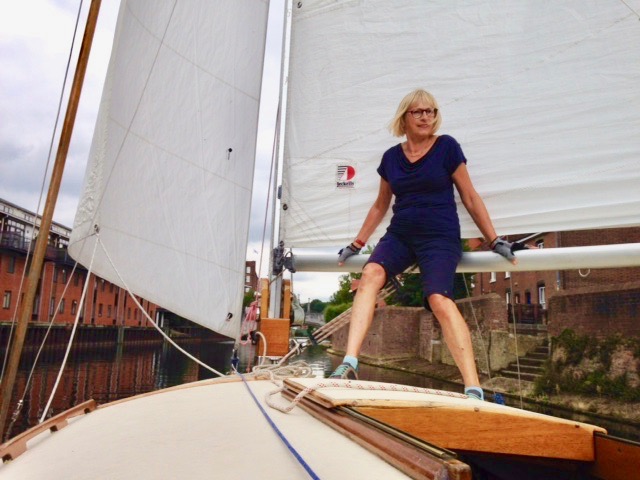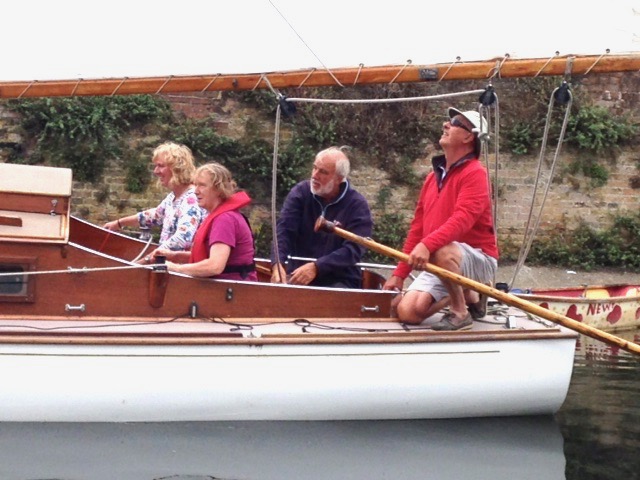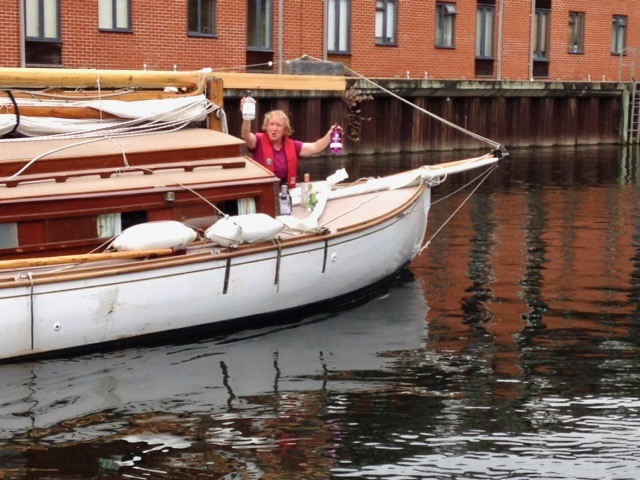 Scroll down for more photos of the the Ribs of Beef Challenge race
Wednesday 15 August - the plan:
A timed sail to Cantley and then Herringfleet for a self catering evening and pop up gin bar.
What actually happened:
Vague recollections of success! The fleet left Coldham fairly haphazardly, the wind backing from west to south, but strengthening so everyone had a good sail, fastest boat was Breeze, and Sun Glory II wasn't last. Some stopped at the Cantley Reedcutters for a pint, others at Reedham. Apart from an interesting interlude discovering the exact position of Sun Glory's prop and its intimate acquaintance with the jib furling line, Herringfleet was arrived at without further incident. Some entertaining acapella singing led by you know who was only stopped by Cally's pop up gin bar, the remaining TMOR gin stock was disposed of profitably in exactly 70 minutes. This was followed by some interesting shore based barbecues and hybrid cooking methods. Again, an early night, we must be getting old....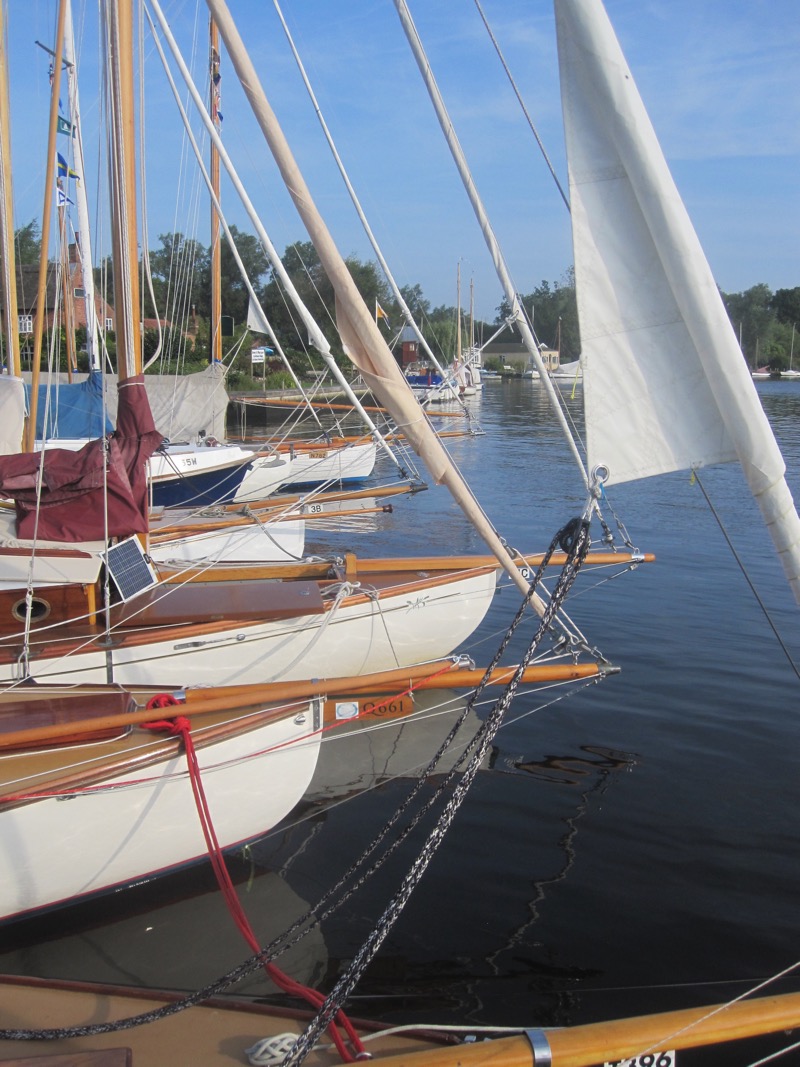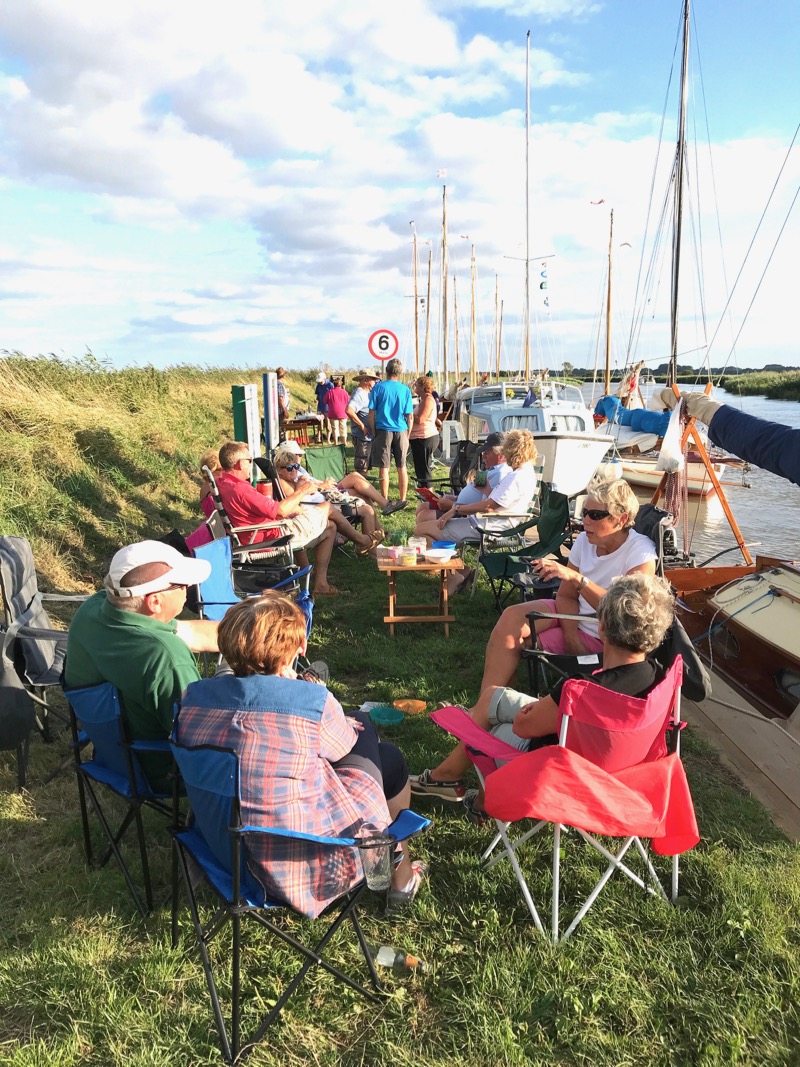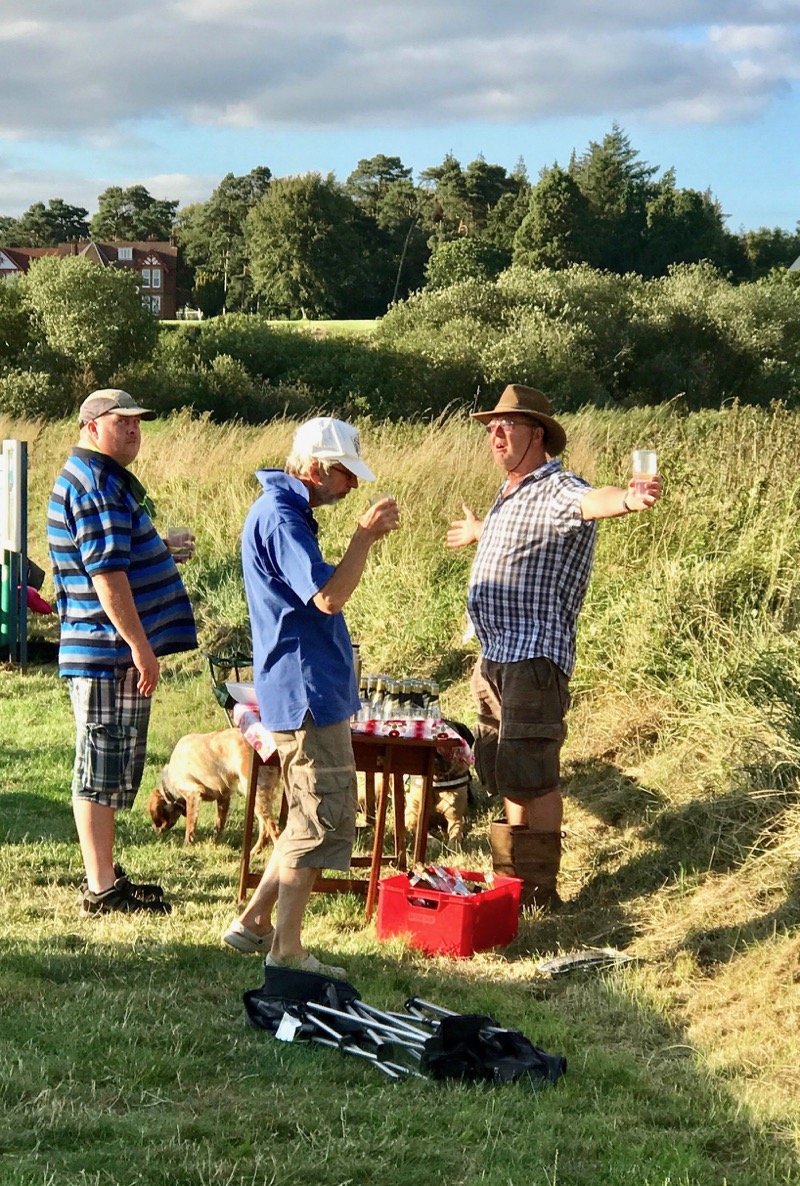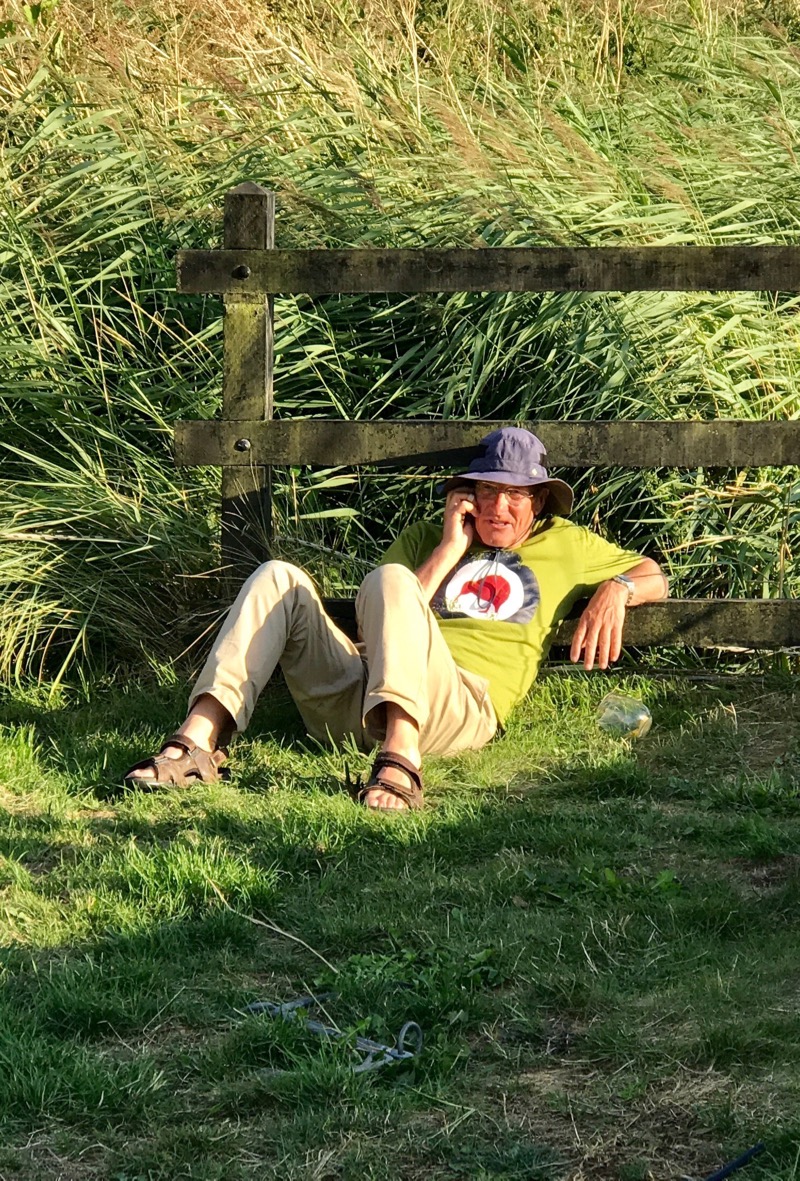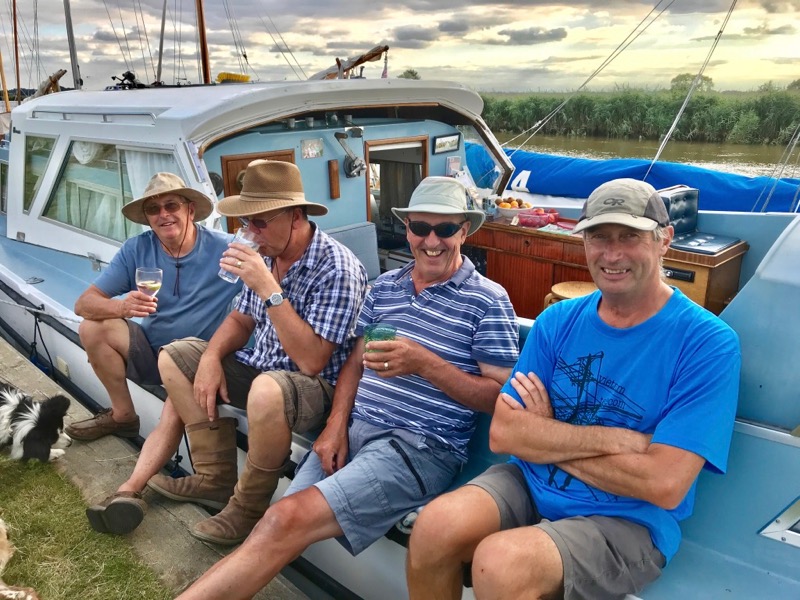 Thursday 16 August - the plan:
A sail to Beccles, a group meal in the evening at the Waveney House Hotel and overnight moorings at Beccles Sailing Club.
What actually happened:
Success (slightly dampened)! After a leisurely breakfast waiting for the tide to turn, Ian called Somerleyton bridge on his VHF and was informed that the bridge would open in 11 minutes. An unseemly rush to get away was enlivened by Mystery and Breeze, lashed together for the journey after hearing the weather forecast, doing a 'full chat' exit but instead making friends with the reeds on the leeward bank. Well, I thought it was funny anyway. Catspaw and Sun Glory tried to wait out the rain that by now had arrived, but unfortunately it would not be waited, and so it was mast down and a very wet motor to the sailing club, where the sun eventually joined us. Afternoon tea was taken in Beccles, followed by a bookshop browse where I bought a copy of the diverting '50 ways the world may end'. Highly recommended for those with too cheerful a disposition. And then a tip top meal at the Waveney House Hotel.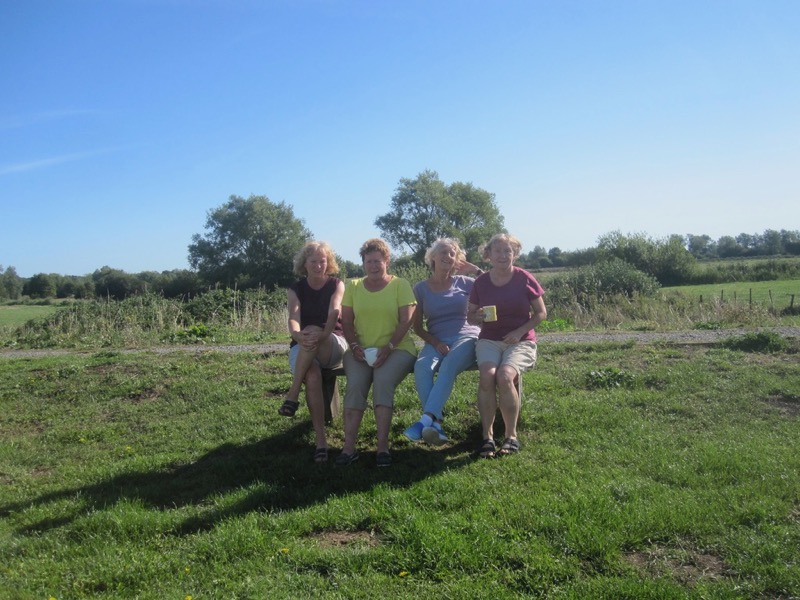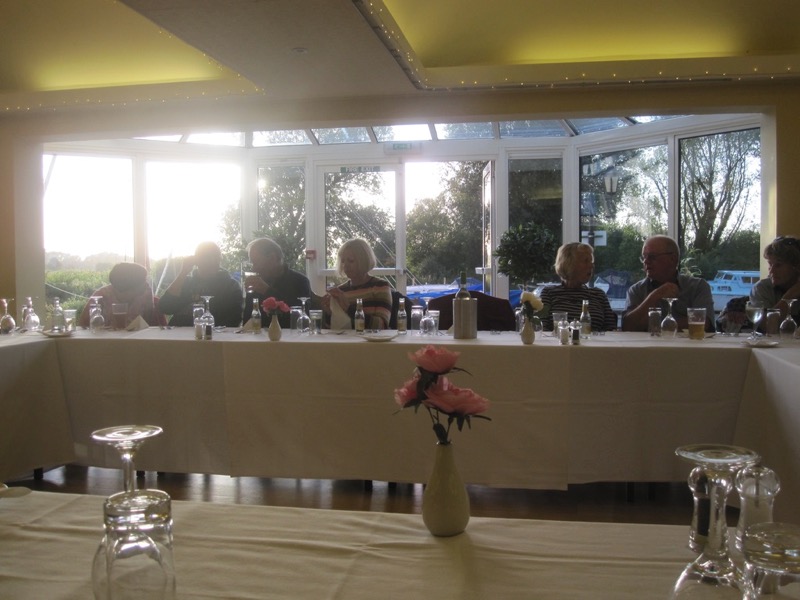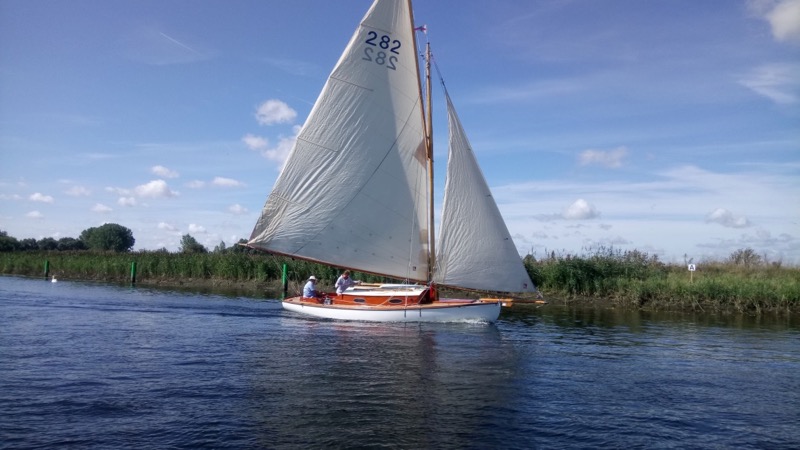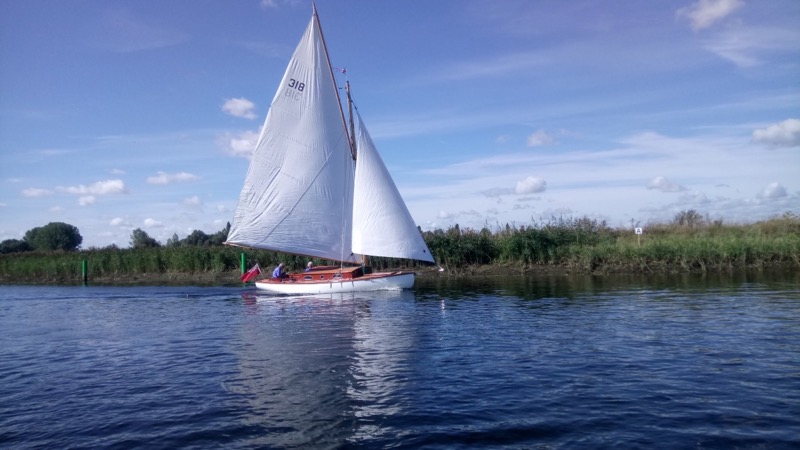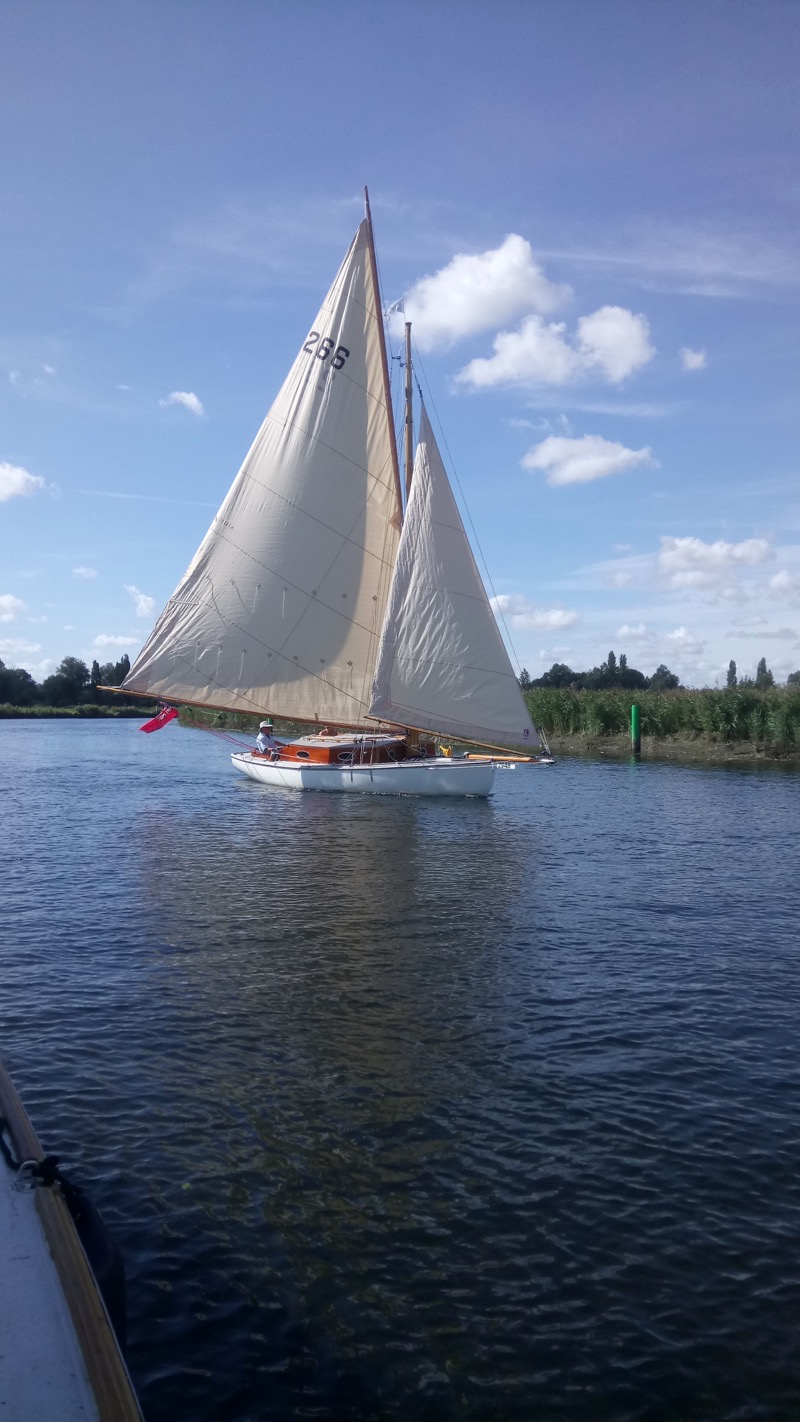 Friday 17 August - the plan:
A short sail to Oulton Dyke, lunch at the Dutch Tea Gardens mooring to await the installation of the WOBYC pontoon followed by a final meal at the Commodore in Oulton.
What actually happened:
The final success! A fabulous sail from Beccles, and a convivial early lunch, before Dr. Tom in the advance party informed us that the pontoon was in place, so it was into Oulton Broad for our final evening. Some jiggling of boats took place to accommodate those leaving early to catch the Yarmouth tide in the morning, and then showers and general sprucing up for our final meal together. Which was another fine repast, and after a couple of post prandial whiskies it was goodnight, and farewell.
Jo Edye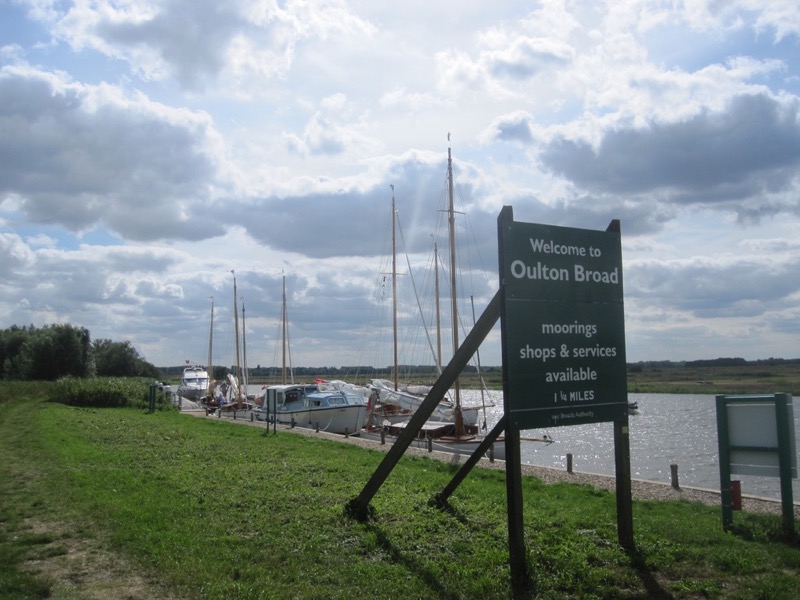 Click here for the Alternative end of Cruise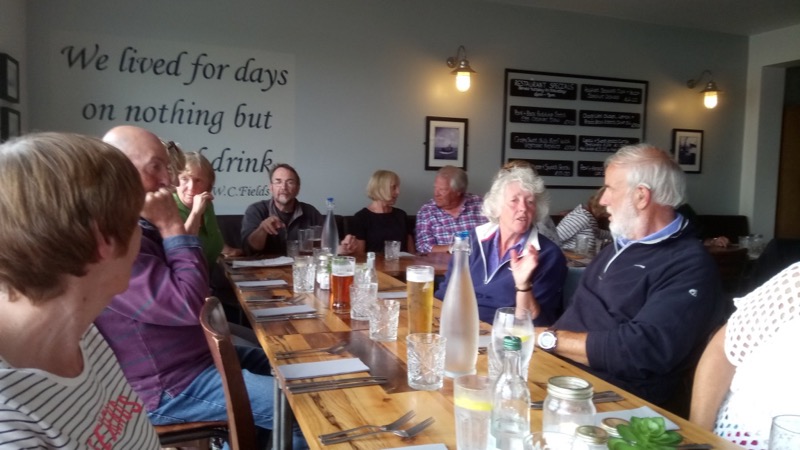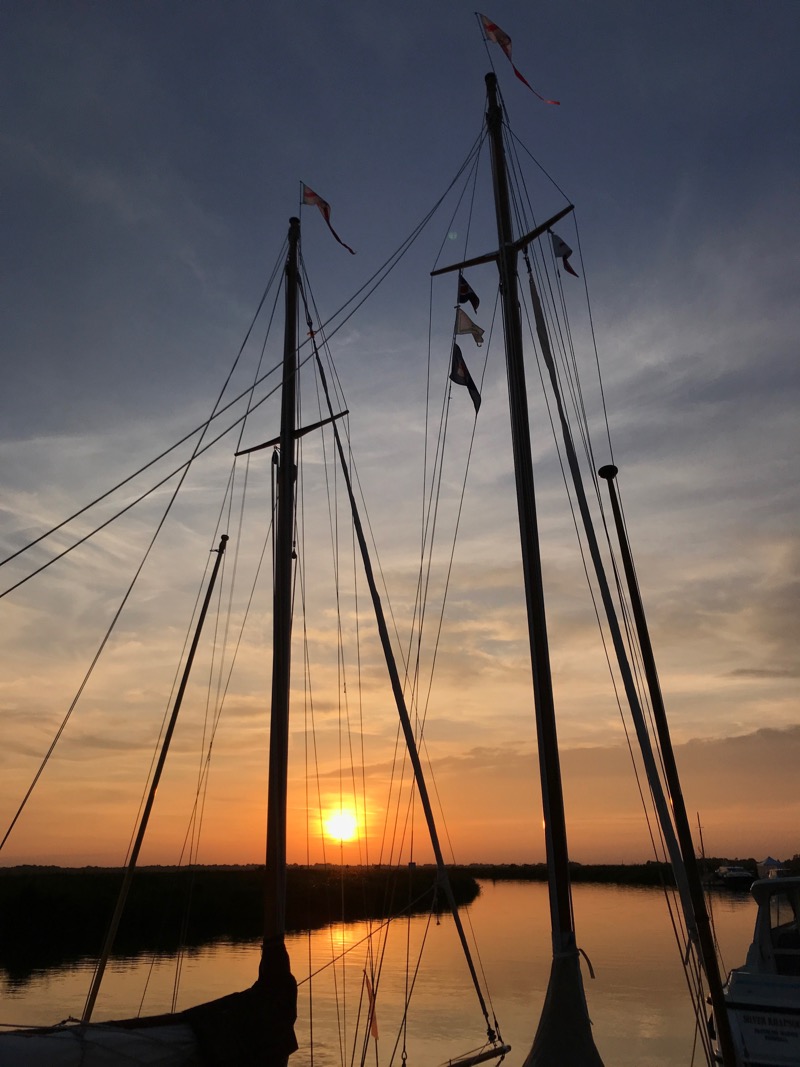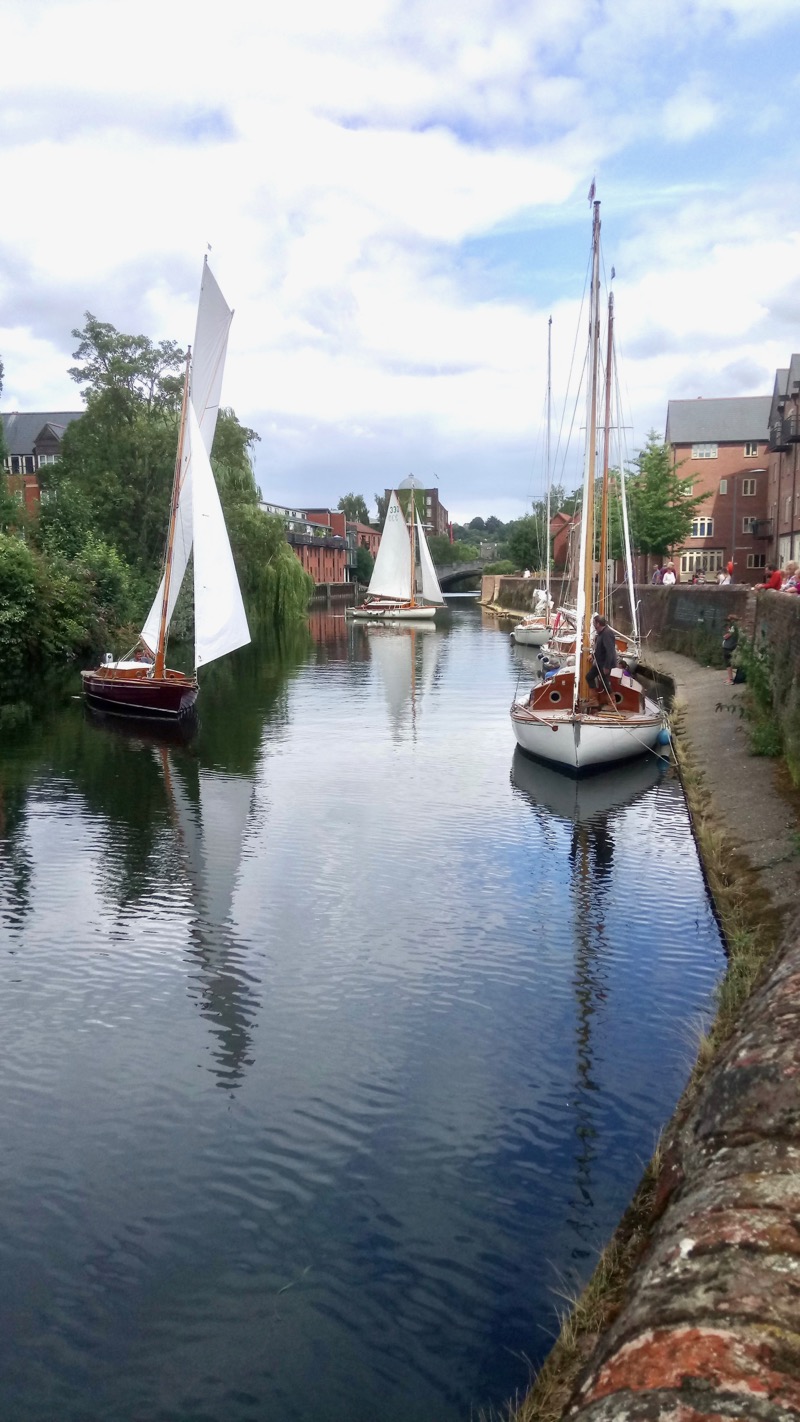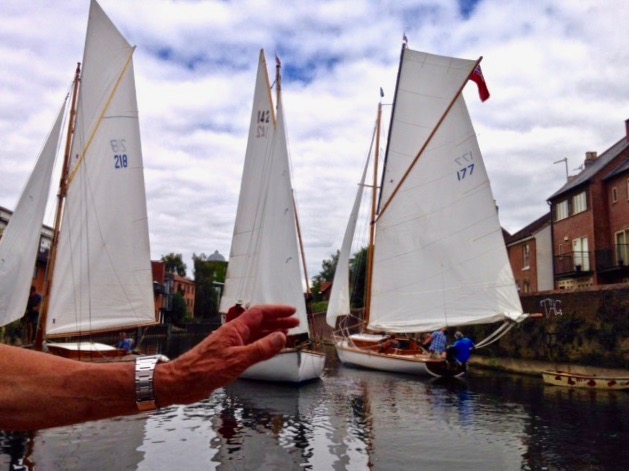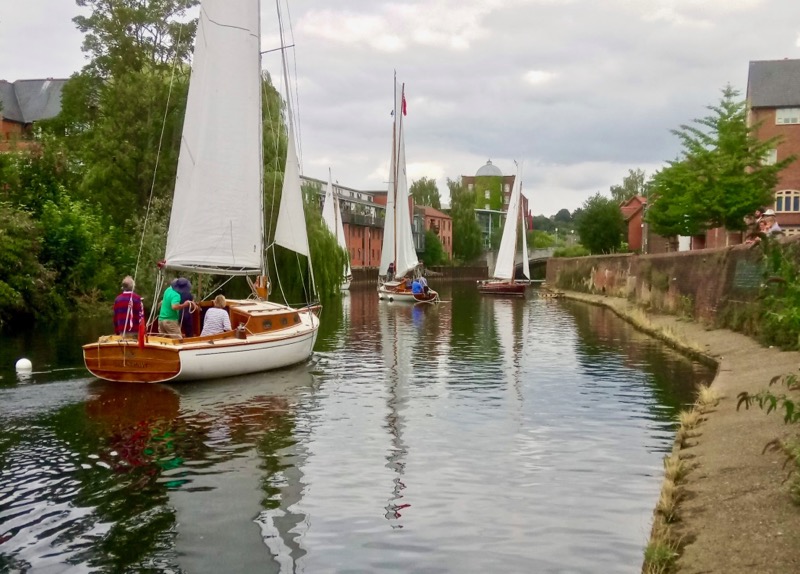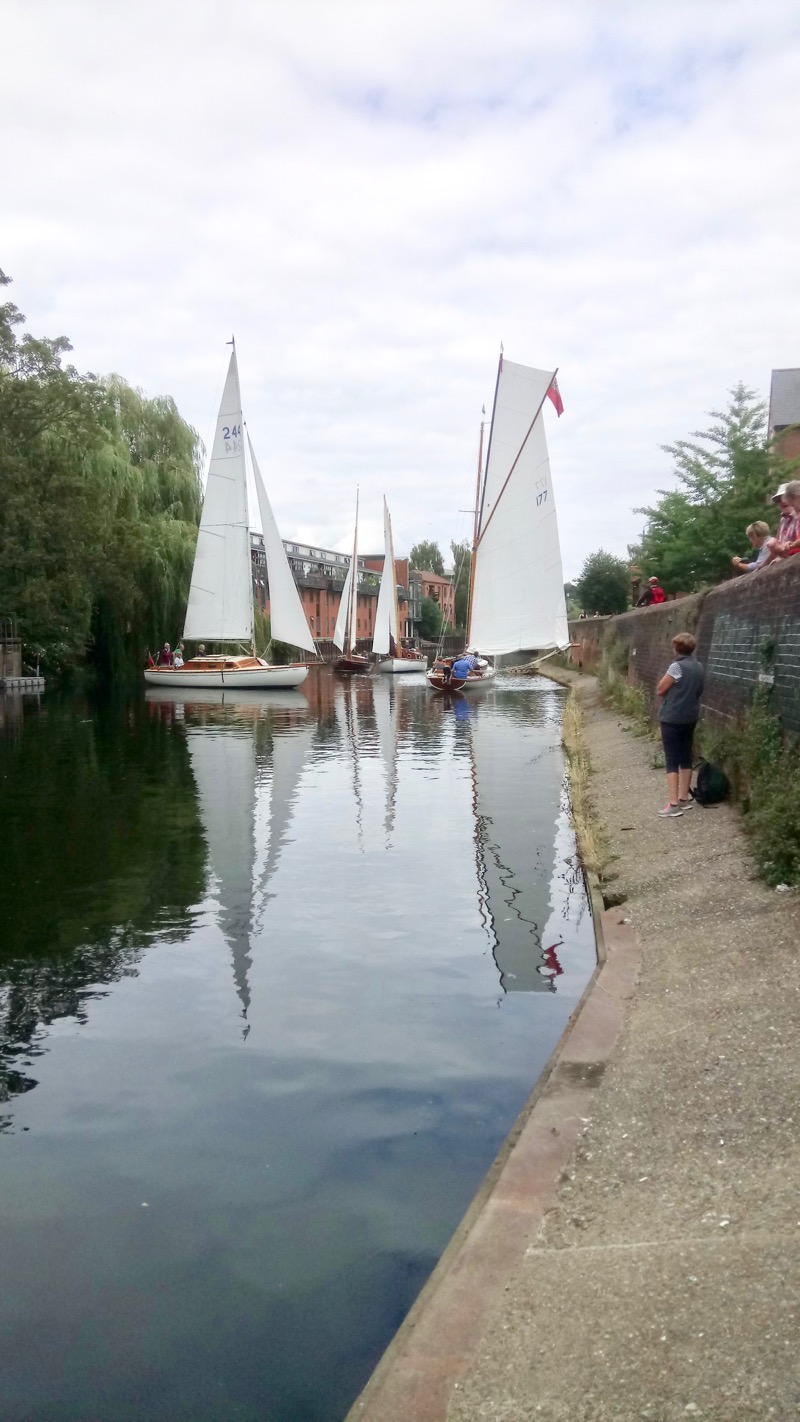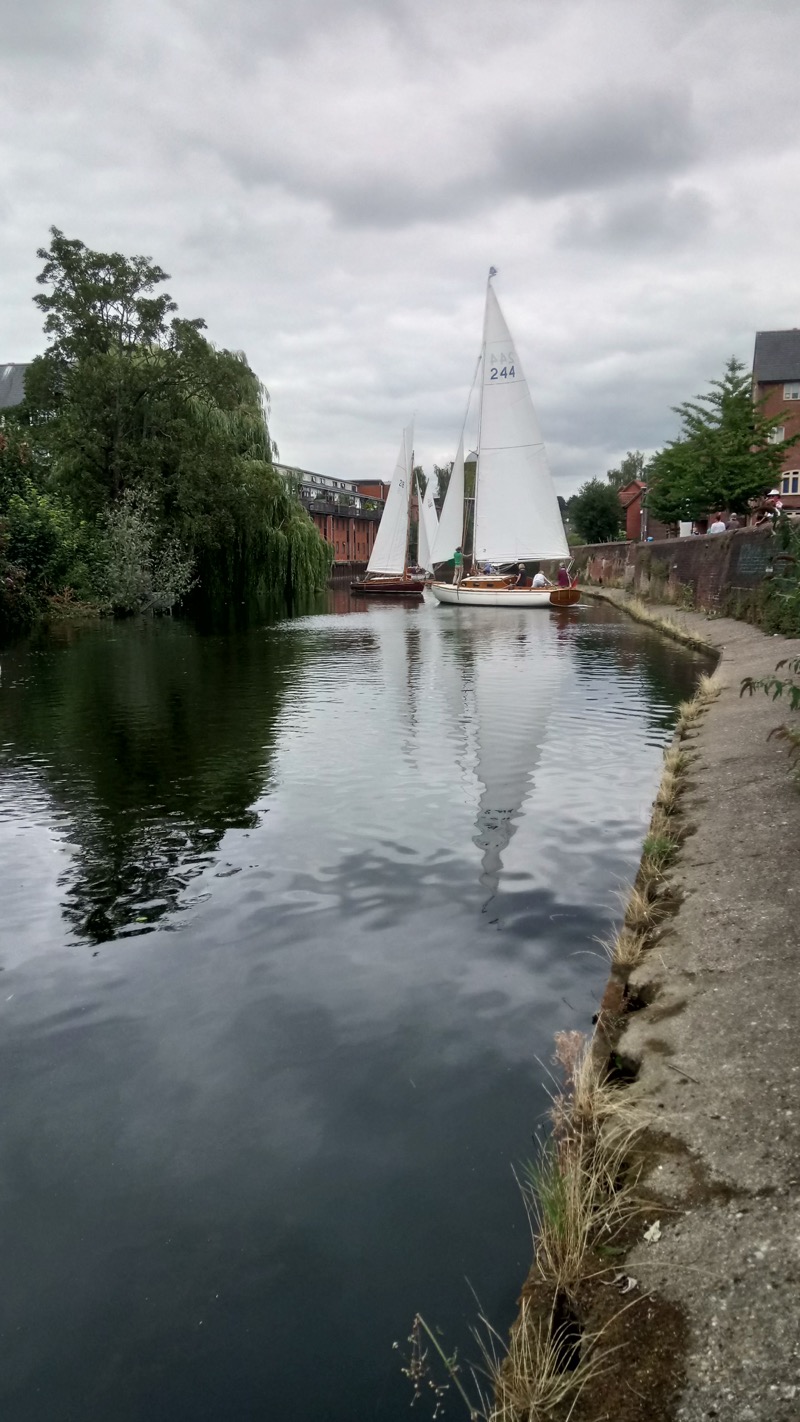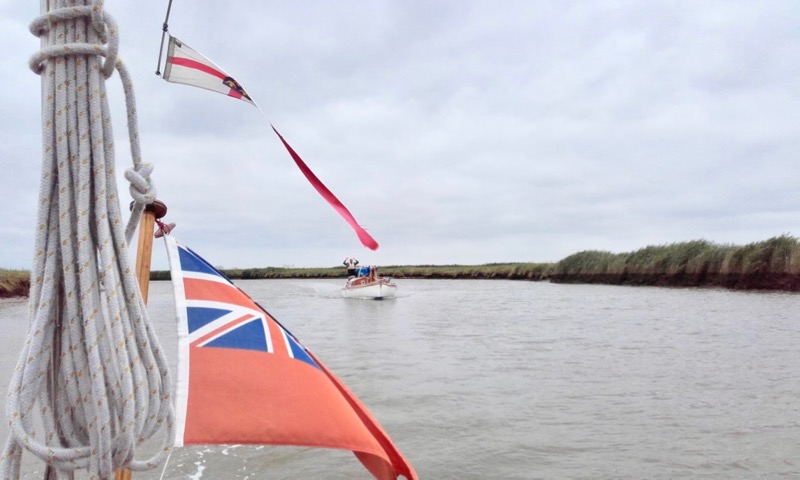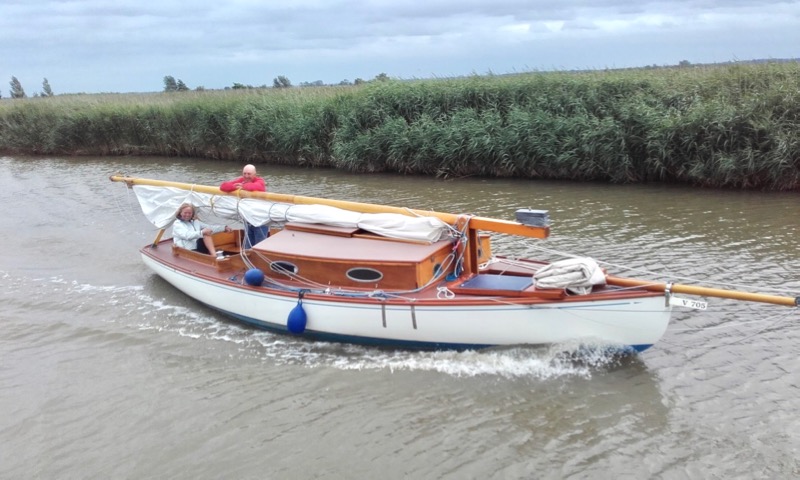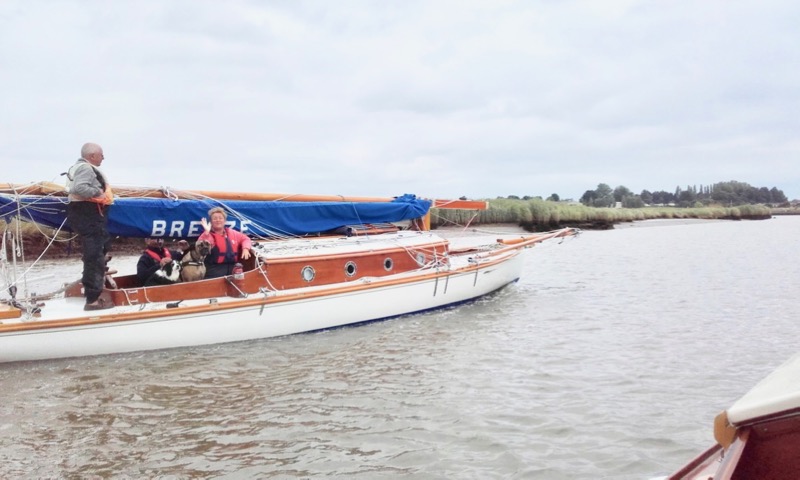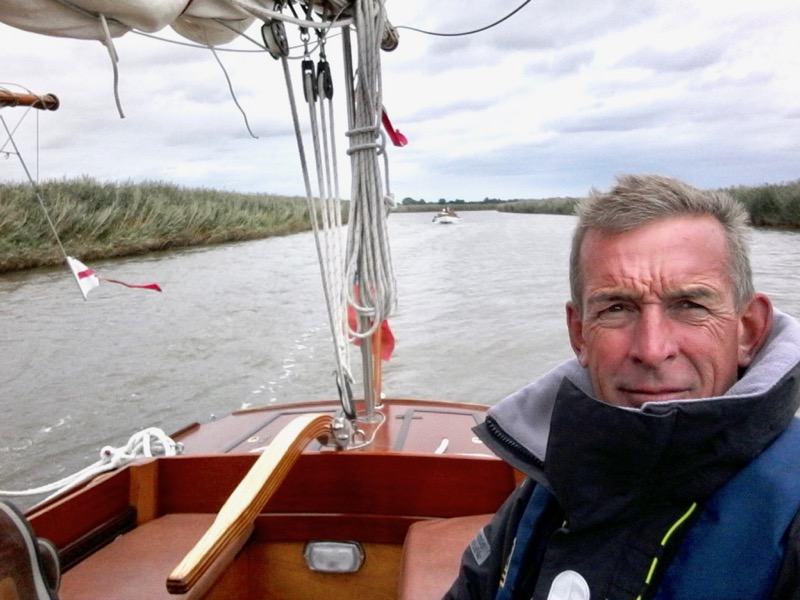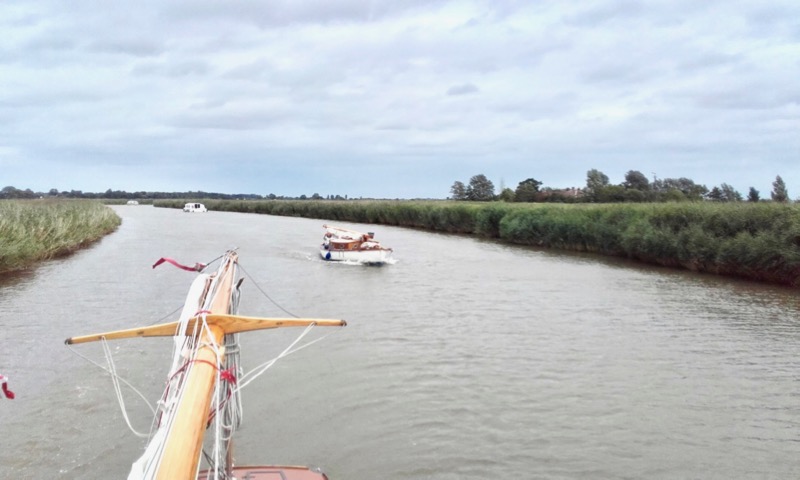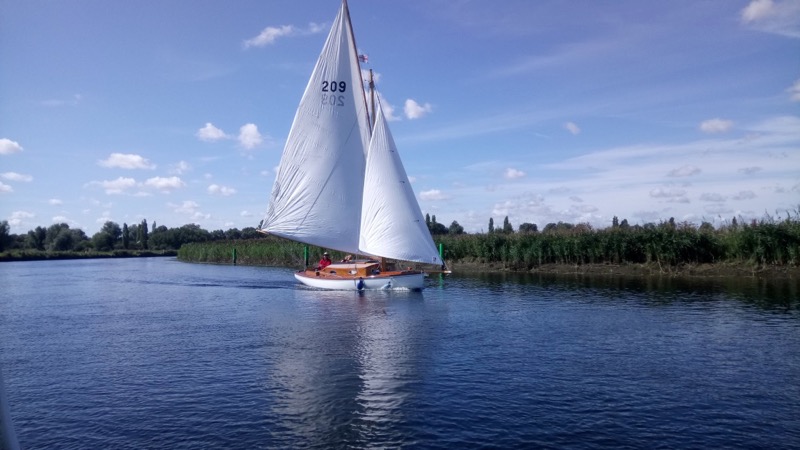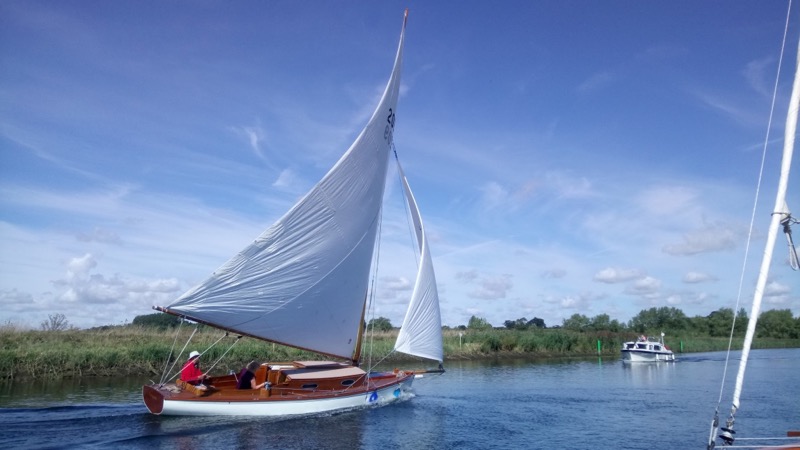 The Alternative End of Cruise
Friday 17 August The plan – to sail to Oulton
Two skippers and crew bravely ignored the sailing instructions made plans to get out of bed and turn left rather than right.
Geldeston – or what else actually happened!
This involved walking into Beccles in the morning for a posh cooked breakfast before setting off upstream. Ranger, as lead boat, courageously made for the village moorings whilst Moon Daisy continued to the extreme end of navigation. There was a plan to go for a swim in the river, but as Mrs MD realised she had not packed her costume this idea was shelved and MD joined Ranger on the village moorings. Rowan Craft again made us most welcome allowing us to use their showers.
Concerns as to if there would be sufficient water for MD were unfounded, apparently a fleet of yachts came up last year and carved out the dyke floor??!!
Team Starshell came down by road to join us for a pub meal in the evening, along with a friend of Mrs Ranger who came by canoe. A good hearty pub meal followed by a game of Uno (card game) and a bit of bank side star watching before turning in.
Saturday 18 August Plan to sail to Somerleyton – and that is exactly what we did, well we motored to Beccles and then sailed and motor sailed through the trees, reaching Somerleyton late afternoon. One boat had to wait ages for the bridge, the other just sailed up and straight through!
We had time for a short walk, watched a cricket match, had a swift drink in the pub (helps the local economy), and picked blackberries and apples for tea. Jimmy said he had a tin custard – we had rice pudding with our blackberries and apple – should have gone to SpecSavers?
Sunday 19 August
Breydon crossing and back up North, along with Evergreen, and Breeze. A long motor all the way up to Acle, but Ranger and MD did manage a sail from Acle back to Womack.
Jimmy James