Zoom Laying Up Supper 2020
Saturday 14th November 2020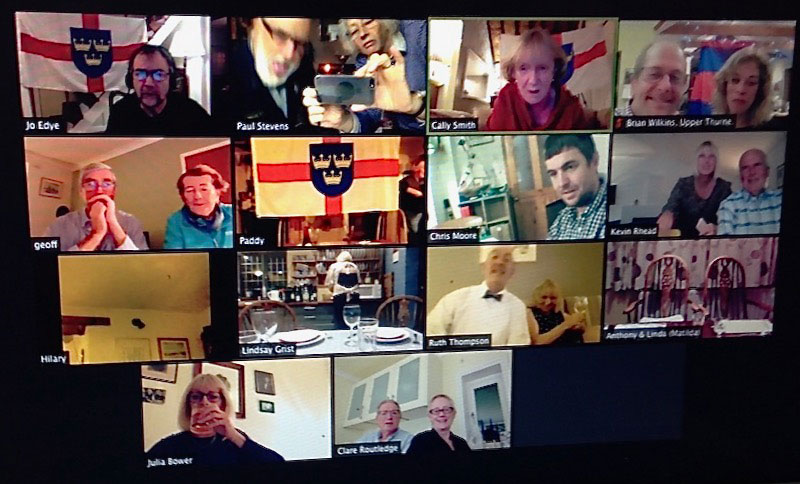 Last evening the 2020 Laying-Up Supper took place via Zoom with 21 households taking part. It was an amazing evening created by Cally Smith and produced and directed by Jo Edye. Dividing us into Zoom 'Rooms' or tables as Cally insisted they be called worked incredibly well. Cally devised a varied menu for us to choose from, two quizzes, a review of the year (thanks to Sue Hines for her Transom Quiz and selection of photographs).
Trophies were awarded for the five races that we managed to run this year, Covid was not the only hurdle we had to overcome, the weather also conspired against us at every opportunity.
Summer Regatta
RCC Cooke Cup – Colin Chettleburgh (Breeze)
All comers Ebbage Cup – David Frary (Helen)
RCC Roy Pike Cup – Colin Little (Sandpiper)
Allcomers Greyhound Cup – David Frary (Helen)
RCC Fillibuster Cup – Paul Stevens (Pippinjack)
Allcomers International 14 Trophy - David Frary (Helen)
Autumn Regatta
Jubilee Cup - Phil Montague (Pickle)
Joe Delf Trophy - Phil Montague (Pickle)
The Ribs of Beef Trophy was awarded to Susie Spivey and John Thornicroft for outstanding achievement for their fundraising effort this year. Their film was played via youTube to the gathering looking back on the Cork of the Broads narrated by Alan Titchmarsh.
A massive thank you to all in the planning and running of the Laying-Up Supper and thanks also to all who took part. It was great to see so many happy smiling faces.
It seems from the positive emails that you enjoyed the evening. Well done EACC another successful event.
David Thompson 15.11.2020