RIVER CRUISER CLASS OPEN
Saturday 26th and Sunday 27th June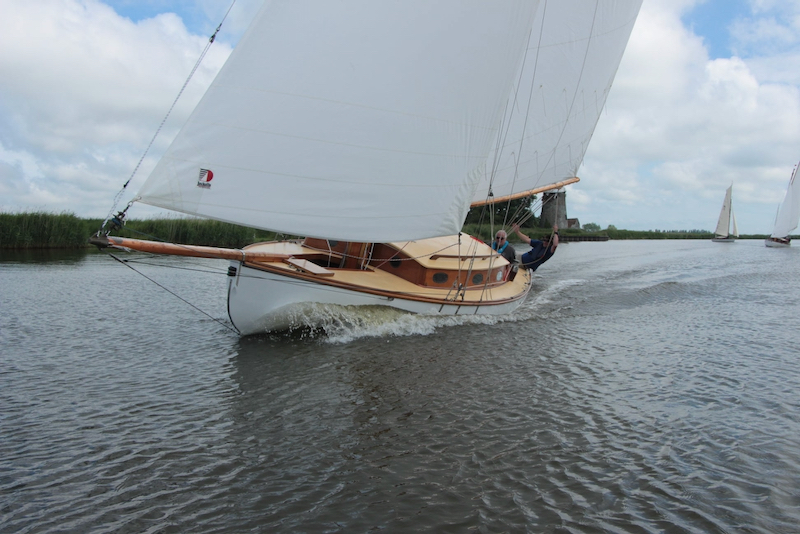 Photo: Joe Farrow
EACC were able to run the RCC open weekend 26th & 26th June, despite the cancellation of 'freedom day'. More challenging however was ensuring the Officer of the Day would understand Whatsapp (What's an app?) & various other technologies! 11 boats entered - providing an opportunity for the OOD to play with his code flags. Did anyone notice code flag 'Q' & recognise it? Answers on a postcard to mate@ea-cc.org please...
Saturday's pursuit race was started from downstream of boundary dyke - in a fitful wind that oscilated from N - SE. This would prove tricky for some competitors as the afternoon progressed. R.Smith on 'Alchemy' put in a tremendous performance keeping Zingara & Wandering Rose at bay until the closing minutes of the race, meanwhile further back - Melinda & Pippinjack tussled until the final seconds of the race with Paul holding Paul at bay (work that out!).
Sunday started quite overcast - with an opportunity to inspect the VERY shiny M.C. 'Enigma', Matt & Jo, she really does looks tremendous! The morning race was the EACC 'roundabout' format, with the course laid whilst the breeze was slight, it soon filled into to a robust NE, with some competitors choosing to reef. First cab off the rank was 'Melinda' just 36 seconds after the gate opened. Special mention however must go to 'Moss Rose' who sprang from the direction of Womack water, keenly leaping into action with only the briefest wave to the line!
For the afternoon's race, a
n influx of mu
ltiple course obstacles such as hireboats & daylaunches meant a move of the start/finish line to Thurne mouth for safety. Special thanks to Tom Moore for the use of Moondream as a committee boat for both days to facilitate this. By now the wind had risen - meaning competitors had the choice of reefing, or hanging on... This played out throughout the afternoon with 4 boats demonstrating VERY close finish times. Zingara & Melinda separated by 50 seconds, May & Evergreen by only 1 second in elapsed time!
Champions of the weekend were 'Wandering Rose' who put in an unbeatable 3 1st's for the weekend, congratulations to David, Steve, Lisa & Malcolm.
Finally, I'd like to thank (in no particular order); Liz Chett, Tom Moore, Phil Montague, Paul Stevens, John Aves, Barbara & Mike Barnes, Ian Stewart, Eve Cronin & everyone else who helped throughout the weekend.
Results
RCC Open Race 1 Saturday Pursuit Race

First Start Time:

13:45:00

Race Duration:

100mins

No

Yacht Name

Pos

368

Wandering Rose 1

30

Zingara

2

348

Alchemy

3

318

Pippinjack

4

217

Melinda

5

403

May

6

209

Evergreen

7

86

Moss Rose

DNF

418

Tinkerbell

DNF

244

Catspaw

DNF
EACC RCC Open Race 2 Roundabout

Sail

Start

Finish

Elapsed

Corrected

No

Boat Name

Helm

Handicap

Time

Time

Time

Time

Position

368

Wandering Rose

D Radley

-3%

10:36:10

11:22:11

00:46:01

00:44:38

1

86

Moss Rose

C Markham

-9%

10:30:55

11:20:47

00:49:52

00:45:23

2

244

Catspaw

B Wilkins

-5%

10:34:41

11:22:42

00:48:01

00:45:37

3

318

Pippinjack

P Stevens

-7%

10:58:51

11:48:34

00:49:43

00:46:14

4

403

May

K Rhead

-10%

10:33:31

11:25:20

00:51:49

00:46:38

5

418

Tinkerbell

A Lincoln

-6%

10:47:00

11:37:55

00:50:55

00:47:52

6

209

Evergreen

D Thompson

-10%

11:01:36

11:55:51

00:54:15

00:48:50

7

30

Zingara

R Dugdale

3%

10:41:29

11:29:29

00:48:00

00:49:26

8

217

Melinda

P Howes

1%

10:30:36

11:19:48

00:49:12

00:49:42

9

348

Alchemy

R Smith

-16%

10:44:47

11:47:31

01:02:44

00:52:42

10
EACC RCC Open Race 3 Round the cans

Sail

Start

Finish

Elapsed

Corrected

No

Boat Name

Helm

Handicap

No

Time

Time

Time

Position

368

Wandering Rose

D Radley

-3%

(13.45)

1

14:54:23

01:09:23

01:07:18

1

86

Moss Rose

P Markham

-9%

(13.55) 3

15:11:38

01:16:38

01:09:44

2

318

Pippinjack

P Stevens

-7%

(13.50) 2

15:05:29

01:15:29

01:10:12

3

244

Catspaw

B Wilkins

-5%

2

15:04:04

01:14:04

01:10:22

4

403

May

K Rhead

-10%

3

15:14:07

01:19:07

01:11:12

5

209

Evergreen

D Thompson

-10%

3

15:14:08

01:19:08

01:11:13

6

418

Tinkerbell

A Lincoln

-6%

2

15:07:45

01:17:45

01:13:05

7

30

Zingara

R Dugdale

3%

1

15:00:08

01:15:08

01:17:23

8

217

Melinda

P Howes

1%

1

15:01:58

01:16:58

01:17:44

9

348

Alchemy

R Smith

-16%

3

RTD

00:00:00

00:00:00

RTD
EACC RCC Open Over All Results – Moth Salver

Sail

Number

Boat Name

Helm

Hdcap

Race 1

Race 2

Race 3

Total

Position

368

Wandering Rose

D Radley

-3%

1

1

1

3

1

318

Pippinjack

P Stevens

-7%

4

4

3

11

2

86

Moss Rose

P & C Markham

-9%

12

2

2

16

3

403

May

K Rhead

-10%

6

5

5

16

4

30

Zingara

R Dugdale

3%

2

8

8

18

5

244

Catspaw

B Wilkins

-5%

12

3

4

19

6

209

Evergreen

D Thompson

-10%

7

7

6

20

7

217

Melinda

P Howes

1%

5

9

9

23

8

348

Alchemy

R Smith

-16%

3

10

12

25

9

418

Tinkerbell

A Lincoln

-6%

12

6

7

25

10
Unless otherwise stated all photos are by Sue Hines
Many thanks to Sue