Southern Rivers Report 2021
Friday (evening) 13th August to Saturday 21st August 2021
Run out of time
More photos to follow
Credits and Captions to follow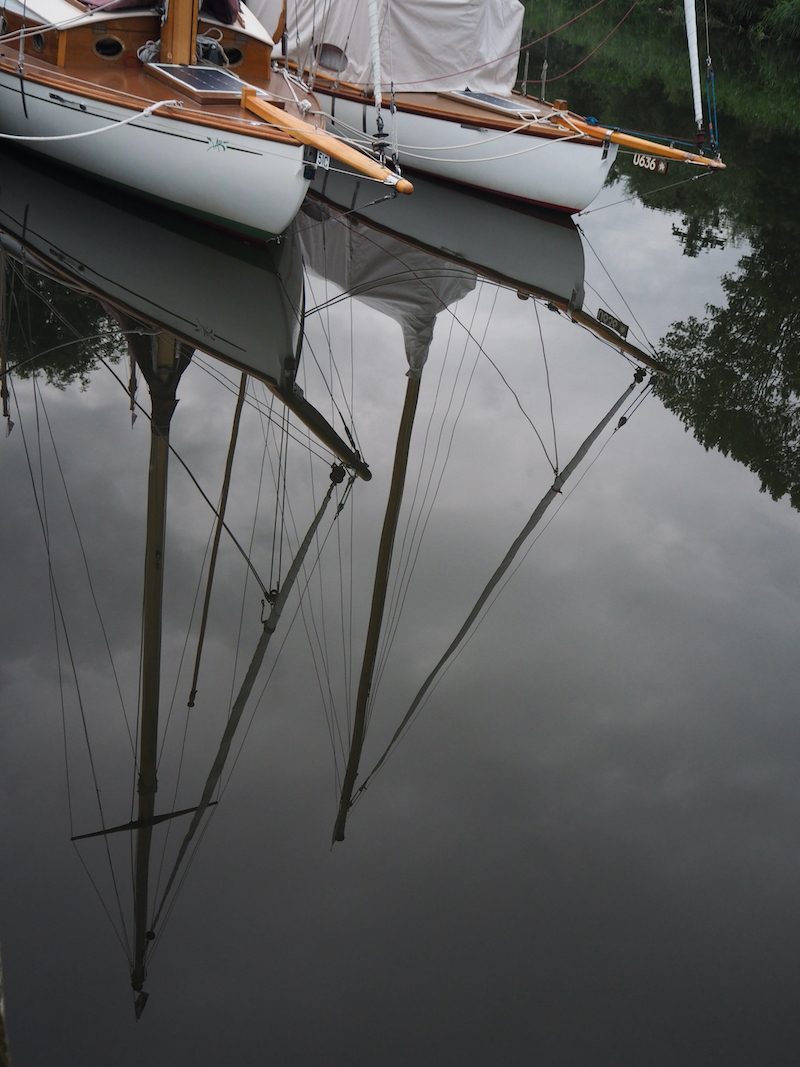 The Southern Rivers Cruise 2021 is always lovely and always different and it was even more so this year because we had not one, not two, not even three, but actually four cruises going on at almost the same time. Partly due to logistics and other commitments, partly due to location preferences and partly due (inevitably) to risk factors, but the main thing was that we all went out there, had fun on the water and met up at least occasionally to remark on how busy or quiet we though the rivers were and to commiserate about the weather.

The Official SRC fleet met at The Ferry at Stokesby on the Friday evening (13 August). Sun Glory 2, Ceres, Moondream, Picus and Come Along had a (surprisingly) decent meal in the pub and then repaired to The Slip Inn for refreshments in traditional and characterful surroundings.

Saturday dawned fine and clear with an excellent wind so SG2 had her sails up for brisk passage to Yarmouth and then moored at the Berney to wait for the fleet. Ceres and Moondream had already decided they were to go directly to Oulton Broad to view the Banksy's (confirmed as genuine that morning) so we waved adieu to them as they turned down the Waveney. That was fleet 1(b). We had hoped to be able to stop at the 24hour moorings in Reedham, but they were full so we motored down to the Reedham Ferry and made fast there. The downstream pub moorings are in fairly poor condition, but with careful fendering are manageable in terms of damage avoidance although one wouldn't want to use them when the water is high as the overtopping is bad. We had a pleasant walk back into the village along the 'new' footpath which has been reinstated on the flood bank and then enjoyed the facilities of the village. Sat in the garden of The Ship, Richard (Picus) gave us a detailed explanation of the fendering on the swing bridge, which he installed many years ago - really it was very interesting! - and then we visited The Nelson as well as the new deli in the former CupCakes shop. The deli is excellent, with lots of local produce and is highly recommended. Some of us ate that evening in the Reedham Ferry to complete the Reedham pub trio.

We awoke to fine weather on Sunday, so we motored down to Cantley, aiming to leave Come Along there while we went sailing. The 24 hour moorings were largely occupied by the Coldham Hall Sailing Club out on a days' racing, but we squeezed Come Along into a non-existent spot and then had a great sail to Coldham Hall. Lunch in the sun, a decent enough band playing in the pub garden and a couple of beers - what could be nicer? Oh yes - the prospect of a sail back and then a bbq later, joined by the Skipper, Colin and Bramble. Lovely :).

Monday looked wet. It didn't quite rain, but it didn't quite look like it wouldn't either, and it was grey and cold. It wasn't a day for a lot of enthusiasm, so a trip to Brundall for a shower and supplies for SG2 and then on to Surlingham Ferry to meet up with Ranger 2 and Glider (Fleet 3) who were coming down from Loddon, and Ian on Kobweb. The sun came out when we got to Surlingham. And we went to the pub.

Tuesday was wet. Glider and Ranger 2 were staying on the Yare, and the plan for the Official SRC fleet was to head to Somerleyton to meet up with the arty farty party and hear about their cultural exploits in Oulton Broad. SG2 wasn't much looking forward to a long and wet motor to the Waveney, but - as the old adage goes - be careful what you wish for! Engine problems on Come Along meant a tow to Cantley for Julia, and, after initial investigations failed to resolve the problem, a day waiting on the side of the river for a repair. A grey day, a grey drizzle, a grey mood. Picus and Kobweb set off for Somerleyton to rendezvous with Ceres and Moondream, while SG2 waited with Come Along, who wasn't in the business of coming along anywhere. Darts in The Reedcutters was probably the high point of the day.

Wednesday looked better - Come Along was fixed, the skies had cleared, the wind was good and Beccles beckoned. We sailed to Reedham, the bridge opened, we sailed down the New Cut, dipped the mast, sailed onto the Waveney and then moored at Somerleyton for a quick trip to the Dukes Head. After a lovely pint or two the bridge was again open and we sailed as far as the North Cove moorings before the ebbing tide became a bit too much combined with the head wind, so we motored to Beccles to meet up with Picus, Kobweb, Ranger 2 and Glider and overnight at the Sailing Club moorings. Some people went for a swim at the Lido, while others went provisioning or visiting, but we all met up in the sunlit square outside The Bear and Bells for a very nice drink before a very nice dinner in the very nicely renovated pub. A new recommendation for Beccles.

Thursday morning's tide washed in from Breydon bearing flotsam and jetsam in the form of Lily, Moon Daisy, Evergreen and Pippinjack. We first saw them jostling for moorings outside the Lido, where we thought initially the noise was children shrieking with excitement before we realised - no, the second fleet has arrived! They of course, have their own account (see below)! Beccles to Geldeston is always a tricky sail on account of the trees, but this year it was also crowded with canoeists and paddle boarders. Sitting outside The Locks later that day we sought to estimate their numbers and whilst 50 per linear mile is probably a bit high that's what it felt like at times. At least we could usually hear them coming as it doesn't seen to be the quiet, tranquil pursuit it once was. The Locks has of course become a community pub since we last visited, so we were interested to see how this was progressing and what changes had been made. The main bar in the central (original) section of the pub was still under refurbishment, so they were operating out of the extension/function room with a temporary set up, but it was effective and the beers and ciders were all well kept. The menu was limited to burgers and loaded fries which didn't sound awfully interesting, but a group of us ate there nonetheless (supporting the pub etc) in a gazebo outside and it really was very good quality and bodes well for when they are in a position to offer a full food menu. It was great to see the pub open again and under a planned and funded management regime that will protect it in perpetuity.

Friday took us back down the Waveney to Oulton Broad for the last night of the official cruise. Glider and SG2 started the day with a dip in the river (in lieu of much needed showers), which was invigorating and not as cold as expected, whilst MoonDaisy had a more hygienic swim at the Lido but had to get up early to get a slot. It probably wasn't early for them though! Oulton Broad was busier than we have seen it for a long time, with some new places to eat and drink and more visitors. Some of it may have been the publicity and excitement around the Banksy staycation street art/vandalism (your choice!) trail, which had had national media coverage, but it was good to see the numbers and hopefully it will continue. For the final meal of the week we walked up to the Crooked Barn restaurant at the Ivy House Hotel with Lily, MoonDaisy, Evergreen and Kobweb. It was a pleasant route through Nicholas Everett Park and onto the Angles Way in the early evening sunshine and an excellent meal to follow. Another new recommendation.

Saturday saw the long trip back north for a few of us - SG2, Glider, Ranger 2 and Kobweb. We all sailed down the Waveney as far as the Somerleyton bridge, and Glider beyond, but after that it was mast down and head for home at the end of our Broads staycation. Thanks for the company.
Sun Glory 2
SRC Fleet 2
We wanted to go south again but were unable to make the cruise dates. Decided we would go it alone and meet up with everyone somewhere along the way. "Ooh, if you're going may we come with you?" We became three, then four, then five, then six, then seven! Our fleet was becoming an armada and was already larger than the official SRC fleet. In the end five of us sailed south, wafting along with a lovely north westerly which carried us down to Yarmouth. By the time we had crossed Breydon and were heading up the Waveney we had become four. After overnighting at Somerleyton we pushed on to Beccles and then Geldeston where I handed over to Supreme Command in Sun Glory II. We stayed with main command up to Oulton Broad and then split off as they headed for home and we four pushed on to Langley Dyke. The next day two headed for home and two of us pushed on to Rockland for an overnight on the short dyke. From there we sailed on to Surlingham Broad for lunch the next day and then overnighted up the Chet at Loddon. The final split came the next day with our last companions heading back to Langley for a temporary southern rivers mooring and we, having the sail of the week, making for Polkey's Mill. There was just us and a couple of bacon rolls on Breydon next day as the sun rose over Yarmouth. Our timing was perfect and we carried the flood up the Bure to a second breakfast at Acle. The weather hadn't been wonderful but we had had a great week.
Lessons learned from various boats in our fleet - check gas supplies before leaving; make sure your batteries are in good working order; beware inviting Mrs Crew aboard to teach you a new card game (it might become addictive!); value friends greatly, especially when you leave your keys in their car after they have helped you out of a hole and finally, know the value of a small jar of coffee, a packet of hobnobs and a slap up, meal at McDonalds.
Lily