Southern Rivers Cruise 2023
PLEASE NOTE: SCHEDULED FOR EARLY JULY NOT MID AUGUST AS IN PREVIOUS YEARS
Saturday 1st July to Saturday 8th July 2023
Cruise Leader/s: Phill & Jamie Bennett-Martin
If the thought of cruising the relatively quiet and open waters of the Southern Rivers and Broads, in good company, appeals, and you are free for some or all of the time, then this annual cruise to the southern rivers is a must.
N.B. Not in the school holidays this year so it may be even quieter.
The (almost) Summer Solstice Cruise
In a similar format to last year, if at a slightly different time in the season, the plan for this year will be a relaxed cruise heading to a number of the popular overnight stops across the week, with pub options most nights where possible. The route will again give participants a choice of two mooring locations each night within the same area to choose from – this gives everyone a choice in case they have a favoured mooring spot in the area that the cruise has stopped and would prefer that location, but still keeps the crews included within the cruise planning without feeling isolated from the rest of the fleet.
The route for 2023 is shown below, and you will see each night there are two mooring location choices (Option A & Option B) highlighted in different colours just for ease of reading the itinerary (the colours don't mean anything). This means you just choose where you would like to moor from the two options each night and this gives you the freedom and flexibility to make a decision based on your own personal preference and any previous experiences down south.
For each overnight place I have shown if you are able to pre-book moorings and the contact details for you to make your own mooring reservations, plus if there are any amenities available at the mooring location.
In addition, where possible I have recommended a pub as an option for dinner, along with the contact details for you to book your own table at a time that suits you.
I have also shown the Low Tide times for each day based on the starting location for that day (taken from the overnight mooring location the night before) for the more discerning and intrepid sailing crews amongst us!
I would strongly recommend booking tables and moorings as soon as possible, as experience from previous years is that venue space can be limited and therefore book well in advance to ensure you have a mooring and/or a table reserved.
Similar to last year, we will have an informal gathering on Thursday afternoon/evening on the bank at Rockland Short Dyke for all to have a couple of G&T's in the blazing sun that I have ordered. I still have a surplus of gin (plain and flavoured) which needs drinking so I will be donating this to the gathering in exchange for a small donation, with the proceeds being donated to the club's chosen charity. Crews mooring in Rockland St Mary Staithe are able walk around to Rockland Short Dyke, so everyone on the cruise should be able attend if they would like to participate.
Due to the crossing times, some boats may want to cross on Friday 30th June or similarly stay until Sunday 9th July, so I have included the Yarmouth slack passage times for these days as well for reference.
Please feel free to make contact with the other members as you plan your route, especially if you are considering a BBQ by your boat or booking tables in pubs so that crews can eat at the same time. I will create a WhatsApp group so that we can keep each other updated on plans for meals and moorings, and in addition if you need the contact details of a boat give me a shout and I will pass your details over.
Please let me know if you would like to attend (mate@ea-cc.org) with your boat name and a contact number for the WhatsApp group, and I will keep the website updated with the list of all the boats that are attending.
The itinerary for 2023 is as below: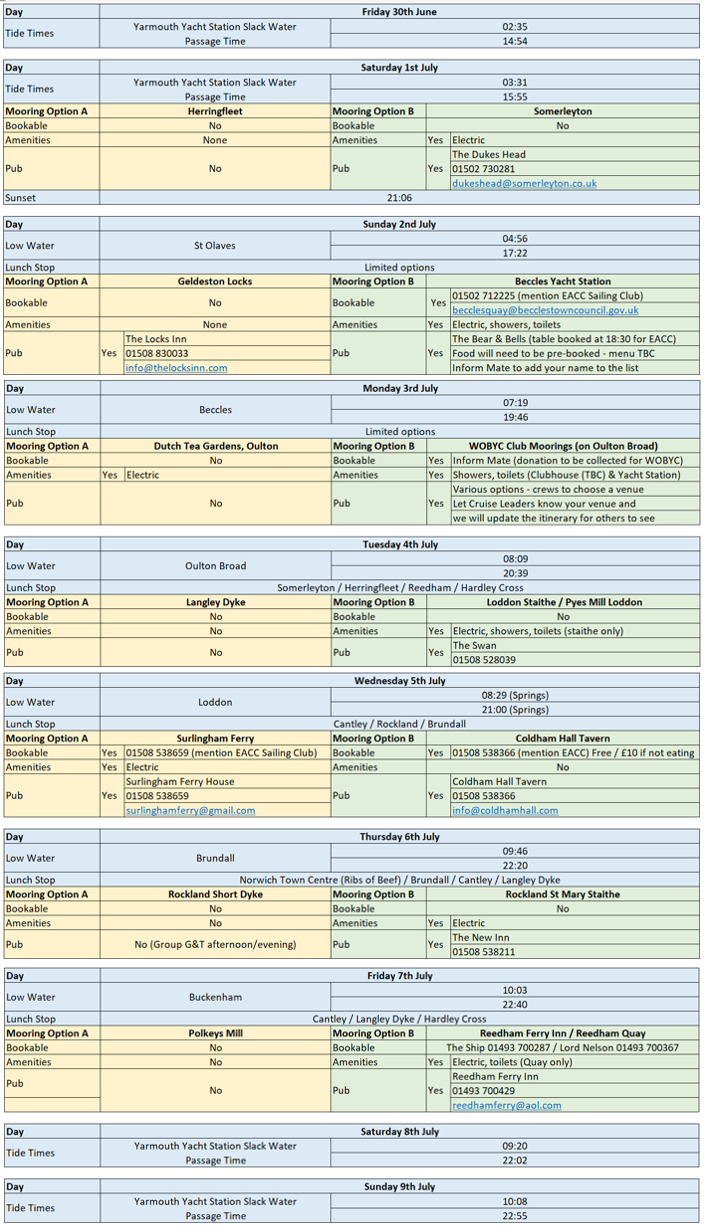 UPDATE: It seems that Langley Dyke is unlikely to be available as a mooring location on Tuesday 4th after all, therefore the itinerary will be updated with a new mooring location prior to the start of the cruise.
*Disclaimer: All of the above is to the best of my knowledge, please let me know if I have made an error and I will update the details.
* Tide times taken from www.norfolk-broads.org/tides/tide_report.asp
If you have any questions, please don't hesitate to contact me.
Regards
Jamie
07973 689639
Participating Boats

Ranger 3

Lily

Moon Daisy

Starshell

Glider

Moondream

Bewitched

Pippinjack

Windrift

Rosie

Mischief

Snowbird

Evergreen

Dove

Sandpiper

Jasmine

Happy Dayz
---