Saturday, 22nd April 2023 at 7.00pm
Venue: Ranworth Village Hall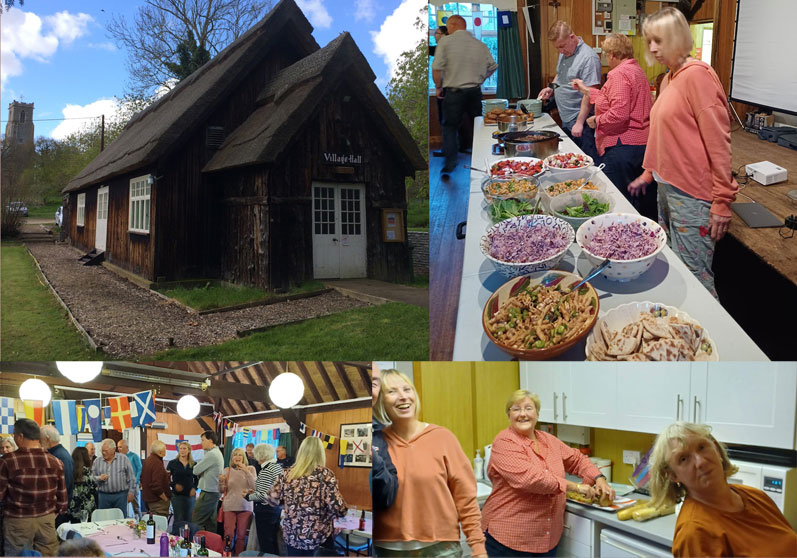 For more pictures from last year click here
The Rigging Out Supper for 2023 will be held on Saturday 22 April at the Ranworth Village Hall, which is the same venue as last year. It's an attractive thatched building with lots of character and possibly the smallest kitchen ever, but we managed last year and we'll manage again this year! The evening will start at 7pm and the cost is £12.50. If you want to come please click here to let Cally know and pay please preferably via the EACC account at EACC (Barclays), Sort code 20-53-06, Account no 40345601, Use for reference ROS Surname, or pay by cheque or cash on the night.
The food will be the usual EACC catered arrangement and if you would like to volunteer to provide a dish (a main course or a salad or a dessert) please let Cally know here. The cost of the ingredients will be refunded. We will have the pop-up "Bennett's Bar" again, which was popular last year with a good range of ales, wines and soft drinks and possibly even a cocktail if we can find room in the fridge for enough ice. Much of the evening will be about catching up and conversation, but there will also be a showing of some old films of the Broads from the archives, which is always interesting and entertaining.
There is parking to the rear of the hall, behind the church. If you want to use this let Cally know please as we have to notify the church as it's a private arrangement. If you want to come by boat there are moorings on the Broad at Ranworth Broad and there will be EACC boats on mudweights, with tenders available to take people in. There are also the BA 24 hour moorings by the staithe, but there is now a charge for these.
We are looking forward to seeing you all, having a great evening and making a start to the season.
Cally