Non-Thurne Table
WINE TASTING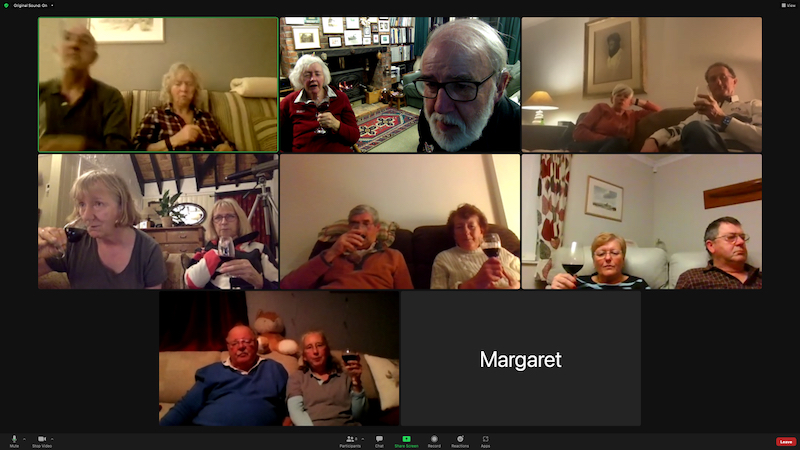 During the various lockdowns of 2020 and 2021, when we could only socialise virtually, we held regular zoom sessions to keep in touch.
Although we are now able to meet in person – and how welcome that is – we have continued to organise some virtual events both because they work, they are fun and they enable us to meet with those who are unable to meet physically for whatever reason. We have found that it is useful to have an "Activity" for the evening and so it was that the EACC virtual wine tasting was born, with different wines dispatched to multiple households to be enjoyed and discussed together.
My initial plan was to purchase the wines from a good independent wine merchant, decant into small portable bottles and then top these up with that CO2 spray that keeps opened wine fresh. I was pleased with my ingenuity and innovation! Then it occurred to me - doh! - that the gas which sat happily atop the wine when sat on the kitchen worktop was unlikely to behave in the same way when bounced about in the post. I also discovered that sending liquids in the post is illegal! So I took instead to looking at half bottles.
There is an astonishing range of wine available by the half bottle from specialist retailers, ranging from from simple wet Wednesday evening wines to special occasion Grand Crus. Four were purchased from Laithwaites and tasting began.
The first was a Sauvignon Blanc from Touraine in the Loire Valley, the sort of wine we drank happily for decades until we discovered the New Zealand offering. From the vineyard which the home of Eleanor of Aquitaine in medieval times, this one came in a modern 250ml can which would make it useful on a boat. Pale straw in colour, with a grassy, lemony aroma this was pleasant to drink, but lacked the crisp gooseberry freshness and acidity we have come to expect from this grape. Abbesse Sauvignon Blanc at £2.99 for a 250ml can or £10.49 a bottle.
The next wine was from Croatia and a vineyard high in the hills 50 miles from the Hungarian border. The indigenous grape Grasevina is used in Austria to make dessert wines or as the base for quality sparking wines, but here it was vinified to create a medium bodied white with a pale golden colour and stone fruit aromas. Apple and peach on the palate, with a hint of pear drops, it was popular with the tasting panel and one to buy again. Kutjevo Grasevina at £3.49 for a 187ml mini-bottle or £11.99 a bottle.
The third wine - a good Cotes de Rhône - was inexplicably returned by Yodel to Laithwaites, so a substitute was found at Majestic. The Catena wines from Argentina are a blend of grapes from three different areas in Mendoza - the high mountain harvest providing structure, the mid-level gives body whilst the lower grapes retain the fresh fruitiness. A deep violet red in colour, this Malbec offered dark and red fruits on the nose which were carried through on the palate to give flavours of blueberries, blackberries and a hint of sweet spice. A classic example of this classic grape. Malbec at £5.99 for a half bottle or £10.99 for 750ml.
For the final wine we went back to France, to the deep south of the Pyrenees where Dan Brown villains rework ancient tales and the castle-strewn, sun baked landscape yields grapes of great density. An almost impenetrable dark red in colour, this Shiraz-Grenache blend assaulted the nose with dried and fresh red fruits, particularly plums, and exploded in the mouth with cherries, damson and spices, finishing with an unexpected slightly sweet finish. It called for chocolate. Rex Mundi Shiraz Grenache VdP d'Oc at £2.99 for a 187ml mini-bottle or £10.49 a bottle.
An enjoyable evening. Book yourself in for the next one!
******
EACC-YSC Joint Social 2022
Saturday 22nd January 2022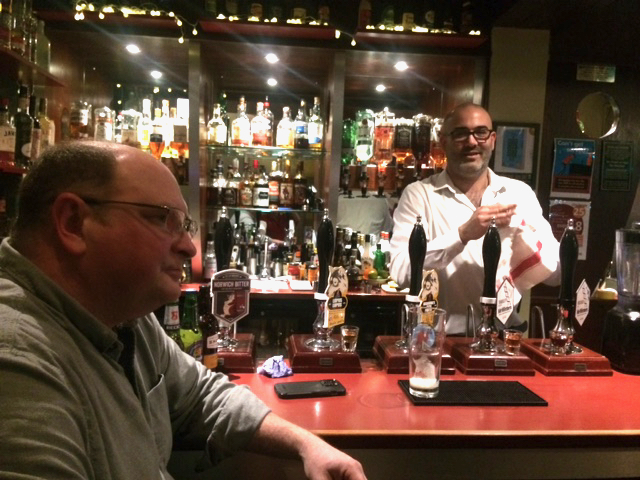 A fifth anniversary is traditionally marked with a item made of wood, so it was fitting that the fifth** annual joint EACC and YSC social event was held in a pub notable for its range of traditional games, all of which are made of - yes, you're ahead of me here! - wood. (A shame to spoil the intro but it has been pointed out it's the 6th, but never mind!), There were chess, backgammon and cribbage boards, dominoes and Jenga, but it didn't look like much use was being made of many of them as the main activity was good old fashioned conversation, and lots of it. Last year's social was held on-line and as so many events since we last got together (in Reedham at Humpty Dumpty Brewery in January 2020) have been cancelled or curtailed, it was fantastic to see people face to face again. Particularly in a pub, and particularly in such a good pub as The Blackfriars Tavern in Great Yarmouth, with its good range of drinks and a friendly atmosphere and a dartboard, which was used as no-one can resist an oche. Not quite doing food yet, they made an exception for us and 29 people enjoyed a very good meal, with excellent service. The venue is definitely one to note for a future visit, although I don't think we will be taking up the landlord's suggestion that we come by boat next time and moor up on South Quay! Thanks to everyone who turned out and we look forward to seeing you all later in 2022.
** fifth face to face, I'm applying poetic licence for the virtual event last year. That was a brilliant one-off which deserves its own commendation.