Winter Walk 2023
Sunday 12th February
Many thanks to Margaret Kilner and Hilary Franzen for their photos

Photo: Margaret Kliner
The EACC Winter Walk is always a popular event with a good take-up, but this year it wasn't so much a take-up as a take-over - car park, footpaths, private land and then an attempt to storm the bar and restaurant at the Kings Arms. The route around the How Hill estate started at the car park which is modest in size, but in true EACC fashion we managed to fit an unlikely number of cars into the available space and even when the car park looked full, EACCers kept on arriving and somehow being absorbed into the parked masses. And masses it was, with 49 main walkers, one further member out on medical instructions accompanied by his carer (it was lovely to see you) and being paced by a pair of toddlers. Plus 16 dogs.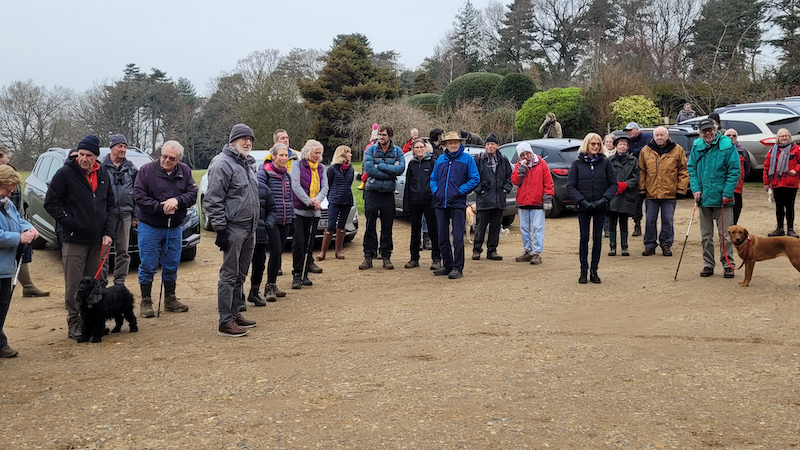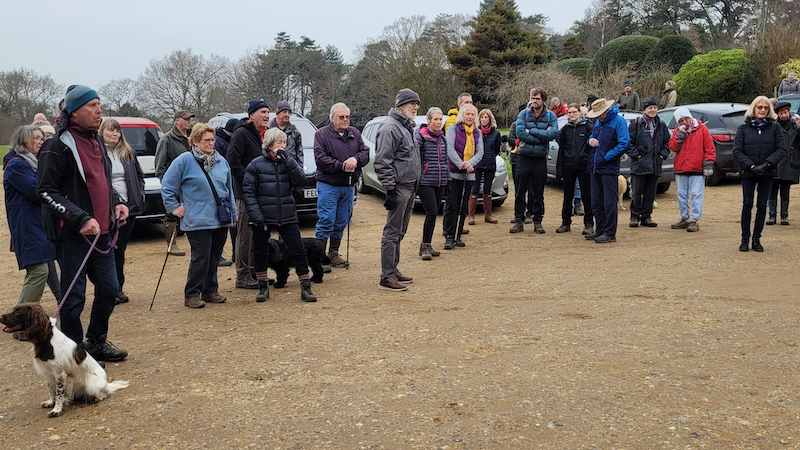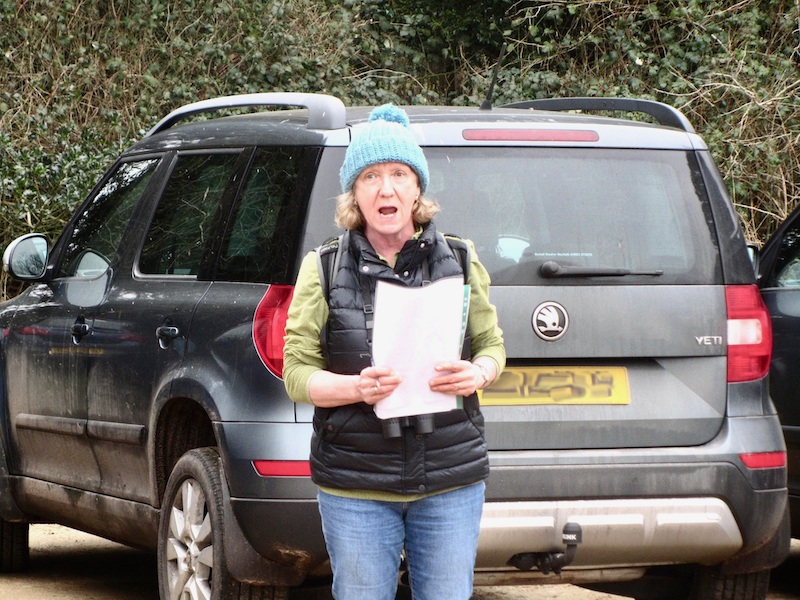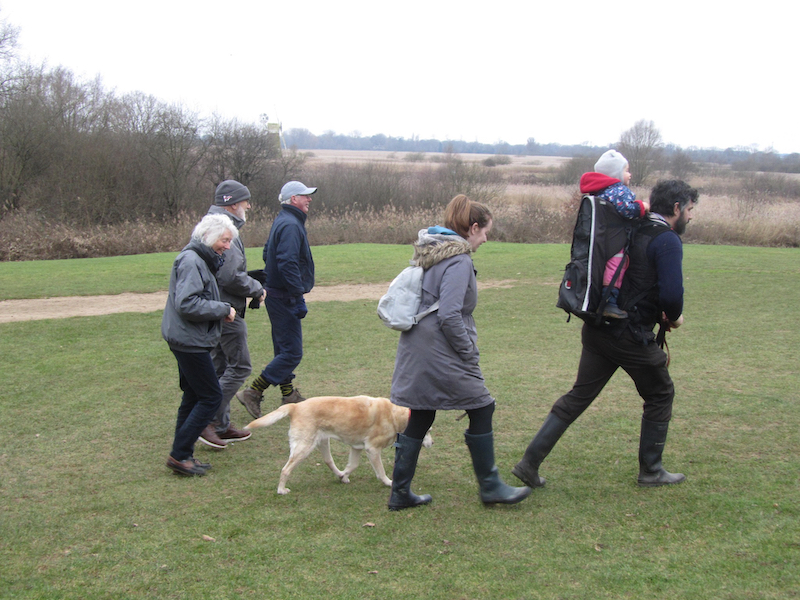 The route took us across the lawn, down to the river and along the back of the 24 hour moorings before starting the climb to the high point above Buttles Marsh. The bearded tits seen on a previous visit had their heads down in the reedbeds - they certainly heard us coming! - whilst Blyth's little spaniel Riley, having carefully balanced on the edge of the quayheading so well for so long lost concentration and fell in at the end. Perhaps she was distracted by Turf Fen Mill reflecting in the late winter water, but she was hauled out safely if somewhat bedraggled. She was the only casualty of the day, fortunately.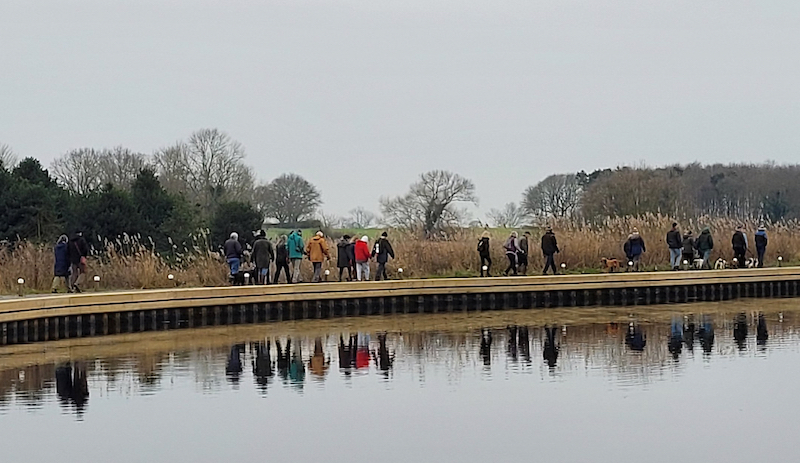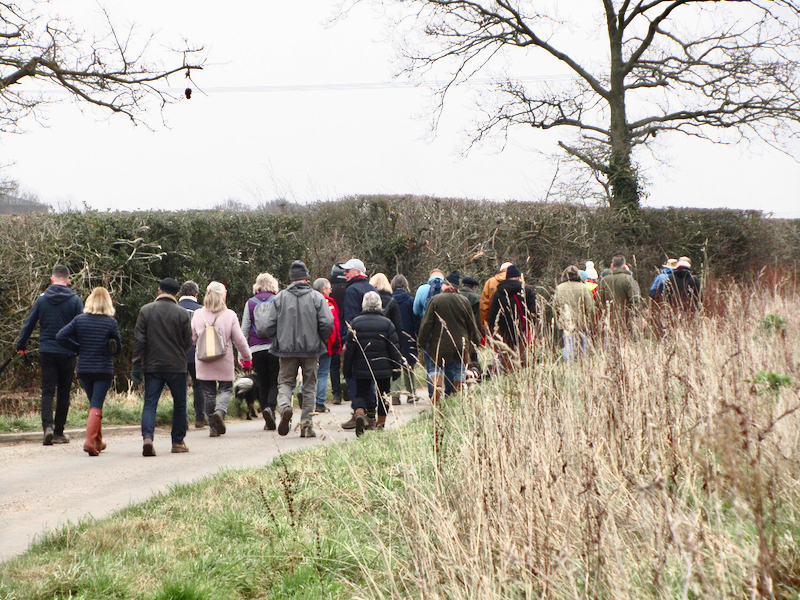 The views across Horning and Buttles Marshes are fabulous. Looking as far as South Walsham on a clear day you can see five churches and even more mills and whilst no bitterns could be heard, 'buttle' being the old word for this iconic Broads species, it was interesting to hear that there have been glossy ibis - the bittern's more bling cousin - spotted there in the summer. Looking back along the path from the high point it was great to see the EACC fleet spread out along the trail, well marshalled by Joe Farrow and Margaret Kilner as tail end walkers.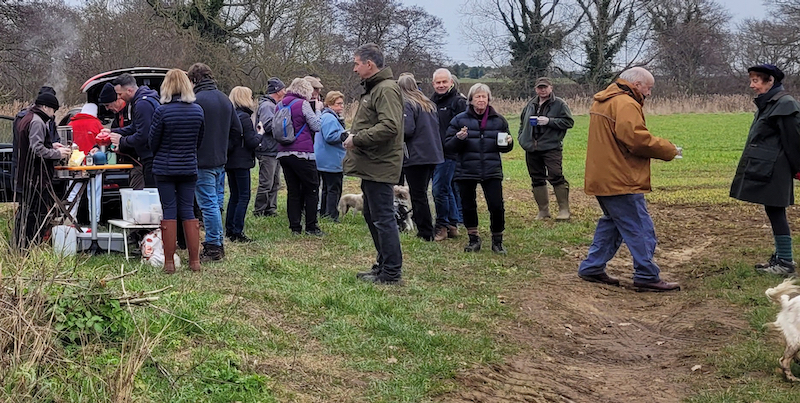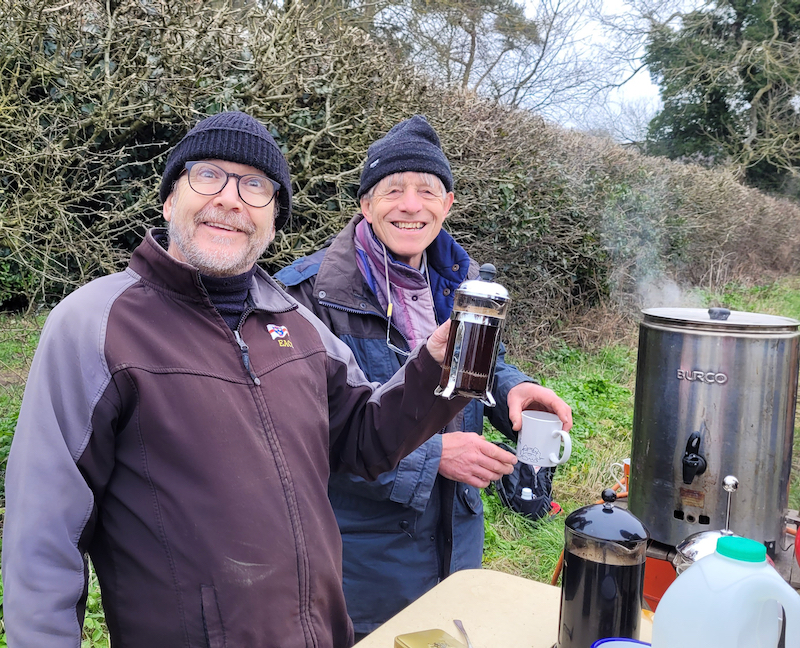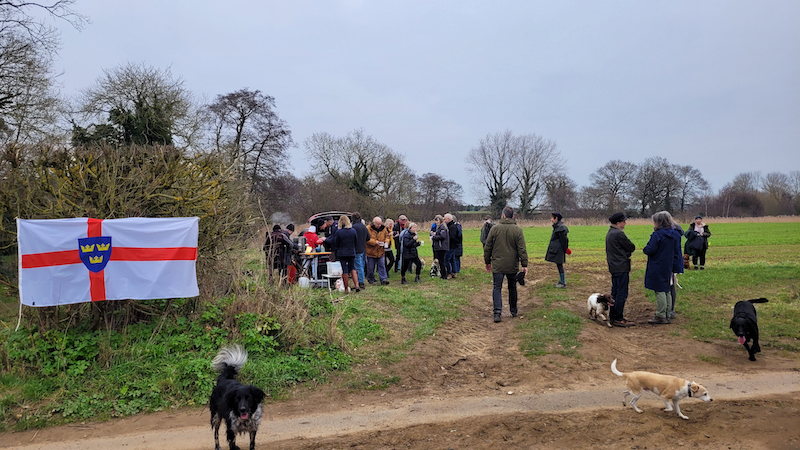 The famed EACC pop-up tea stall was a welcome sight, as ever, tucked in off a minor road, but when he was setting up Jo Edye was mistaken for a fly tipper by the farmer who came haring down when a saw a somewhat scruffy fellow unloading tables, gas canisters and tins from the back of a car. We had left a message for the farmer, but he hadn't received it, however he went away reassured of our intentions and with offers of tea, cake and whisky. Anthony and Linda Landamore arrived just before the main walking party and their help in getting the refreshments ready and served was hugely appreciated. Thanks to everyone who baked there was a choice of six different cakes, plus sausage rolls and biscuits, plus the usual pots of tea, cafétieres of coffee and a wee dram for those who wanted it 'to keep out the cold'.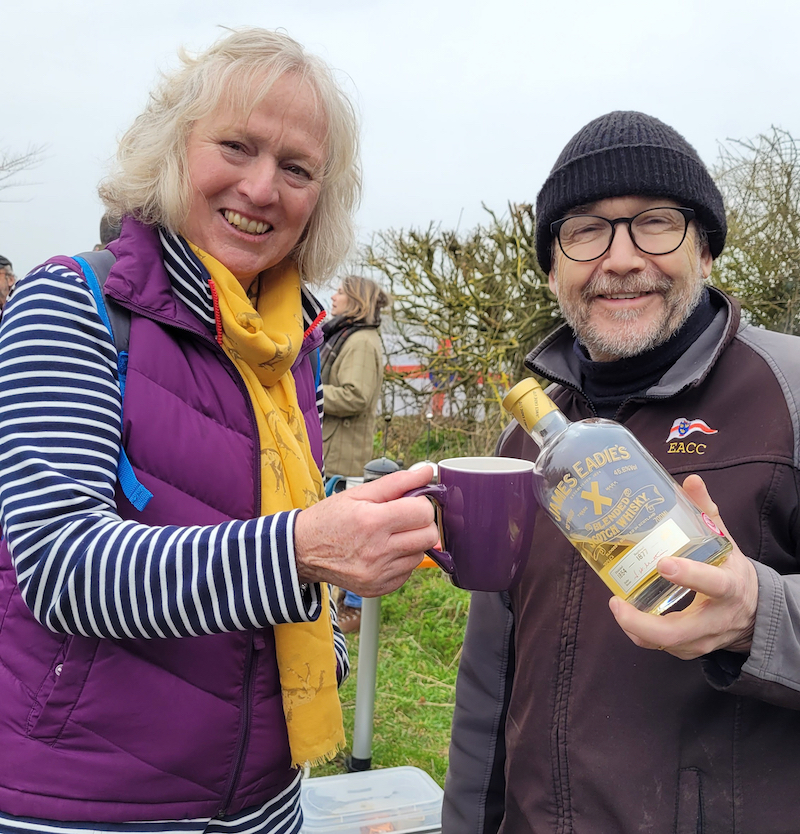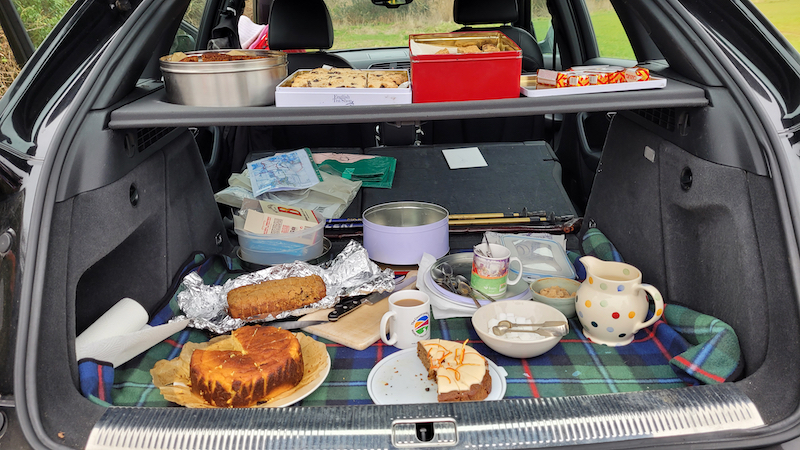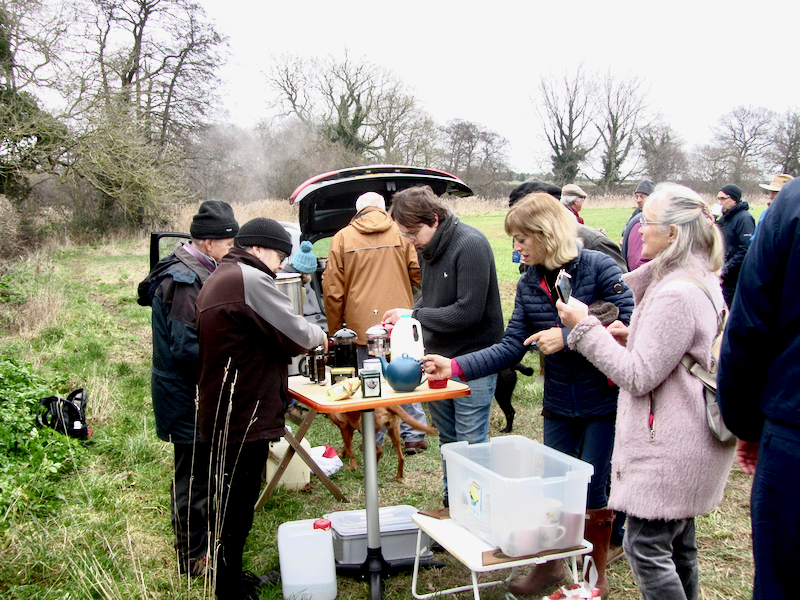 Exercise was needed to walk that lot off and there were three potential routes back to cover all options - the longer one for those who intended to have pudding with lunch, a medium length to allow for a main course with three roast potatoes and a short one for those who other commitments that afternoon or were just keen to bag a good table in the pub. Thirty two people had booked to eat, a few more came along just for a drink and although the pub was very busy, particularly as rugby was on the TV, the landlady Nikki had us all sat down right on time and fed us really good food very efficiently. Their meat is all from the butcher's opposite (who provide the bacon, sausages and burgers for TMOR) so it really is locally sourced - what better excuse do you need for an extra chipolata?
Thanks all for coming and I hope you enjoyed it.