After much deliberation it has been agreed that all future EACC events will be cancelled until further notice!
Read the Skipper's full message
Additionally the safety boat is not to be used for the time being
---
Many thanks to all those who have responded to the request for photos of members and/or their boats, showing whether or not they were in the water before the restictions were imposed and what they are doing and how they are coping in these extraordinary times. It has yealded a surprising number of pictures. Here is a selection. Please keep sending them.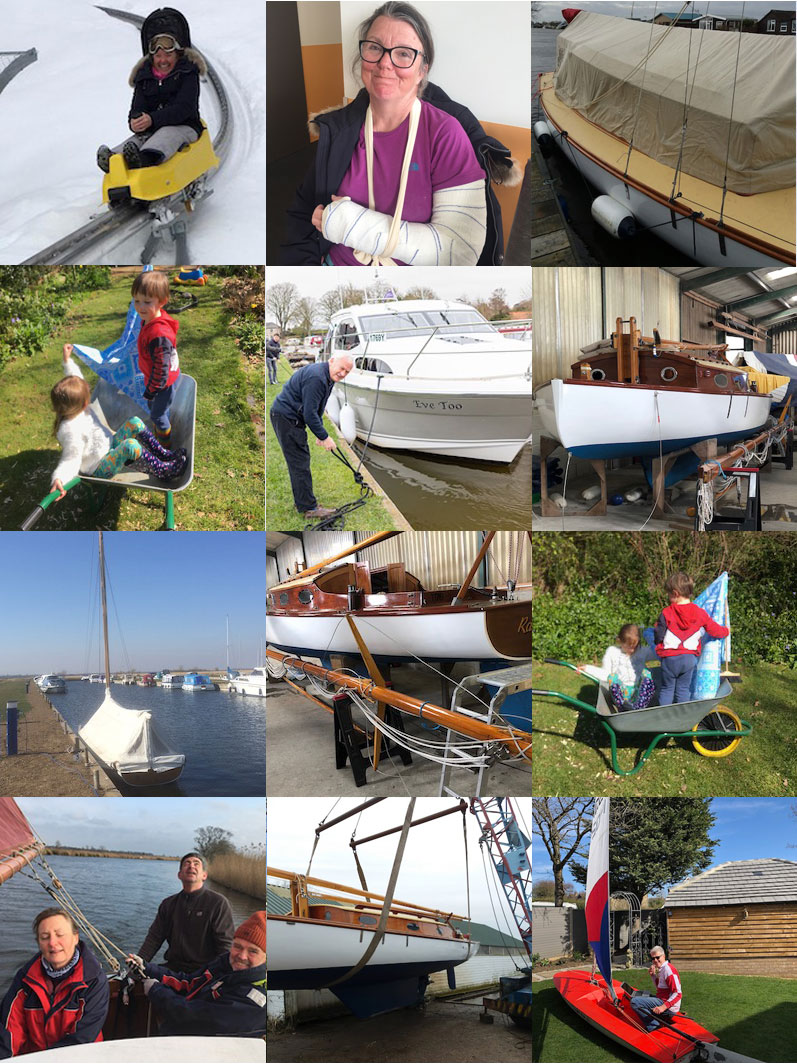 Some are lucky enough to have their boats in the water, others are ready but frustrated by the restrictions!
---
TEMPORARY MOORING AVAILABLE IN EACC'S MOORING BASIN
Due to ill health a temporary mooring will be available at the club site for days, weeks or even months up until August this season only. Proportional donations to help defray the annual mooring fee would be much appreciated. Contact Moorings Officer
---
CLUB NOTICE BOARD
NEXT EVENTS
ALL CANCELLED
*****
LAST EVENTS
28th February - 2nd March
Sunday 9th February 2020
Last updated 16th February 2020

Check here for latest club news and information

---

Club Merchandise

*****

Flags, Pennants and Burgees remain available

directly from our Insignia Officer

Jane Stevens (RC Pippinjack) Click here for details

---

HELP KEEP THE CLUB SITE TIDY

MANY THANKS TO ALL MEMBERS WHO VOLUNTEERED

TO CUT THE GRASS IN 2019

A New Rota will be posted here at the

start of next season

---

Mooring at the Moorings

Please note that members are entirely at liberty to

use the club moorings frontage for temporary

moorings picnics, BBQs etc whenever they wish

between 1st March and 31st December.

However boats who are not mooring holders should not be

left there unattended without prior consent of committee.

Please contact the moorings officer

---

CASUAL USE OF CLUB SAFETY BOAT

The club safety boat moored in Thurne Dyke may be

used by members for legitimate uses, when available.

On rare occasions a safety boat may not be available.

The dates will be published here.

Although the safety boat is in the dyke and ready to go when restrictions are lifted it is not to be used for the time being.

CHARITY

EACC's chosen charity for 2020 is

NORFOLK SCHOOLS SAILING ASSOCIATION

NSSA is a local charity run by volunteers and based on Filby Broad. They provide sail training opportunities for children aged from 8-18. They get no local authority funding and rely on grants, donations and membership fees to cover their operating costs.

*****

Last year EACC raised a magnificent

(Norfolk And Norwich Scope Association for

teenagers and adults with learning, physical and

complex additional needs or disabilities)

David and Lesley visted NANSA on 10th January and presented a cheque for £818

Thanks to Lesley and Roger Everett

for

co-ordinating our efforts

---

on Members' ADS including

1 Yare and Bure One Design

---

We are also now on Twitter

Our address is @EACruisingClub

---